THE PROXY WAR
THE HOUTHI STRIKE AGAINST THE SAUDIS
Saro Thiruppathy reports on the horrific proxy war that is being waged in Yemen
On 14 September, Yemen's Houthi rebels fired missiles using drones and set ablaze two major oil installations run by Saudi Aramco. Not long after that, an official Saudi Press Agency statement claimed that the fires at the facilities in Abqaiq – the site of Aramco's largest oil processing plant – and Khurais were under control.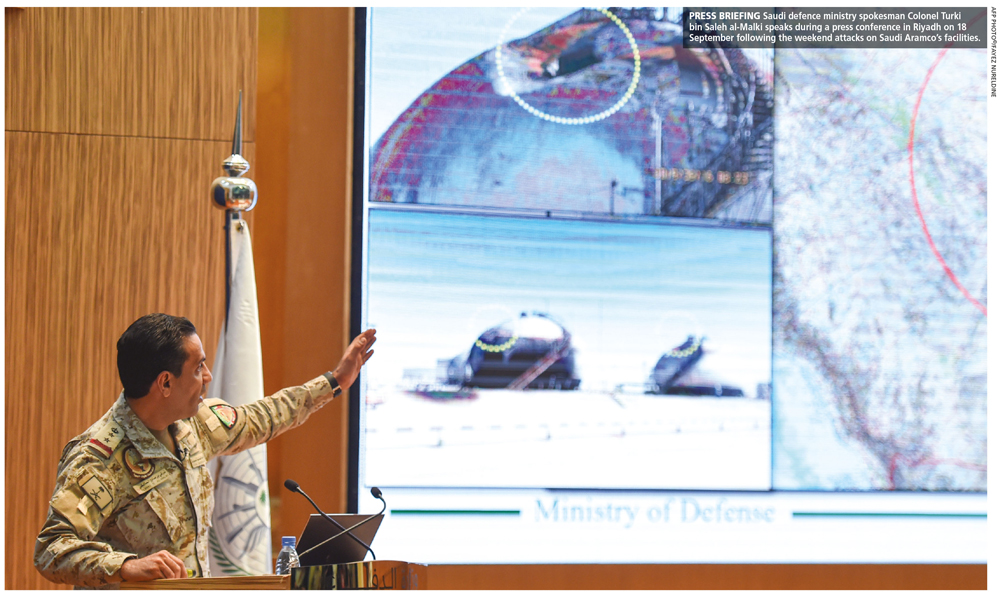 There was a collective gasp as the world woke up to this fiery news – not because of any particular love for the Saudis or Houthis but since half the production output of Aramco (6% of global supply) was burning. Markets prepared for the worst and oil futures shot up by 20 percent – the largest single day oil price shock after Hurricane Katrina.
The Saudis then announced that previous production levels of a little less than 10 million barrels per calendar day (bcd) would resume shortly with 12 million bcd by the end of November. Their assurances saw prices drop to about US$ 64 a barrel. The US had also offered to tap into its strategic reserves to help calm anxious buyers.
PROXY WAR Sectarianism is big news in the Middle East. Yemen comprises about 53 percent Sunni and 45 percent Shia Muslims. The Saudis are mostly Sunni while the Iranians are Shia. Simply put, they worship the same Allah but hate each other.
Since March 2015, the Saudis have been waging a proxy war against Iran in Yemen because they believe that the Iranians are funding and training the Houthi rebels who ousted their favoured Sunni head of state President Abdrabbuh Mansur Hadi.
And since the US and Saudis dislike Iran with a vengeance, they insist that the drone attacks by the Houthis are an act of war.
So why are the Houthis flying drones and firing missiles against Saudi infrastructure?
Because Saudi Arabia and the US – with their mostly Sunni coalition comprising Bahrain, Egypt, Jordan, Kuwait, Morocco, Senegal, Sudan and the UAE – have been bombing Yemen mercilessly in order to reinstate Hadi (he took over from President Ali Abdullah Saleh who was ousted in 2012 in the Arab Spring).

HOUTHI REVOLT The Houthi movement, which is considered an Islamic political and armed group, emerged in Sa'dah in the north of Yemen in the 1990s.
Though the Houthis are generally supported by the Zaidi Shia minority, they also received the backing of many Sunni Yemenis in response to Hadi's poor governance. And by early 2015, the Houthis had captured the capital city of Sana'a.
Hadi then fled to Aden in the south and declared it his capital. When the Houthis and security forces that were loyal to Saleh attempted to take over the country, he left Yemen in March that year and is currently living in exile in Saudi Arabia.
Eventually, the Houthis assassinated Saleh in December 2017 because they believed he was involved in a 'treasonous conspiracy.' They had found documents, which suggested he was conducting secret discussions with the UAE, Russia and Jordan, and openly declaring his willingness to dialogue with the Saudi-led coalition.
SAUDI SUPPORT Though Hadi had originally resigned from his post before he fled to Aden, he later withdrew his resignation. Upon fleeing Yemen, he demanded that the Saudis have him reinstated. His demand for reinstatement is the justification Saudi Arabia is using to destroy Yemen and heap untold suffering on its people.
The humanitarian cost of reinstating Hadi as president is unconscionable. Yemen is facing the world's worst humanitarian disaster with 80 percent of the population needing humanitarian assistance and protection. Since 2015, about 3.3 million people have been displaced from their homes – and thousands have died with about 65 percent being due to Saudi coalition air strikes.
HUMAN COST The UNHCR warned in December last year that more than 15 million Yemenis (53% of the population) were on the brink of starvation since access to food was diminishing and almost 40,000 children were severely malnourished.
The UN Undersecretary-General for Humanitarian Affairs and Emergency Relief Coordinator Mark Lowcock reported that people are eating leaves because they have no other form of sustenance, and emaciated children can barely open their eyes.
The UN cautions that of the 20 million people who need access to food, nearly 10 million are only a step away from famine and almost 240,000 of them are facing "catastrophic levels of hunger." More than three million people including two million children are acutely malnourished. About 20 million people lack access to adequate healthcare and 18 million don't have sufficient clean water or access to adequate sanitation.
THE AFTERMATH Following the drone attack in September, the Houthis offered to discuss a ceasefire deal with Saudi Arabia in spite of the unrelenting bombing by the Saudi-led coalition. But later, Yemen rejected the Saudi offer of a partial ceasefire and demanded a total cessation of hostilities.
Two weeks later, the Houthis attacked the Saudi region of Najran. They claim to have captured thousands of enemy troops including military officers. Saudi Arabia had not commented on this at the time of writing.
The human cost of war to reinstate one man beggars belief and there's absolutely no justification for this humanitarian disaster. The US and Saudis should desist from bombing Yemen anymore because this proxy war is one that no one can hope to win.