INDO-LANKA RELATIONS
STEERING
GEOPOLITICAL TRIALS
Tamara Rebeira explores the intricacies of the president's visit to India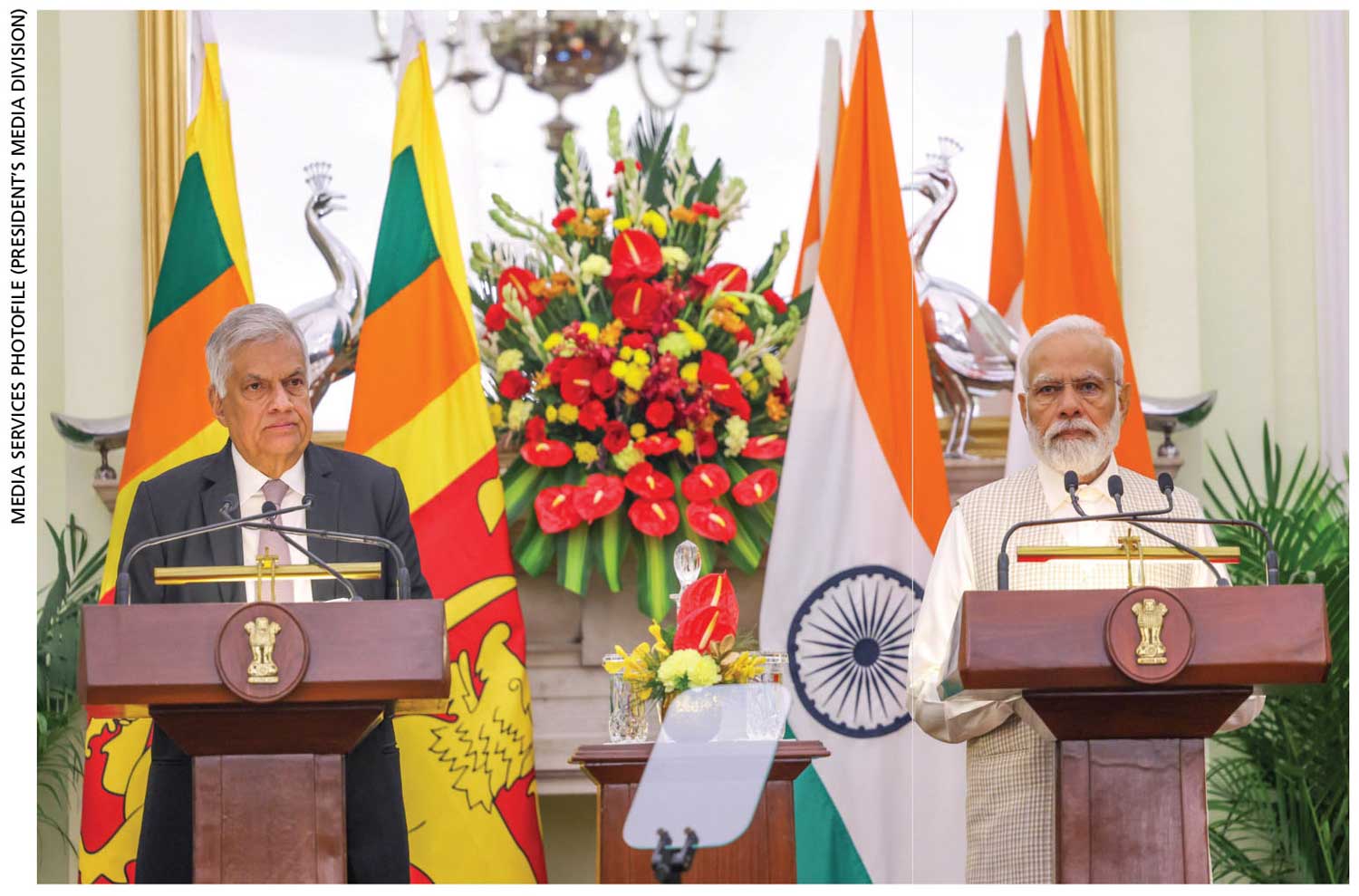 Much like the heartwarming lyrics of Randy Newman's 'You've Got a Friend in Me,' Indo-Lanka ties exemplify a close and enduring relationship. The history of bilateral ties has been marred by ups and downs over the years; but often, various factors have emerged to salvage the relationship.
India and Sri Lanka are driven by strategic imperatives and national interests, which at times lead to conflicting policies between the two nations. In today's context, bilateral ties continue to be multifaceted and dynamic, shaped by historical ties, geographical proximity and strategic interests.
President Ranil Wickremesinghe's recent visit to New Delhi, which coincided with his completion of one year in office, has raised the alarm again in some quarters about India's influence in the island. The two countries released a 'joint vision' statement that outlined decisions reached during the talks with a special focus on connectivity; maritime, air, energy and power; and trade, economic and people-to-people interactions.
The two nations share concerns regarding maritime security in the Indian Ocean region, leading to increased cooperation in countering piracy, smuggling and other transnational threats. Additionally, India has assisted Sri Lanka in efforts to counter terrorism, sharing intelligence and providing training to the security forces.
Sri Lanka's geographical location makes the island a crucial ally for India's security interests. Meanwhile India sees Sri Lanka as part of its extended neighbourhood and aims to maintain its traditional influence.
China's investments and infrastructure projects have also made it a significant player in the country.
Sri Lanka in turn seeks to balance relations with both India and China to derive maximum benefits.
The president and Indian premier Narendra Modi were on the same page over regional security. Addressing India's concerns over China's increasing footprint in Sri Lanka, Wickremesinghe vowed to fast-track connectivity between the two neighbours. While stating that Sri Lanka's neutrality is assured, the president said he will not allow the territory to be used against India, fostering a meeting of minds on security.
During one of the most challenging periods last year, India stepped forward to extend a helping hand, providing US$ 4 billion in aid.
India was also the first country to formally notify the IMF of its assurance and support to Sri Lanka's external debt restructuring process.
Wickremesinghe also reaffirmed the strong partnership in overcoming economic challenges. This emphasises a commitment to democracy, stability and economic recovery in Sri Lanka, and recognises the potential for deeper bilateral economic ties.
Both leaders directed officials to expedite the realisation of these initiatives, aiming to foster growth and prosperity, and strengthen the dynamic India-Lanka relationship based on mutual trust.
India remains Sri Lanka's largest trading partner – and bilateral trade between the two countries has been growing steadily. Sri Lanka's increas­ing imports from India have been beneficial to the economy. And India sees the island as a potential market for its goods and services. However, trade imbalances and non-tariff barriers are challenges that need to be addressed.
The announcement of using the Indian Rupee (INR) for local transactions – aimed at bolstering our foreign reserves – also raised public concern. The potential benefits include extensive imports from India although the trade imbalance will then widen. However, the Central Bank of Sri Lanka has clarified that it designates foreign currencies for international trade and cross-border banking transactions.
Currently, 16 currencies – including the INR, which was added in August last year – have been authorised under the Banking and Foreign Exchange Acts. The monetary authority also emphasised that the authorisation of INR as a designated currency does not make it legal tender for domestic payments or settlements in Sri Lanka.
Meanwhile, the ongoing concern continues to revolve around a solution to the 'national issue,' which New Delhi feels strongly about. Modi expressed his belief that a meaningful devolution of powers and the full implementation of the 13th Amendment are essential components of addressing and facilitating national reconciliation.
Indo-Lanka ties are deeply rooted in history, and shaped by people, ideas and faiths over the centuries. The relationship is a complex interplay of economic, political and strategic factors. To strengthen this bond in today's geopolitical landscape, both nations must prioritise mutual understanding, address the concerns there are, and build upon their shared historical and cultural heritage.