BUSINESS SENTIMENT
INDEX TAKES A POST CRISIS U-TURN
Business confidence returns in the wake of the resolution to the constitutional crisis
A statement issued by the IMF's Managing Director Christine Lagarde, following a meeting with Sri Lanka's Minister of Finance Mangala Samaraweera and Governor of the Central Bank of Sri Lanka Dr. Indrajit Coomaraswamy in mid-January, noted that "a strong policy mix with effective implementation of that agenda is key to strengthening confidence while putting Sri Lanka on a sustainable, high quality growth path that would benefit its people."
She added that "the IMF remains ready to support the Sri Lankan authorities in these endeavours and an IMF team is scheduled to visit Colombo in mid-February to resume programme discussions," while also recognising "the challenging economic environment and the policy priorities for the country."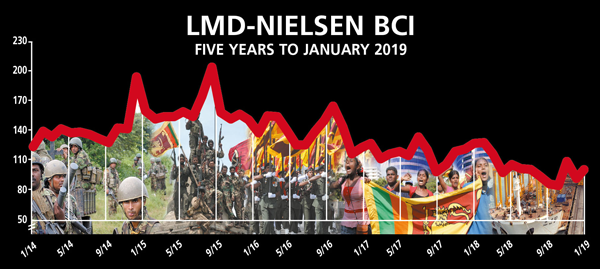 The Sri Lankan delegation led by the finance minister held discussions with the IMF to reinstate the External Fund Facility (EFF). The EFF was approved in June 2016 for approximately US$ 1.5 billion but put on hold due to the political crisis that engulfed the nation in late 2018.
Initially, the entire loan facility was to have been disbursed through a seventh tranche by mid-2019.
Meanwhile, the LMD-Nielsen Business Confidence Index (BCI) has changed course yet again, going by the results of the latest survey conducted in the first seven days of January.

THE INDEX The BCI moved up by a noteworthy 11 basis points in the first month of the new year with the index standing at 101 in January compared to 90 in December 2018, which is by and large its average for the last 12 months (102) but a long way short of where it was at the same time last year (127).
Nielsen's Managing Director Sharang Pant remarks: "Following two months of uncertainty, stability seems to be returning to the Sri Lankan political scenario. This has had a certain impact on sentiment."
He goes on to note that "the rupee continues to slide due to dollar pressure but inflation is under control. Sentiment regarding the tourism industry is positive as well – this despite the short-term impact on tourist arrivals late last year."
SENSITIVITIES The health of the economy, politics and corruption remain among the main concerns for the nation; and taxes, the value of the rupee and inflation are considered the major issues for business.
To this end, a respondent notes: "Sri Lanka is currently in a debt trap and the depreciation of the rupee is pushing the country further into debt. The authorities should act fast on strengthening the value of the rupee; or else the economy will be adversely impacted."
Another local businessperson seems to concur, adding that "with the continued depreciation of the rupee, import prices of raw materials have increased and this is causing the price of goods to increase as well."
PROJECTIONS In last month's edition, we concluded that the BCI was likely to come under further pressure – albeit with the possibility of another U-turn to reflect goings-on in the country's political arena.
Given that the pre-constitutional crisis status quo has been restored to some degree and with the prospect of one or more elections this year, it is anybody's guess as to what the future holds for business – and therefore, the index that measures biz confidence.
– LMD