JAT
ICRA Lanka reaffirms [SL] A+ Rating with a Stable Outlook for JAT Holdings
ICRA Lanka Limited, a subsidiary of ICRA Limited, group company of Moody's Investors Service, has reaffirmed the issuer rating of [SL] A+ with a stable outlook for JAT Holdings (Pvt) Ltd. JAT Holdings, one of Sri Lanka's most successful and diversified conglomerates, celebrates 25 years of being a pioneer and innovator in the paints, furnishing, property, agri and technology sectors. Several factors including the company's financial performance, brand strength and future prospects were taken in to consideration for the affirmation of the rating.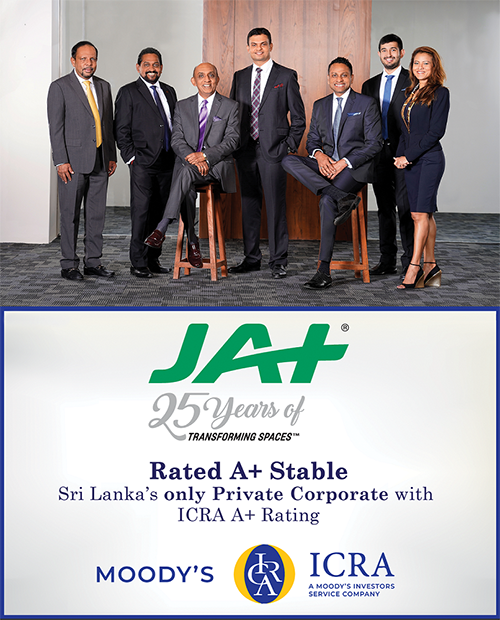 The company's strong brand name and dominant market position in the Sri Lankan and Bangladeshi wood coating industry, especially in the water based, PU and UV wood coating segments played a key role. In 2017, JAT became the largest global distributor for the Sayerlack brand of wood coatings, which is owned by Sherwin Williams USA, the largest coating company in the world. JAT Holdings has distribution rights for Sayerlack for the entire South Asian region.
JAT also recently tied up with world-renowned brands such as SEA Bauformat Kitchens from Germany and Armstrong Ceilings from USA while recently acquiring the "Harris" brushes and roller brand; the market leader in the Sri Lankan paint brush segment. Diversifying into the premium interior design segment the company provides furnishing solutions in the premium real estate sector in Sri Lanka and has noticeably gained a leading market share.
ICRA Lanka also took note of JAT's diversification into fast growing export markets (such as India, Bangladesh and Maldives). JAT has become the leading player in the Bangladesh wood coating segment by distributing Sayerlack products through its strong distribution network and effective marketing initiatives for over 15 years. The management has recognized India, Maldives and Pakistan as more promising growth opportunities and has continued its significant brand building efforts to penetrate into these markets.
Over the past few years, the company's operating profit margins have moderated noticeably due to cost increases (including sustained SL Rupee depreciation), increased competition with higher price discounts, and higher revenue contribution from the projects segment, which has relatively lower profit margins. During FY2018, the impact on the operating profit margins were relatively high due to the compound effect of the above mentioned factors amidst the weaker macro-economic outlook that prevailed during this period. JAT's strong brand equity and the market leadership however, have enabled the company to pass on partly any additional cost increases despite the growing competition.
The rating also considers positively the company's recent diversification into innovative new product categories such as ceiling products, sand paper, Brush Master paint brushes, fire resistant paints etc., which have been posting volume growth over the past few years. JAT envisages itself as a leading player in the broader interior and living spaces market and has continued with its tie-ups with premium international brands such as Herman Miller, Armstrong etc.
Incorporated in 1993, JAT Holdings (Pvt) Ltd has become a household name trusted for its innovation, quality and reliability.