HOMELANDS SKYLINE
Taking pride in being the first company in Sri Lanka's real estate vertical to be featured among the 'Facebook for Business Success Stories'
Leading residential property developer Homelands Skyline was recognised as the first real estate developer to be the subject of a case study conducted by Roar Digital – a Facebook authorised sales partner in Sri Lanka – and featured among the 'Facebook for Business Success Stories.'
The property developer prides itself on providing a vast selection of apartment and residential solutions to suit customer needs. It focusses on being relevant in terms of style, products and design, and being recognised as a data driven organisation that regularly leverages cutting-edge digital marketing as a large and diverse developer.
Homelands Skyline explored the impact of creating an engaging lead generation experience that would improve lead quality and volume, and enhance and optimise the quality and number of results. This was achieved by raising awareness among high net worth individuals, and experimenting with new and improved methods to generate quality leads with Roar Digital's help.
Home Lands Holdings Chairman and Managing Director Nalin Herath and Director – Operations and Administration Lanka Jayasinghe developed and established the digital marketing team, which was thereafter taken over by the present Head of Digital Marketing.
"Despite the pandemic's sales impact, we were able to recover quickly, and display our apartments, stimulate interest among high net worth individuals and achieve one of our largest sales for last year, courtesy of our investment in great creative and visual material content through Facebook lead ads," the Chairman says.
Jayasinghe explains that the company witnessed the rise of digital approaches that offer buyers a 360 degree view of properties. This improved digital experience has helped prospective home buyers and renters to feel more at ease in their search.
Moreover, she feels that digital tours of premises are more seamless when compared to an in-person showcase. Due to this approach, Homelands Skyline's offering has driven quality sales leads.
"Delaying digital transformation puts corporates at greater risk of becoming obsolete in today's competitive environment," says Head of Digital Marketing Keith Madampage, adding: "Despite COVID-19, Homelands Skyline focussed on and prioritised digital transformation. With Roar Digital's support, guidance and assistance, we made significant progress, resulting in a record-breaking 500 apartments and housing sales in 2020."
He stresses that the property developer must monitor and evaluate this digital success, and modify its approach as needed. Using effective lead generation and pursuing a data driven marketing approach enables Homelands Skyline to track its success in real time, while being simple and efficient methods.
The digital marketing team he leads comprises Assistant Manager – Digital Marketing Thilina Guruge, Assistant Manager – Digital Marketing and Corporate Communications Mariam De La Zilwa, Senior Executive – Video Editor Tharindu Nilanga, and digital marketers Anushka Kothalawala and Rumesh Prabath Udayanga
Roar Digital's VP – Client Success Udara Dharmasena explains that the business developed a partnership with the property developer at the beginning, which has been a pleasure to work with. Additionally, he notes that Homelands Skyline's digital marketing team is agile, and quick to grasp platform dynamics and act on Roar Digital's recommendations to implement campaigns that serve the former's purpose.
Malinda Senanayake – the Head of Growth of Roar Digital – reiterates that the Homelands team has been quick to respond to feedback and insights, which has helped it achieve exponential growth in a short period.
He adds that Roar Digital is excited to see a Sri Lankan real estate company achieve its goals by effectively utilising Facebook's advertising solutions. Given this, it is looking forward to reaching many milestones with Homelands Skyline in the future.
Establishing its online presence in less than a year, Homelands Skyline is a pioneer of the real estate trend encompassing video-based advertising on digital platforms. The property developer offers virtual tours that enable potential clients to explore properties through 360 degree walk-throughs on its website, which were introduced in the light of the pandemic.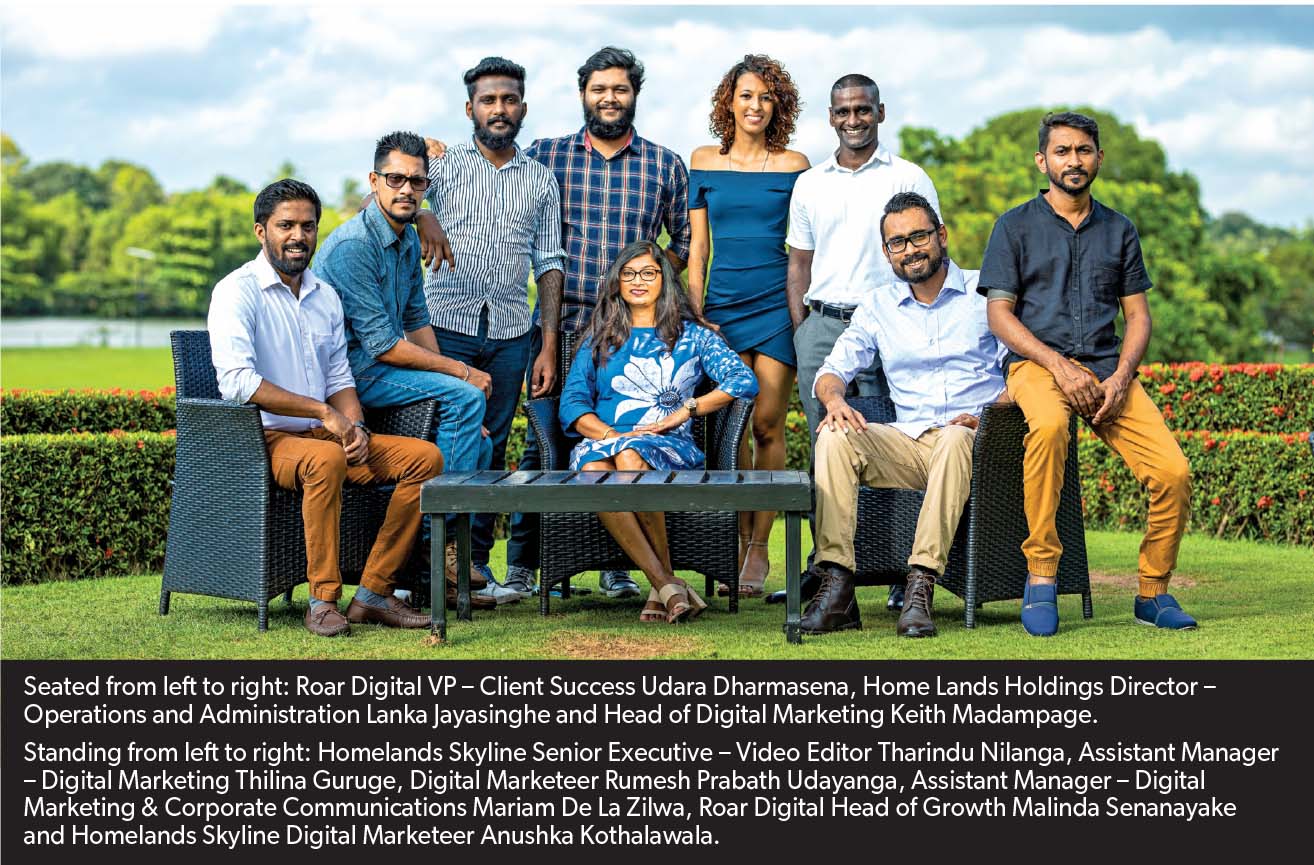 – Compiled by Randheer Mallawaarachchi
COMPANY DETAILS
Telephone:0719 888777
Email:info@homelandsskyline.lk
Website:www.homelandsskyline.lk