HEALTHX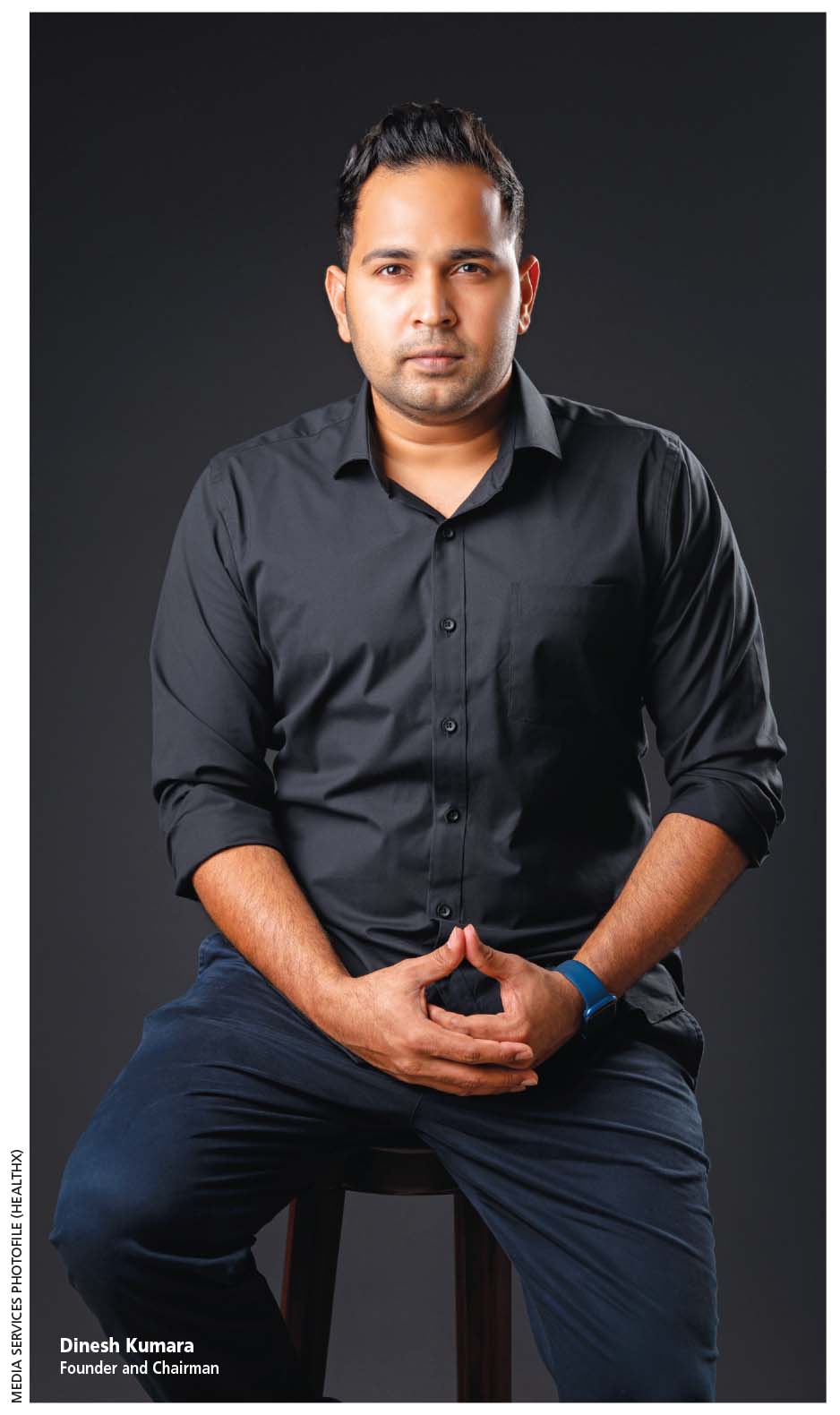 Q: What made a young corporate executive become an entrepreneur?  
A: I wanted to make an impact! I saw numerous opportunities in the space of marketing and the need for digitally transformed business models in Sri Lanka.
So 12 years ago, I bootstrapped my first venture InspireX – a digital creative agency that ideates and executes groundbreaking strategies and campaigns.
Q: As a thriving entrepreneur, how would you like to identify yourself to our readers?
A: As an entrepreneur, I see myself as an individual with an impactful purpose and out of the box thinking. I firmly believe that any startup with an entrepreneur's sense of purpose and an innovative way to solve a problem in the market will be successful.
A startup cannot rely only on processes; the founders' passion and innovative thinking drive the business while their team fuels the necessary growth.
Q: How were your other two startups – Niwadu Deals and HealthX – able to deliver digital transformation?
A: Niwadu Deals is an online platform that connects local travellers and hotels. While holidaying during the off-season, I witnessed local hotels suffering from very low occupancy. This gap in the market helped me ideate Niwadu Deals, where we offer hotel deals at attractive rates that appeal to local travellers during the off-season as well.
HealthX is a health and wellness super app, which is the first of its kind in Sri Lanka. It connects users to the nearest doctors and other healthcare providers. During the first pandemic induced lockdown, we saw a huge opportunity as there was an urgent need for prompt healthcare. And by thinking out of the box, we ideated a health tech product.
Q: So how does HealthX differentiate itself from other digital healthcare apps?
A: Connecting the nearest doctor to a patient has never been done before.
HealthX solves the problem for the majority of our people who may not be able to travel or afford to do so, or are in a condition where they need the immediate attention of a nearby physician. HealthX, which is a location-based doctor booking app, connects 20,000 general practitioners with 10 million internet users in Sri Lanka.
Q: What steps have you taken to ensure that the experience is exclusive for your users?
A: Three features make HealthX user-friendly. Firstly, the app provides details of the nearest doctor or clinic along with the distance. Secondly, it facilitates home visits, which enables the doctor to 'uberise' working part-time while serving the community. Thirdly, we offer video consultations to make the process more accessible.
We have around 500 doctors on board and more than 15,000 user app downloads.
Q: Does HealthX provide other services? And if so, what are they?
A: We are the first health-tech company powered by blockchain technology, which means the patients' medical records are end-to-end encrypted for direct data privacy. With the consent of patients, their health records can be shared with multiple doctors.
Moreover, HealthX facilitates doorstep lab tests, and delivery of medicines and medical equipment like oximeters.
Q: HealthX has been recognised for its services with awards. Can you elaborate on this?
A: We won the Gold Award in the Health and Wellness category and the overall Bronze in our first ever participation at the Bestweb.lk 2021.
This recognition confirms that HealthX has made an impact in more ways than we could imagine. It definitely adds value to the services provided by HealthX.
Q: In a nutshell, what is HealthX's philosophy?
A: We want to create a healthier nation by encouraging the 20,000 nearby doctors to practise preventive medicine and create awareness among patients. If this goal is achieved, we can reduce the number of patients who suffer from conditions like metabolic syndromes through preventive medicine.
Q: HealthX has been valued at Rs. 700 million by KPMG. How did you achieve such a remarkable milestone in a short time?
A: We achieved this milestone through the traction built so far and future potential, based on market size and the strength of our unique technology.
Moreover, the team's progressive mindset along with its dedication to building a healthier nation helped us achieve this milestone.
Q: And finally, how can a budding entrepreneur develop a mindset to see the pandemic as an opportunity?
A: I began my entrepreneurial journey bootstrapping without any capital – and with a big dream to impact society positively. If you're passionate, purposeful and believe in your 'big idea,' that in itself will fuel you with continued persistence, grit and a positive mindset.
Being able to successfully build an idea into a business worth Rs. 700 million affirms that nothing is impossible. Find 'your why'; believe in it and work towards it. Success is just around the corner.
To answer your question, my advice to budding entrepreneurs would be as follows: during turbulent times, don't feel disheartened; instead, focus on what could be done to change yourself and society.
Therefore, if you develop the ability to think out of the box, this land is full of opportunities to be explored and conquered.
Telephone 777442002  |  Email dinesh@inspirex.digital  |  Website www.healthx.lk