HAYLEYS ENERGY SERVICES
Q: Could you provide a brief overview of oil and gas exploration operations in Sri Lanka?
A: In 2008, the government requested tenders for blocks in the Mannar basin. This is where Hayleys Energy Services came in. The company commenced operations in 2009 with a focus on oil and gas exploration activities, developing a wide range of support services required by this upcoming industry.
Our first engagement was securing the contract to provide offshore support and air logistics services for Sri Lanka's first 3D seismic survey in 2009. We provided chase and surveillance boats, crew changes, supplies, provisions, and vessel agency services, including bunkering and helicopter crew changes for the moving seismic vessel.
Following this, we provided support services to the first 'metocean' survey to be conducted in the block, after which drilling operations commenced in Sri Lanka.
Drilling activities were performed in two phases, engaging two drill ships, which led to the country's first natural gas discovery. Once again, Hayleys Energy Services served as a dominant force in securing and supporting the industry with its capabilities, facilities and expertise.
However, with the global industry's crash by 2013, the local industry came to a virtual standstill. This took us to a decisive juncture during which we had to think of solutions to survive and grow in this domain. This led to us venturing into different areas of business, earning foreign exchange for the country and helping promote Sri Lanka as a hub. 
Q: How has the country's location served to help establish Sri Lanka as a hub?
A: A US based multinational oil and natural gas service company recognised that Sri Lanka's location could facilitate speedy shipments to different parts of the world including India where it was conducting operations. Because of this, it set up a base with us.
Hayleys Energy Services also helped establish industry related business process outsourcing (BPO) services for engineering drafting in the country and is currently engaged in drafting operations for a leading organisation in the industry.
As a fair amount of exploration is conducted in the Asian region, we realised that many vessels would pass Sri Lanka to reach various established global service hubs. Because of the high costs associated with these journeys, with its strategic location and facilities, the country could be promoted to oil and gas companies for various services.
An opportunity presented itself when a semi-submersible drilling rig was to be brought to India for a drilling campaign using one of the largest heavy lift carriers in the world. We employed our expertise and experience to offload the rig safely at the Trincomalee Port anchorage, and provide the repairs, services and local marine agency work. 
Q: And what other opportunities has Hayleys Energy Services identified?
A: Vessel lay ups is another opportunity that we promote as some of the key deep-water ports in Sri Lanka have the necessary criteria to meet and attract international clients for this segment of business.
The country also has safe and sheltered waters in its lay up locations, and can provide repairs, maintenance and preservation services.
Moreover, our people converse well in English, and the island boasts great market connectivity through air and sea links.
Continuing in our progressive role, we also won the project for a warm lay up of drill ship Aban Abraham at Hambantota Port.
Thereafter, we promoted the port for the lay up of a floating production storage and offloading (FPSO) vessel. As a result, we secured a project to lay up an FPSO that arrived in April and is expected to be docked at Hambantota Port for at least six months. This landmark project marks the first time an FPSO vessel has sailed to Sri Lanka. 
Q: What services does the company offer the oil and gas industry?
A: Hayleys Energy Services provides much of the support services and local agency representation required by industry assets, from drill ships, semi-submersible rigs and jack ups, to seismic vessels. Ours is a fully integrated company equipped to handle any complex logistics requirement.
Some key services that we promote are safe rig moves including the offloading and loading of rigs, repairs, towing, lay ups and crewing. Over the last 10 years, we have been accumulating knowledge from air logistics to supply chain management and shore based management. Moreover, staff members are sent to various training schools annually, enabling us to approach these projects technically.
For instance, if a drill ship is looking to come to Sri Lanka for a project, tasks such as securing the appropriate visas for crew members and their accommodation, to complex logistics covering the entire drilling campaign, are covered and offered by us.
With an internationally trained and experienced industry specialised team, we conduct all our operations with stringent compliance to Health, Safety, Security and Environment (HSSE) criteria, backed by ISO 9001:2015, OHSAS 18001 and ISO 14001:2015 certifications.
Our focus is to provide a truly integrated project management service to the oil and gas industry.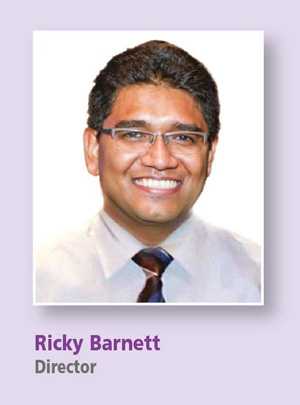 Telephone 2167000
Email info@hayleysenergy.com
Website www.hayleysenergy.com