BUSINESS SENTIMENT
HANGING IN THE BALANCE!
Biz confidence dips marginally with election preparations kicking into high gear
The tallest tower in South Asia (a.k.a. Lotus Tower) was ceremonially opened in Colombo on 16 September, following a delay of four years from its expected launch date. While representing a milestone for Sri Lanka, it has since been marred by allegations of large-scale corruption – levelled by no less than the president… in his keynote speech at the opening ceremony!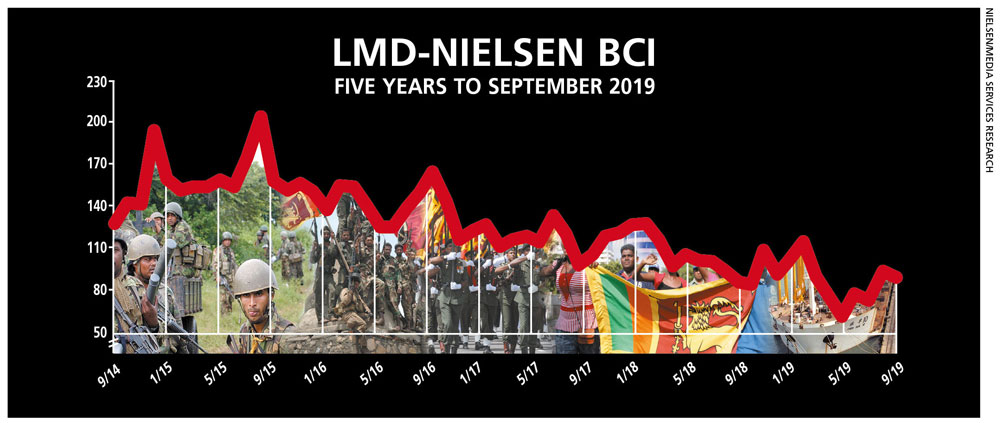 Speaking at the opening of the 356 metre tall tower – which features an observation deck, a conference hall and a revolving restaurant – President Maithripala Sirisena alleged that a Chinese firm contracted to work on the project had disappeared with US$ 11 million of government funds.
He reportedly stated that in 2012, the Telecommunications Regulatory Commission of Sri Lanka deposited two billion rupees with Aerospace Long-March International Trade (ALIT) – a Chinese firm, which was picked as a contractor.
"In 2016, we found ALIT had disappeared. We investigated this and the Sri Lankan ambassador in Beijing went to the address of ALIT personally on my instruction to find there was no such company," Sirisena said, according to Reuters.
Meanwhile, the results of the latest LMD-Nielsen Business Confidence Index (BCI) survey, which was conducted in the first seven days of September, reflect an air of despondency – as has been the case since February, which was the last time it recorded a three digit score.

THE INDEX Business sentiment appears to be holding with the BCI recording a marginal drop of four basis points to register 90 in September. Notably, the index stood at 87 in the corresponding month of 2018 and hovers above its 12 month average in the latest tally.
Nielsen's Managing Director Sharang Pant remarks: "This comes on the back of sustained growth in exports, a decline in imports amid controls, stable inflation levels and tourism arrivals moving back to an average of 140,000 in the last couple of months."
He also notes that "there is anticipation in the air too with an election coming up soon. Businesses expect changes to the tax structure and other incentives that can help draw investments."
SENSITIVITIES Respondents point to taxes, political interference and inflation as being the major concerns for business today.
According to those consulted by the pollsters, the economy, the political culture and poverty are the three most pressing national issues facing Sri Lanka.
A survey respondent also asserts that "controlling the dollar exchange rate is very important. Else, all our businesses will fail… With inflation, our costs are rising and it is difficult for us to increase prices to match."
PROJECTIONS In the last edition of LMD, while stating that the previous month's hike in the index was a welcome sign, we explained that much would depend on how the pre-election period pans out.
Well, nothing has changed thus far!
As Nielsen's Managing Director points out, "the next three months will be critical to gauge the direction of the country's political future, thereby determining business and consumer sentiment."
– LMD