HÄFELE
Häfele Collaborates with Commercial Bank for Attractive Promotional Schemes 
Häfele, the interior fittings and solutions specialist has been operating in Sri Lanka for over a decade has earned itself a credible stature of being the go-to brand for any home improvement and design needs.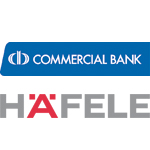 The brand offers a plethora of solutions ranging from door hardware to furniture and kitchen fittings and has, related product categories such as home appliances, furniture lighting, sanitary fittings and interior surfaces into its ambit. This has strengthened Häfele's position as a complete home interiors specialist brand that provides its customers with a convenient and peace-of-mind journey through their entire purchase cycle.
Adding value to this proposition, Häfele has now tied up with Commercial Bank through a special period offer that allows Häfele customers to avail attractive discounts on the purchase of any Häfele products at their company-owned Design Showrooms.
Commercial bank cardholders can enjoy 11.25% on credit cards and 10% on debit cards along with easy payment plans up to 18 months at Häfele Design Centre's in Colombo 04, Kandy and Moratuwa.
Mr. Saurav Das, International Business Head- South Asia, says "Commercial Bank is Sri Lanka's most trusted bank with a customer base of over 3 million. We are happy to be associated with such a legacy bank and are positive that this collaboration will bring immense value to both brands alike.  Through this 'special-period' discount offer tie-up, Commercial Bank card-holders will get special discounts on Häfele products at any of our design showrooms. The objective is to enhance the experience for our existing customers with attractive discounts and offers while also to leverage the ever-growing customer-base of Commercial Bank and add new customers to our business"