GOVERNMENT TO BOOST TOURISM INDUSTRY
The newly appointed government is keen on boosting the tourism industry with the claimed Prime Minister and Finance Minister Mahinda Rajapaksa saying he would reassess multiple taxes imposed at various levels for the hotel sector and introduce a more friendly tax structure. He also mentioned that the government would look at introducing new regulation for the informal tourism sector that currently pays zero tax.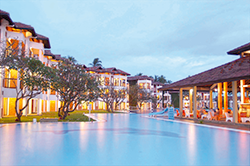 Commenting on recent travel advisories, Rajapaksa said regular dialogue and communication with embassies and diplomatic missions is crucial so that the global travel sector is kept informed about the ongoing political situation in Sri Lanka. He also agreed to consider the suggestion made by the Tourist Hotels Association of Sri Lanka (THASL) and Sri Lanka Association of Inbound Tour Operators (SLAITO) to offer free visa on arrival for those from India, China and Gulf nations.