GLOBALDATA
GlobalData forecasts Singapore credit and charge card payment market to reach nearly $60 billion in 2025
Singapore's economy, which contracted by 5.4% in 2020, had recovered in 2021 with GDP registering a 7.2% growth, supported by the government's stimulus program, and accelerated nationwide vaccination rollout. As a result, Singapore's credit and charge card payment market is set to grow at a compound annual growth rate of 6.5% between 2021-2025 to reach SGD80.6 billion ($59.8 billion) in 2025, forecasts GlobalData, a leading data and analytics company.
An analysis of GlobalData's Payment Cards Analytics reveals that the value of credit and charge card payments in Singapore registered a decline of 15.3% in 2020.
Ravi Sharma, Lead Banking and Payments Analyst at GlobalData, comments: "The economic uncertainty caused by the COVID-19 pandemic has forced consumers to cut down on travel and high-ticket items such as luxury goods, which in turn has affected the credit and charge card market."
However, with improving economic conditions and rising consumer spending, the market rebounded in 2021, with credit and charge card payment value registering a 10.3% growth to reach SGD62.6 billion ($46.4 billion). GlobalData forecasts the market to grow at 8.8% in 2022, whereas the debit card payment value will grow at 7.2%.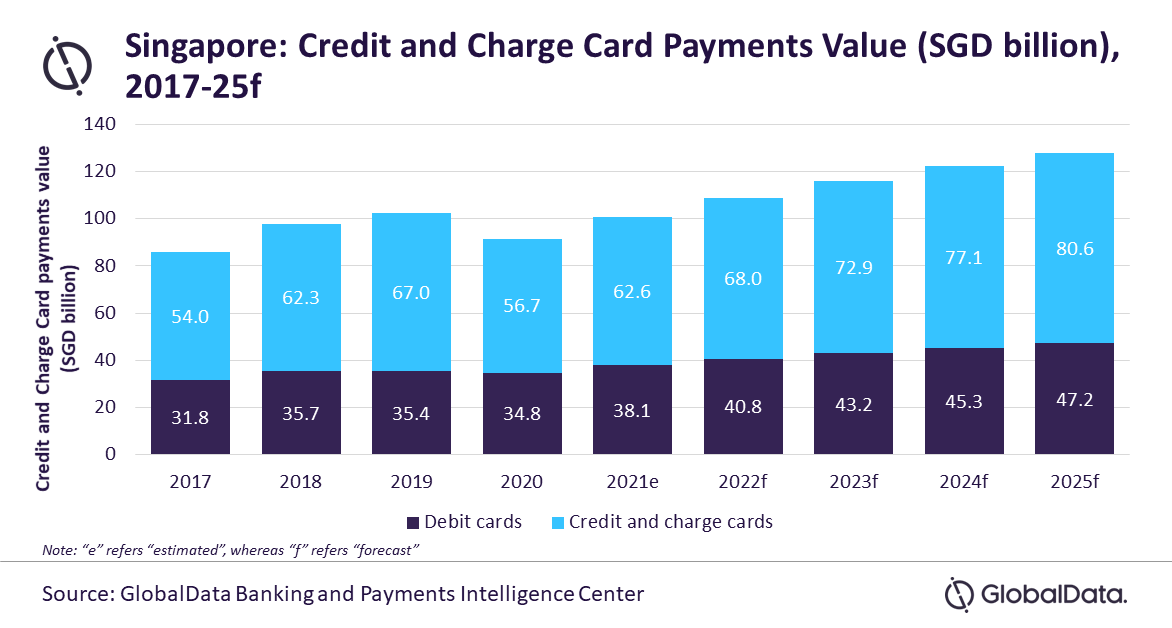 Singapore has a strong card acceptance network, with almost six point of sale (POS) terminals for every 100 individuals in 2021, which is much higher compared to its peers including Australia, New Zealand, China, Hong Kong, Japan, and Taiwan.
To further encourage credit and charge card payments, banks are now offering flexible payment options in the form of instalments. All leading banks in Singapore offer instalment facilities, enabling credit card holders to convert large purchases into monthly instalments to help them manage their expenses. For example, Standard Chartered offers an interest-free installment plan for purchases, 'EasyPay', which can be repaid in three, six, nine or 12 months.
Sharma concludes: "Singaporeans prefer credit cards for payments, mainly due to value-added services such as reward points, discounts on purchases at partner retailers, instalment facilities, and other benefits associated with these cards. While the pandemic led to a decline in the overall consumer spending, it resulted in a significant shift in consumer preferences towards the use of non-cash methods of payment. This, coupled with the recovery in consumer spending, is expected to have a positive impact on the credit and charge card payments market."