FOOD SECURITY IN THE SPOTLIGHT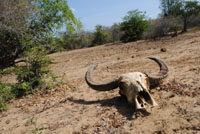 The prevailing drought conditions have caused 900,000 people in Sri Lanka to be in a state of 'acute food security,' according to the World Food Programme (WFP).
While the drought is said to be the most severe one in decades, Sri Lanka's paddy output, which was 2.9 million metric tonnes in the 2016 Maha season, is expected to decrease by 53 percent to 1.8 million metric tonnes this year.
Government sources further indicate that over 1.2 million people have been affected by the drought, while Save the Children estimates that over 600,000 of those affected are children.
According to WFP assessments, Sri Lanka needs 2.3 million metric tonnes of rice for annual consumption but the overall 2017 rice harvest is projected to yield just 1.4 metric tonnes.
The Department of Meteorology has said the drought is expected to continue into April.