FOOD INSECURITY

COMBATTING WORLD HUNGER
The world's largest food distribution system in place in India is receiving global attention – Rajika Jayatilake
For over a year, the world has been reeling from the consequences of a highly contagious and swiftly morphing pandemic with globally reported COVID-19 cases exceeding 180 million and nearly 3.9 million resultant deaths at the time of going to press.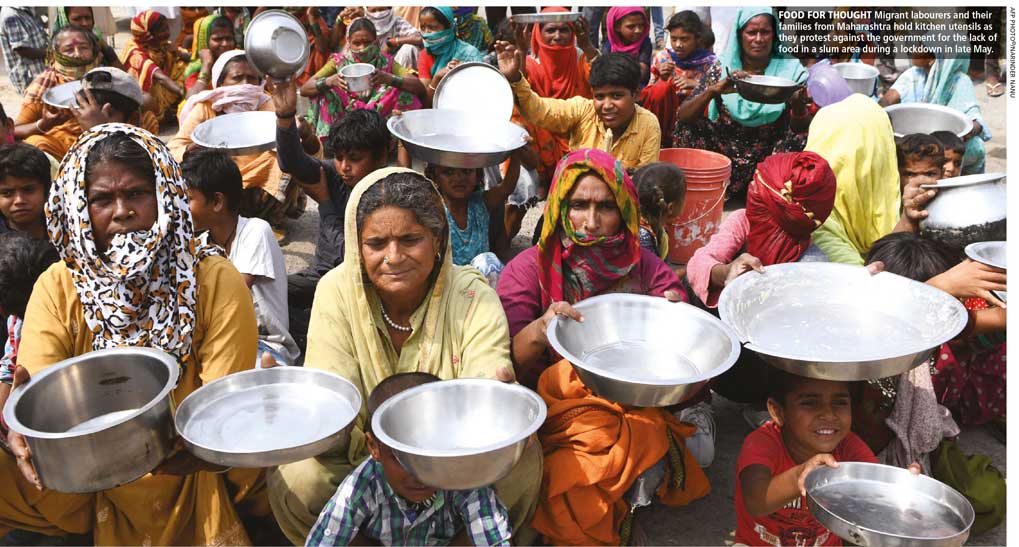 Aside from public health consequences, COVID-19 is disastrously affecting global hunger and poverty, increasing food insecurity through pandemic related lowered incomes and broken food supply chains.
The initial danger to food security is seen at national level through higher retail food prices, adversely affecting the quantity and quality of food to households struggling to stay alive on reduced incomes from the pandemic related economic contraction.
Therefore, food inevitably came into urgent global focus as the pandemic closed national borders and prevented the flow of trade. World hunger increased, bringing new meaning to the words of American agronomist and father of the Green Revolution Norman Ernest Borlaug. He once said: "Food is the moral right of all who are born into this world."
As observed across the world, globally increasing pre-COVID-19 hunger was considerably aggravated by the pandemic; pummelled by extreme climatic conditions; national, regional and international conflicts; and other blows to economic opportunities.
As a further setback from nature, a locust outbreak compounded the food crisis across 23 countries.
The world's hungry is estimated to have increased by 20 percent last year from 2019 while further increases are projected through 2021 as the pandemic continues unabated and hostile climatic conditions batter the environment.
Furthermore, the UN warns that130 million people in 36 countries could be on the verge of starvation while pandemic related interruption of food supplies has resulted in drastically increased food prices worldwide.
This has unsurprisingly aggravated food insecurity for 821 million poor and vulnerable people in developing countries, whose ability to feed themselves and their families has dropped to perilously low levels.
As a result, the broken supply chains, lockdowns, shopper panic, hoarding and food shortages have led the world to rethink national food strategies.
The independent lead for Britain's national food strategy Henry Dimbleby, in his independent review commissioned by the British government, called for a "new green revolution" to create sustainable agriculture, even to reevaluate how human beings connect with nature.
Meanwhile, the World Bank Group is working with governments and international partners to ensure that food systems continue to be effective at national level despite the economic challenges posed by the pandemic.
In this scenario, what appears to have caught international attention is the positive impact of India's Public Distribution System (PDS), an extensive social safety net focussed on ensuring food supplies to the country's at least 303 million informal sector workers and the rural poor.
For this category of citizens, foregoing even a day's earnings makes the difference between eating and going hungry while several days without work leads to economic ruin.
The PDS was launched in January 1945 to ration food to citizens during World War II and was revamped in its current form in 1947. Even so, the PDS focus on distributing grains to resolve urban food shortages began in the 1960s, greatly helping to contain rising prices and distributing food to hungry people.
Subsequently, this welfare-based food distribution platform transformed into a rights-based food security platform under the National Food Security Act (NFSA) of 2013. This became a trailblazer as the world's largest food distribution network with the PDS delivering food grains monthly at affordable prices to almost two-thirds of India's citizens.
The PDS is operated jointly by central and state governments through a network of 537,000 fair price shops (FPS) extending across 3.3 million square kilometres to serve over 800 million people.
These fair price shops use ration cards mainly to sell rice, wheat and sugar at the 'issue price,' which is lower than that in the market.
Furthermore, the use of technology enables continuous oversight and feedback, ensuring greater efficiency, transparency and accountability of this gigantic and complicated system.
For instance, the earlier inaccuracies and obsolete information relating to the number of beneficiaries on ration cards such as the dead or newborn were resolved though technology. Duplicate and fake ration cards were also identified and removed.
Meanwhile, third party assessments take place regularly, as well as evalua-tions by respected establishments such as the Indian Institutes of Management (IIMs) and Indian Institutes of Technology (IITs).
All these strategies enable the PDS to be sensitive and responsive to changing situations including the overwhelming economic challenges of the pandemic. For instance, even during the long and uncertain COVID-19 lockdowns, the PDS worked silently, ensuring food grains were transported to all the FPS so the poor would not go hungry.
As the world takes note of this laudable system, it brings to mind the words of former FAO Director-General Jacques Diouf: "The fight against hunger is not an issue of charity; it is an issue of justice."
Jacques Diouf
Former Director-General of the FAO