FARSIGHTED BUSINESSMAN
Don Carolis Hewavitarne
H. Don Carolis & Sons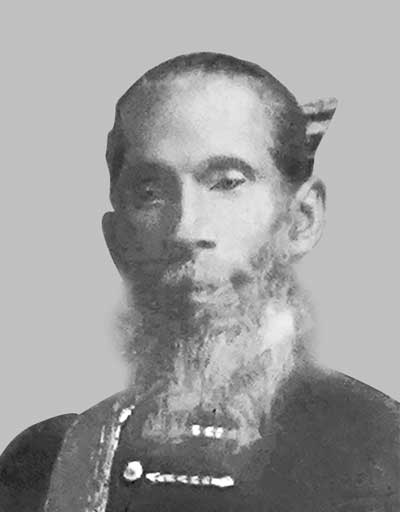 In 1860, Mudaliyar Don Carolis Hewavitarne – also known as Don Carolis Appuhamy – married Mallika Dharmagunawardhana, the daughter of a wealthy businessman from Colombo. Don Carolis was a promising youth who had come to Colombo from Hitthatiya in Matara, in search of his fortune.
He did not arrive unprepared or unschooled; he brought with him a sound pirivena education and expertise in astrology. A student of Brahaminical and Buddhist literature, he was the first to publish the Sinhala astrological year book. Mallika's horoscope, which predicted immense wealth and illustrious children, would have given him no pause at all.
The couple had five children – one of whom was Don David Hewavitarne who later changed his name to Anagarika Dharmapala, and became a prominent figure in the Buddhist revival movement in Ceylon and in India.
In a passage from his Reminiscence of My Early Life, he says of his father: "As for my father, like all intellectual Buddhists, he believed that each person must work out his own salvation. He always said to me, eat what you want, don't sleep too much and do not ask blindly but learn through your own efforts."
It was advice Don Carolis himself lived by. Mallika's wealthy father had bestowed a furniture shop in the Pettah on his daughter as her dowry. With her husband's effort and flair for business, this shop would grow and prosper in time to become H. Don Carolis & Sons (popularly referred today as Don Carolis'), one of the largest and most reputable furniture companies in Asia.
The enterprise began in a modest way in a corner of Keyzer Street, catering to the demands of the coffee, coconut and plumbago industries, for furniture, casks and barrels. In time, H. Don Carolis & Sons came to be reputed as manufacturers of fine hand-crafted wooden furniture emulating the best in European style at mode­rate prices, supplying tea and coffee plan­ters of European descent.
An Indo-African syndicate formed in London in 1895 to carry out a large furniture business with South Africa led to the establishment of the firm's first factory – Steam Furniture Works – in Slave Island and the firm became the dominant furniture maker in the country.
Fortune and farsighted business know-how had made the predictions of his horos­cope a reality – he was indeed blessed with immense wealth and illustrious progeny.
Don Carolis Hewavitarne: worked out his own salvation.