BENEVOLENT BAKER
A. G. Hinniappuhamy
Maliban Biscuit Manufactories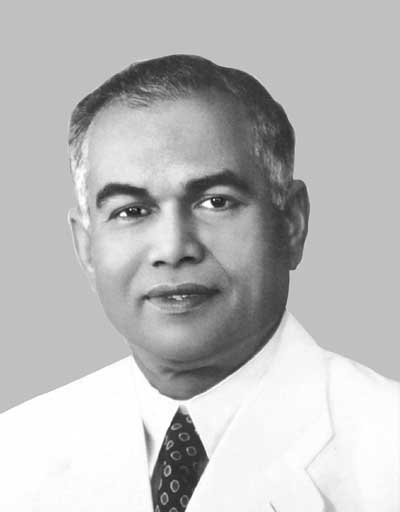 As a young man of 17, Angulugaha Gamage Hinniappuhamy was ready to shed his rural beginnings in the Southern Province and seek a fortune in the city. He packed light but what would prove to be more than sufficient, thanks to a Buddhist's outlook on life and the advice of his mother.
His mother is reported as having said: "Son, you may leave the village and go to Colombo but remember that whatever you do, it must be in accordance with the teachings of the Buddha and have the blessings of the gods."
It appears that the heaving city did not prove in the least daunting to the village lad and he spent his first days in Colombo working at a small hotel until he'd saved up to open his own tea kiosk down Maliban Street in the Pettah.
In time, he converted the shop into a mini hotel, which was the beginning of his first real enterprise: Maliban Hotels.
As business boomed, Hinniappuhamy diversified into a bakery venture that originally sold bread. As he added biscuits, which he made with his own hands to the bakery's range, Hinniappuhamy recalled the advice of his mother and only sold products that could be safely given to members of his family. He made sure his biscuits passed his taste test first.
His most popular proved to be the Marie, which still enjoys a top spot among the people's biscuit preferences. As demand grew, he sailed to London and purchased plant and machinery from Baker Perkins, which he set up in his first factory in Kotahena. On 5 August 1954, Maliban Biscuits commenced full-scale operations as a limited liability company – Maliban Biscuit Manufactories.
Hinniappuhamy's irresistible and delicious biscuits have been, and continue to be, enjoyed by generations of Sri Lankans. Today, the 24 hour shift operations are located in Ratmalana on a 10 acre site – an impressive achievement for an enterprise that was embarked upon with a mere 75 cents in venture capital.
A mother's words had also remained with the boy who set out from Akmeemana to seek his fortune. In accordance with Buddhist principles and his mother's exhortations, he quietly and consistently shared his wealth through many acts of philanthropy. Medical centres, wards in hospitals, maternity homes, temples and community outreach have benefitted from his purse and generosity.
A. G. Hinniappuhamy: personal principles and philanthropy.