FAIRWAY PROPERTIES
Fairway Properties recognised at the National Construction Awards 2019/2020-Elements, Rajagiriya and Fairway Galle receive awards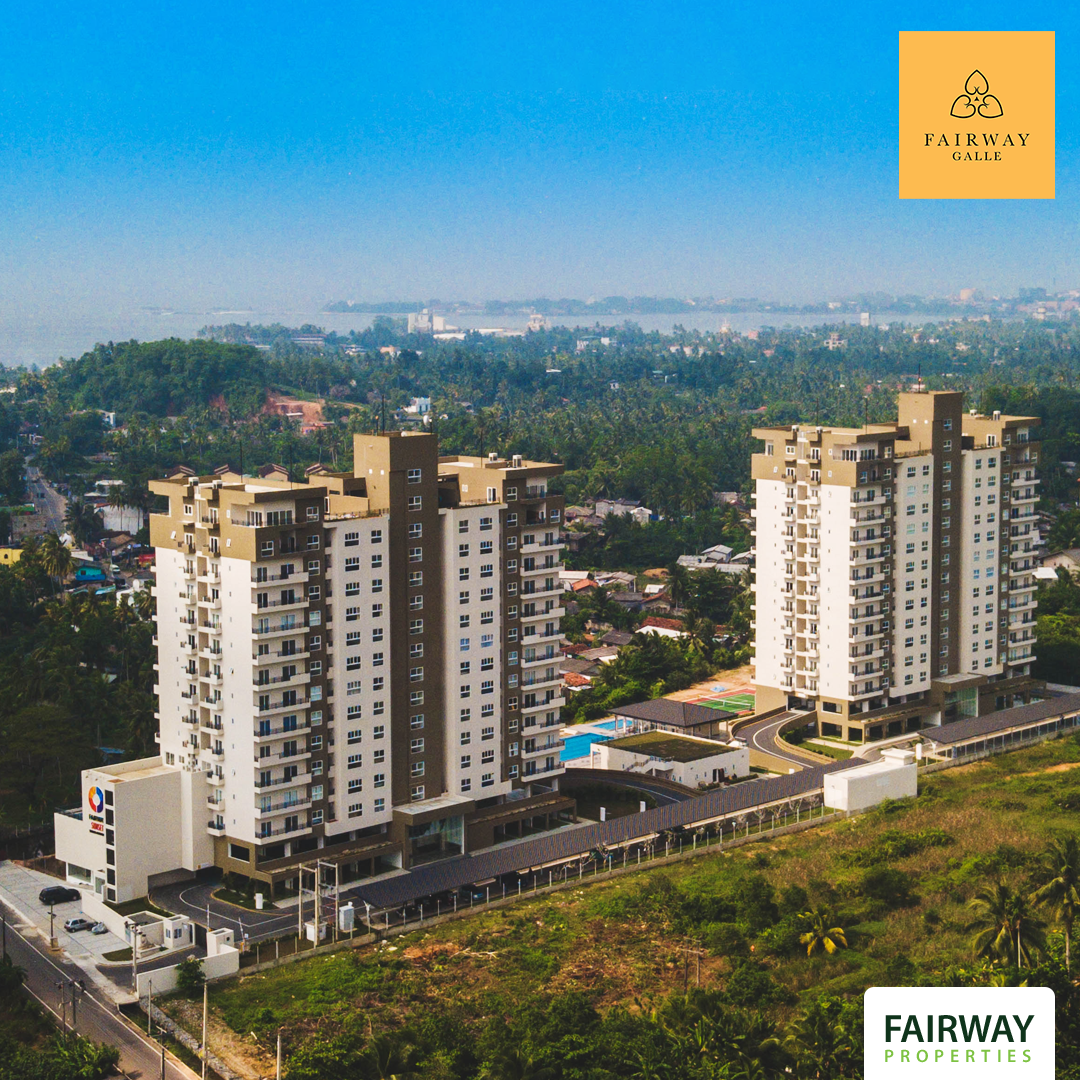 Fairway Elements was awarded the National Construction Excellence Award, while Fairway Galle was awarded the National Construction Merit Award at the recently concluded National Construction Awards 2019/2020, Sri Lanka's premier construction event.
Fairway Properties' construction partner MAGA Engineering (Pvt) Ltd achieved outstanding success, winning a record 94 awards at the National Construction Awards 2019/2020.
Building on the legacy of Fairway Holdings, having previously received the ICTAD Construction Excellence Award for Fairway on the Waterfront in 2008 and Fairmount – Urban Oasis in 2010 respectively, Fairway Properties' vision has always been to ensure sustainability in each and every one of the organisation's endeavours. As a responsible developer, always mindful of their carbon footprint, Fairway Properties ethos, strive to promote all concepts that will serve to ensure sustainable living for its valued customers and a sustainable future for generations to come.
Fairway Galle – National Construction Merit Award
Fairway Galle, which won the National Construction Merit Award, is easily the only vertical luxury residential space completed outside of Colombo and its suburbs. Set in the historic city of Galle, which boasts a heritage spanning over three centuries, Fairway Galle is located on the exit road to Galle from the Southern Expressway, in close proximity to the city itself and a myriad of significant historical attractions, as well as a wide array of other recreational activities.
Fairway Galle combines the convenience of contemporary living with the quaint charm of this Southern coastal city. Equipped with all modern amenities, it's located in close proximity to some of the most popular beaches such as Unawatuna and Thalpe, whilst the beautiful beaches of Koggala, Weligama, Hikkaduwa, Matara and Mirissa are just a short drive away.
Ideal as your home, second home or even as a prudent investment in this charming historic city, Fairway Galle comprises affordable two and three bedroom luxury apartments and penthouses located on a spacious, three and a half acre allotment of land. Its resort-like amenities include a beach clubhouse at Unawatuna, a swimming pool, a kids pool, a rooftop terrace, a gymnasium, a tennis court, a squash court, an activity room, a kids play area, a Cargills Food City mini supermarket, a salon/spa, provision for electric car charging points at all car ports and its very own helipad.
Fairway Galle offers multi split-type inverter air conditioners in all living areas, fully-fitted imported kitchens, TOTO and Grohe sanitary ware and tap fittings, LED lights, engineered timber doors, single-glazed uPVC window frames and LP gas on tap. These special features enhance the value of the property and will ensure value appreciation in time to come.
Fairway Galle was also recognised at the Asia Pacific Property Awards 2019-2020 in the Residential High-Rise Development category for Sri Lanka. The Asia Pacific Property Awards is the largest, most prestigious and widely recognised programme throughout the region.
Out of a total of 256 apartments at Fairway Galle, only a few are remaining and you still have the opportunity to own one of these iconic apartments at a revised price.
An apartment at Fairway Galle, just less than two hours drive from the Bandaranaike International Airport and an hour from Kottawa Exit, on the Southern Expressway, is in every way the ideal vacation home.
Fairway Elements – National Construction Excellence Award
Elements is the fourth vertical luxury high-rise apartment building created by Fairway Properties and it presents an elegant new paradigm for living in Sri Lanka.
Elements was designed by renowned architect Mohan Silva of Urban Design Partnership, keeping to Fairway Properties' design ethos of streamlined minimalist architecture that complements practical and spacious living areas. Elements incorporates an outdoor experience into vertical living, and with it the high standard of discerning luxury residential developments around the world.
This dedication to luxury living comprises 132 units – including large three and four bedroom apartments, two duplex penthouses and two single bedroom apartments – that present spectacular city or lake panoramas to their discerning owners. With only four apartments located on each floor, Elements safeguards the privacy of its residents. The apartments were all sold out in record time.
Elements apartments incorporate useful, modern features such as energy efficient lighting and double-glazed uPVC windows, using tempered glass for maximum absorption of harmful UV light rays, with external sound deflection. In case of an accident, the glass will not shatter and cause injury. Fittings were carefully chosen and the doors are of engineered timber of the highest quality meeting Fairways commitment to sustainability and environmental stewardship. High quality bathroom fittings were exclusively supplied by internationally acclaimed brands including TOTO and Grohe.
Elements living spaces come fitted with Leicht Premium Kitchens from Germany, supplied by Centrepoint, a Fairway Holdings company. Bringing together over 80 years of expertise, Leicht kitchens offer superior quality features, combining material, colour, architecture and light with function-oriented product innovations, to bring unique designer kitchens to life. Leicht by Centrepoint is the No. 1 best sold premium kitchen brand in Germany.
The living areas of each apartment seamlessly blend into an infinitely spacious outdoor terrace, each with its own panoramic view.
Elements is the epitome of luxury living in harmony with nature, cocooned by the wetlands of Rajagiriya, bird-life and the encircling water of the newly developed Diyawanna Oya recreational areas. As its name suggests, Elements incorporates and celebrates the intrinsic components of Sri Lanka's spectacular natural heritage.
For more information, please visit www.fairwayproperties.lk