FAIRWAY
Fairway enters Kurunegala
Second venture out of Colombo
Fairway Holdings' second venture out of Colombo was inaugurated with the groundbreaking ceremony of 'Fairway Kurunegala', a proposed mixed development building project, which took place on 16th August 2018 at the picturesque project site in Kurunegala, the capital of the North Western Province. The Chief Guest for the ceremony was Hon. Patali Champika Ranawaka, the Minister of Megapolis and Western Development. The Guest of Honor was His Excellency Mr. Thusara Sanjeewa Witharana, the Mayor of Kurunegala Municipal Council. The ceremony was also graced by Hon. S B Nawinne, the Minister of Internal Affairs & Wayamba Development, Dr. Jagath Munasinghe, the Chairman of UDA, Mr. Sumeda Rathnayake, the Director General of UDA, Mr. W J Senevirathna, the Director of UDA for the North Western Province, Mr. Saman Kumara Lenaduwa, the Acting Director of the North Western Province Environmental Authority, Mrs. P. A. S. M. Marasinghe, the Provincial Director of RDA North Western Province and the Chairman & Managing Director of Maga Engineering, Captain Kularatne.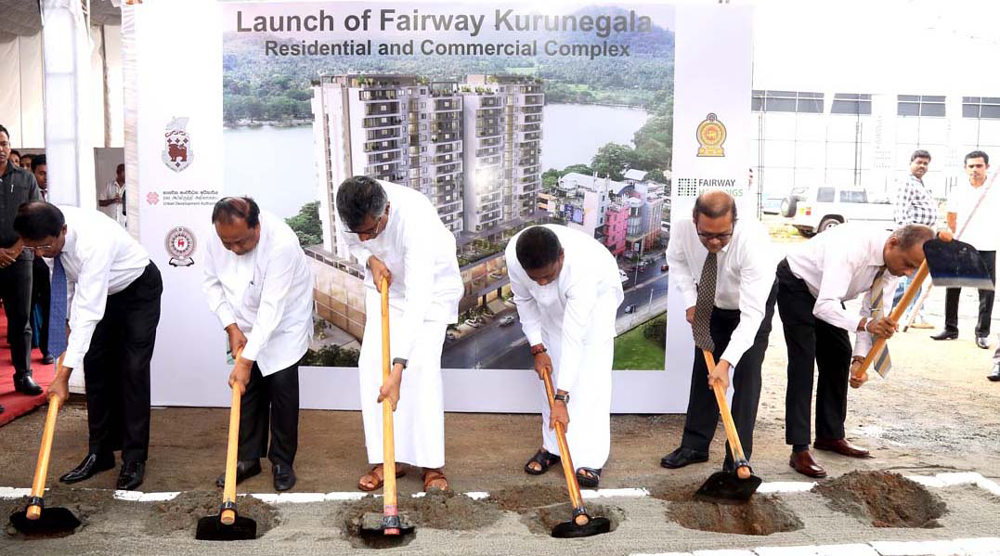 Fairway Holding's entry into Kurunegala is in recognition of the city's established importance as a major city in Sri Lanka and a vibrant regional business hub. A focal point in both the Central Expressway and the railway running from Colombo to the North, the city is a thriving wholesale and retail center, and contains a number of popular schools. Kurunegala was an ancient royal capital for 50 years, from the end of the 13th century to the start of the 14th century, and the area has an abundance of religious and cultural sites. The city is surrounded by large rocky outcrops, paddy fields, coconut estates, and lakes.
The proposed building, which will be a potential landmark in Kurunegala, has been conceptualized and designed by senior architect Mr. Mohan Silva with maximum emphasis on comfort, safety and state-of-the-art conveniences. 75% of the building's space will contain 180 luxury apartments, including four penthouses, and the balance 25% will contain a shopping mall with leading local and international brands, offices, a food court and beer garden, a supermarket and ample commercial parking. The use of environmentally friendly material for construction will ensure sustainability and longevity.
Fairway Holdings is one of the pioneers in introducing vertical luxury living to Sri Lanka with its numerous projects mainly based in Colombo and its suburbs. The home-grown conglomerate expanded operations to Galle in its first venture out of Colombo and is currently carrying out two apartment projects in that city. In addition to property development, Fairway Holdings is involved in hospitality, trading, financial services, aviation and leisure, and actively promotes local art and culture through various sponsorships and events.