STATE OF THE NATION

FAIR WINDS OR FOUL FOR A SMALL ISLE?         
Wijith DeChickera senses that Sri Lanka is straddling the cusp of history – because its positional stance is under extreme stress these days
History is a funny thing, which we learned to our chagrin in school. Its chimerical shape changes depending on who's essaying it. Such is history's charm that the victors' perspective generally dominates over all other contesting narratives.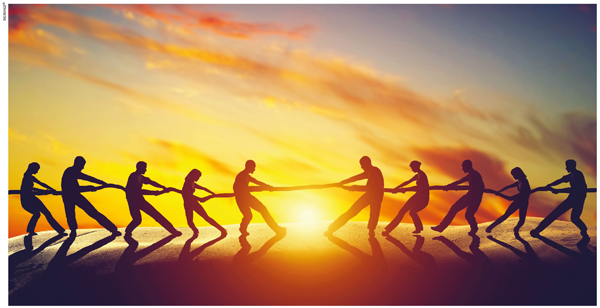 Those who don't learn its lessons are condemned to repeat them. Or regret not having studied their meaning and significance. Really great national leaders are readers and aficionados of history.
You sense that I'm lamenting the lacunae of such leadership acumen these days…
The other thing about history is that it's being written every day. From the mundane and seemingly insignificant to matters of much import, the future's history books are being compiled by events both great and small.
Since we lack spatial and time bound objectivity, some of these events sail by unnoticed while we swim against strong tides and in the face of a stiff breeze. These flotsam and jetsam have recently included local magisterial judgements, mainstream global treaties and their joint contribution to history's unpredictable hyperbola.
There's a sure trajectory along which Sri Lanka is being swept – it's the product of two streams tugging and pulling at the national psyche.
A backwater eddy in the island's chequered history was when a recent court decision to release all 13 STF cadre accused in the egregious killing of five schoolboys in 2016 sent shockwaves through civil society. It set our isle's civilisational prospects back by decades. The penchant for defending national security for alleged war crimes of the past is dismaying.
A disturbing countervailing trend is to permit the troops of global powers to enjoy the many privileges given to their 'boots on the ground' of our soil. Although previous administrations have allowed sundry access through successive Acquisition and Cross-Servicing Agreements (ACSA), the most recent Status of Forces Agreement (SOFA) – denied by government – must give us pause.
An embarrassment of reasons for concern runs the gamut: through an effective waiver of sovereignty over a foreign power's servicemen; elusive gains by way of aid and assistance especially since we're no longer at war; and the response of IS and China among others to this regional staking out of ex-American territory – 'Sri Lanka as a US aircraft carrier in the Indian Ocean.'
From the limited vantage point of the present, it appears that these helixes wrestle like a brace of serpents in the national staff and sceptre. A deeply ingrained vein of nationalism buttressed by preferential treatment for 'war heroes' and any person or institution  linked to the defence of the state runs through the heart of our homeland. But an openhanded welcome is also extended to service personnel of foreign powers, demonstrating an awareness of bulwarks needed vis-à-vis prevailing regional winds.
Where one would have hoped for a cleaner symbiosis in national character and policy, Sri Lanka's strategic outlook is badly divided by and among its political leaders.
A onetime president whose stab at 15 minutes of fame courtesy his erstwhile 'common candidacy' is turning into an increasingly desperate second attempt has not been too shy to scupper our international preferential prospects with a politically ambitious but ill-advised reintroduction of judicial executions – after a moratorium of over four decades.
In response to this and other affronts to the landmark 19th Amendment to the Constitution, the head of state's estranged coalition partner – the United National Party (UNP) and its beleaguered leader – have remained mercurially silent and inactive, at least in terms of prosecuting an impeachment.
No surprise that a former president has shed crocodile tears over the pre-empting of his many excesses under the 19A surpassed 18th Amendment, under which the executive dismantled the democratic checks and balances of tri-pillar government.

Every attempt by a sitting president to scupper the legislature and judiciary, by his high-handed actions and aspirations, places liberal democracy under unwarranted tension.
Equally, the deepening silence of the UNP (embattled by its own leadership tussles, succession plans and impending presidential contest) demonstrates not only that the prime minister is resting on his laurels… the country's last truly republican party left standing is in danger of collapse, to the detriment of the polity at that.
And even in the parting of ways between a president who started his political career as a member of the Chinese Communist Party and a premier who's left holding the baby of large Chinese funded developmental projects while not throwing out the bathwater of American largesse, there's the stamp of a civilisational clash.
We are not privy to the eventual outcome of the challenge to hegemony in the Indian Ocean. With that said, prevailing winds – SOFA so good? – seem to convince a riven polity of equal and opposite positions.
In such a milieu, all that big biz can do – it seems – is to call for more transparency on the part of government. It is a clarion call that has brought out the powers that be, fighting back by accusing influential chambers of politicisation.
The least of Sri Lanka's worries perhaps in the midst of global powers atop a SOFA inviting fundamentalist terror groups inimical to US domination is to throw more than mere disapproval our way!