EXPORT SECTOR
YEAR OF RESILIENCE
Shiran Fernando analyses the performance and resilience of the export sector over the last year
Sri Lanka's external sector proved to be resilient last year in the face of the pandemic, registering an annual decline of only 17 percent. In absolute terms, this represented a reduction of US$ 2 billion.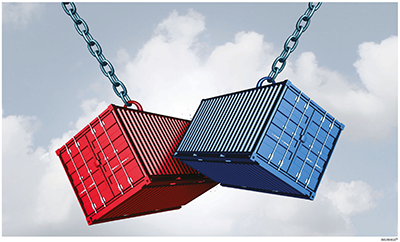 Imports fell by about 20 percent in the first 11 months of 2020 compared to the previous year, which amounted to 3.6 billion dollars. This resulted in an overall saving of nearly US$ 2 billion in the trade deficit, which assisted in curbing the pressure on the rupee during the year while helping service debt.
So what were the key drivers of the external sector? And what trends can we expect this year?
Sri Lanka's exports exceeded the sector's revised target of 9.5 billion dollars by the end of the year, recording US$ 9.9 billion in earnings.
APPAREL Of this sum, 44 percent (or US$ 4.4 billion) originated from the apparel industry, which shrank by 21 percent compared to 2019.
This was mainly due to the sharp fall in exports during the first wave of the pandemic between March and May last year, which have since recovered and recorded only a six percent year on year decline in December.
The second wave also exerted some pressure with October and November recording 20 percent and 35 percent year on year falls respectively. The industry's performance was supported by the export of personal protective equipment (PPE), which earned US$ 786 million between January and November 2020.
This year, the apparel industry is expected to maintain its momentum, recovering in important markets such as the EU and the US. The challenge locally would be to maintain production in line with demand given the changes to processes to comply with health guidelines.

Uncertainty regarding Brexit has also been averted as the UK is continuing with a similar scheme to the European Union's GSP+ initiative enjoyed by Sri Lanka and other countries.
The proposed fabric processing park in Eravur is also expected to help the industry in sourcing materials locally while there are also opportunities to attract some orders from the global trade shifts taking place.
AGRICULTURE Tea exports fell by about eight percent last year despite the prices rising compared to 2019. Auction prices also rose to an all-time high although quantities fell 11 percent during this period due to the drought and lack of fertiliser impacting production.
However, the external demand for Sri Lankan tea was high despite the pandemic. The nation witnessed increased demand while other countries such as India were unable to meet demand during the first wave.
Rising global oil prices – recovering from around 20 dollars a barrel at the height of the crisis – will also prop up demand from key source markets in the Middle East.
Rubber-based product exports declined by only eight percent in 2020 with the demand for PPE products such as surgical and nonsurgical rubber gloves preventing a steep fall. The outlook for this year is positive with improvements in local production and external demand.
Coconut-based exports recorded a notable rise of eight percent last year to record US$ 664 million. These products included coconut-based oil, milk powder, cream, milk, flour, vinegar, whole coco peat, fibre pith, coconut husk chips and activated carbon, which registered noteworthy demand.
With the increased emphasis on local production, it is expected that higher output will stimulate demand this year.
In addition to coconut exports, major gains were forthcoming in the export of spices and concentrates (7%), and other crops (49%). Other categories such as gems and jewellery (52%), seafood (28%) and petroleum products (19%) recorded contractions owing to external demand.
One sector exhibiting high potential is electrical and electronic components – despite the overall decline of 14 percent last year, it could meet future demand related to medical devices, and electrical component manufacturing. Additional support to improve market access and marketing would assist the sector in reaching its growth targets.
EXPORTS The US and India both absorbed a 20 percent decline in exports from Sri Lanka owing to the impact of the pandemic on demand. Export markets in Europe such as the UK (9%), Germany (12%) and Italy (14%) recorded less pronounced declines.
With the rollout of vaccines and improvement in demand with stimulus measures to boost consumption, demand from these economies is expected to improve compared to last year. However, more time will be needed to recover to pre-pandemic levels.
SERVICES While merchandise exports are a key priority for the country, Sri Lanka can advance the sector's trajectory by higher exports of services, which encompasses ICT and business process management (BPM), construction, financial services and transport.
Services sector exports fell by 23 percent to 2.9 billion last year but there was notable growth in segments such as ICT and BPM.
Overall, exports displayed a great deal of resilience in 2020. This year, there is a need for a higher level of growth, enabling Sri Lanka to reduce its trade deficit and refinance the nation's debt.