EXACTPRO SYSTEMS
NEW DEVELOPMENT AND TESTING CENTRE IN SRI LANKA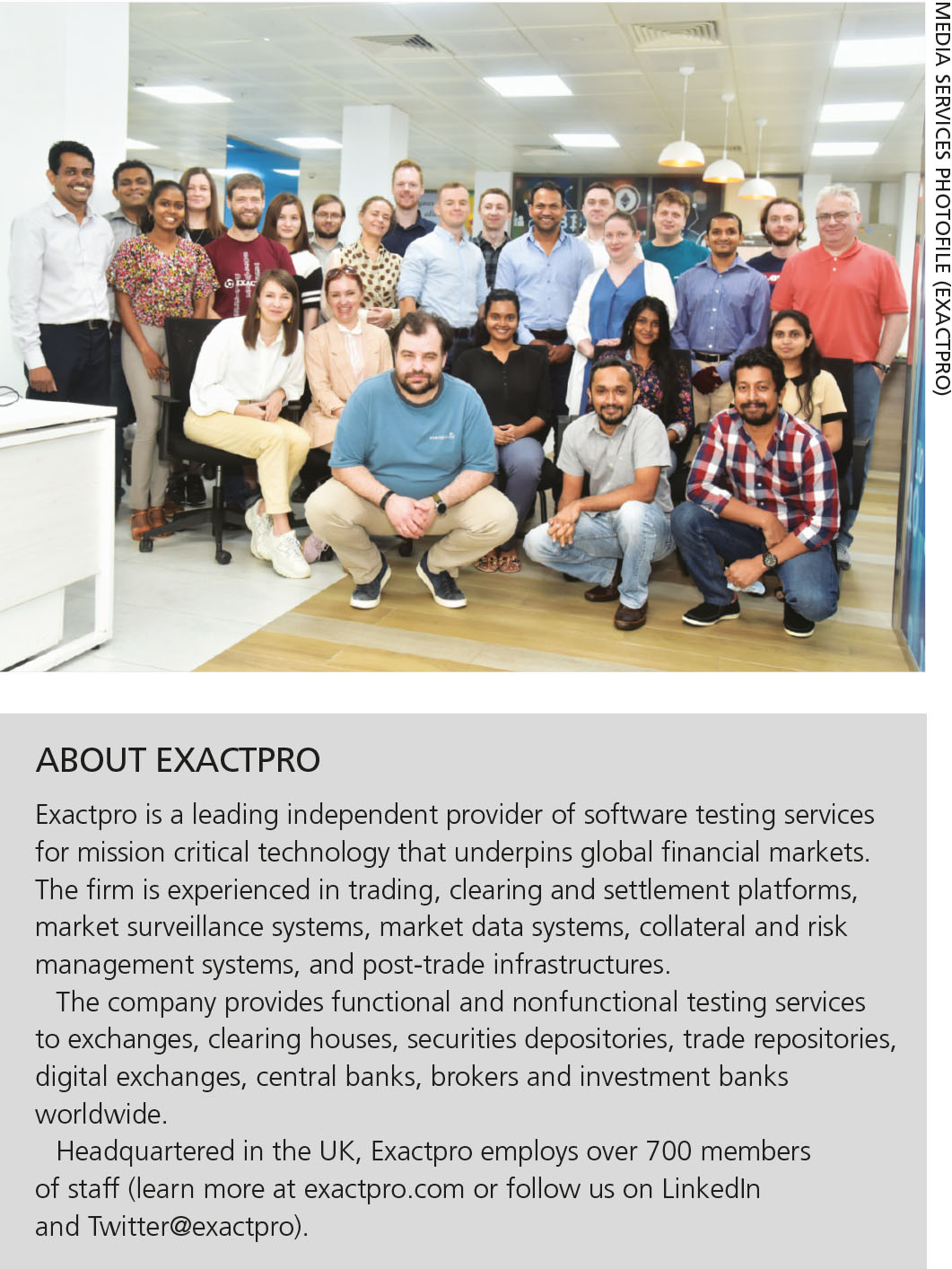 An international company providing independent software testing services for global capital markets, Exactpro continues to expand its footprint in Sri Lanka. Following the announcement of its expansion plan in July 2021 and appointment of Jagath De Silva as the Sri Lankan entity's CEO in September last year, the company has obtained Board of Investment (BOI) status, having signed an agreement showcasing Exactpro's commitment to invest in the country.
The signing ceremony took place on 24 February, following the investment approval of the BOI earlier this year to set up a software development and testing delivery centre for the export market.
Exactpro Systems was incorporated in Colombo in October 2021 and has already started recruiting IT specialists at different levels, actively tapping into the local talent pool.
The Exactpro leadership team – the company's C-suite and senior management – has visited its new office, looking to meet the local team, perform knowledge transfers and strengthen the company's presence in the region, by nurturing existing collaborations and establishing new partnerships.
Asked what brought Exactpro to Sri Lanka, its co-CEO and co-founder Alexey Zverev explains: "Exactpro came to Sri Lanka strategically, as part of its long-term business goal to scale our delivery capabilities across the Asia-Pacific (APAC) region, and enrich the team with highly skilled and culturally diverse IT talent."
"In the country itself, we build on a long history of working alongside leading technology specialists from LSEG Technology Sri Lanka – a collaboration that saw multiple successful project deliveries. One of our current collaborations is with WealthOS, a local wealth management software as a service (SaaS) company," he elaborates.
Zverev continues: "We also explore the Distributed Ledger Technology (DLT) space in partnership with Yaala Labs, a provider of cloud-native blockchain enabled financial market infrastructure technology."
In addition, he asserts that "our previous experience as well as new partnerships make us confident that here in Sri Lanka, we will find local technical talent to add to our technical expertise and enrich our corporate culture."
"Given the highly competitive level of technical knowledge among local specialists, we anticipate that the Exactpro delivery centre in Colombo will be instrumental in driving the company's efforts to further develop Exactpro's next generation framework for automation in testing," he says, adding that this will be  implemented "across multiple client projects to support software testing services provided by Exactpro."
So how is the company planning to enhance its delivery capabilities in Colombo?
Exactpro's COO Kirill Zagorouiko explains: "As multiple sources cite an unprecedented growth of Sri Lanka's information technology and business process management (IT-BPM) sector, we are witnessing the region gradually laying claim to its position as one of the leading IT hubs in the global marketplace."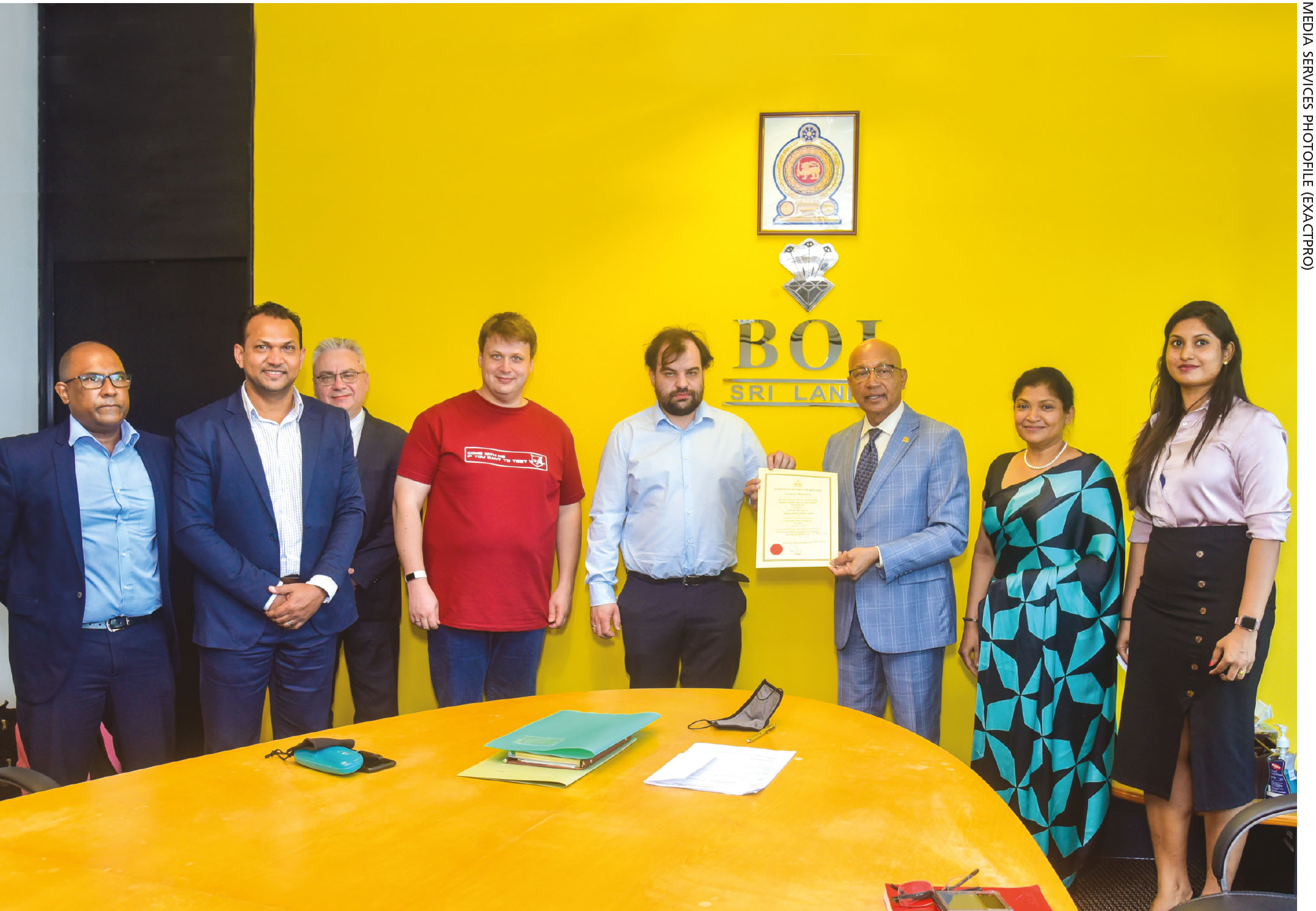 He adds: "This not only provides Exactpro with a healthy and nurturing environment for business development but also creates potential for hiring highly qualified technical talent."
"This opportunity is crucial for a technology company like Exactpro. As a business focussed on providing specialised and technologically advanced software testing services, we find ourselves having a constant demand for a talented workforce, enabling us to scale our support for existing and new client projects carried out in different parts of the world," Zagorouiko reveals.
As for meeting this demand, he says that Exactpro plans to "foster their tech talent starting with the very first steps into their future careers – prior to graduation from local universities. To attract talented youth and help them make informed career decisions, Exactpro started establishing relationships with Sri Lankan technology institutions, with the Informatics Institute of Technology (IIT), Sri Lanka Institute of Information Technology (SLIIT) and NSBM Green University being the first in the company's network."
"Going forward, Exactpro is looking to expand its academic outreach and organise various educational activities – such as knowledge sharing sessions, technology meet-ups and internship opportunities – to help local students learn more about a career in software testing and quality assurance in the financial technology sector," Zagorouik states, adding: "We hope that discussions we've had during this visit to Sri Lanka will be the beginning of a strong relationship benefitting both students and our business."
In the context of what this means for Exactpro as an international business, its co-CEO and co-founder  Iosif Itkin explains: "The expansion of Exactpro's business to Sri Lanka aligns perfectly with the mission of helping our clients. It is critical that the team be able to respond to change and provide a reliable service to our clients in any location, adapting to their needs and easily switching between Exactpro delivery centres in different locations."
"The new subsidiary in Colombo provides us with additional resources, allowing for better time zone coverage aligned with the geographical distribution of client projects. Staying agile and doing whatever it takes to deliver the best possible service helps build the trust underpinning our collaboration with clients," Itkin says.
And he notes that "the focus on geographical diversity is complemented by our aim for diversity of the supported technology stack, as well as approaches and techniques used in software testing projects."
According to one of the guiding principles at Exactpro ('Software Testing is Relentless Learning'), it is imperative for the company to keep its competitive edge through constant exploration, research and education, he adds.
Itkin believes that "with knowledge transfer and mentorship practices put in place at Exactpro, the Sri Lanka team will quickly adopt the 'relentlessly learning' mindset and support the company's efforts to promote the best practices of software testing internally as well as among industry practitioners."
Jagath De Silva is the CEO of Exactpro Systems – Sri Lanka. He says: "I am truly excited about being a part of this journey along with the Exactpro global team. Software testing and quality assurance is my career long passion, which aligns with Exactpro's ambitious plans for the region."
"Bringing more than two decades of my fintech and delivery experience, and industry knowledge, to this opportunity, I'm happy to lead the new subsidiary and support the company's business expansion effort here in Sri Lanka," he adds.
De Silva notes that "as a starting point for this initiative, obtaining BOI status was an important milestone that recognised Exactpro's commitment to contribute to exponential growth of the IT industry in Sri Lanka – a recognition that will generate benefits for both Exactpro business and the Sri Lankan labour market."
As for the outlook for the new entity, he says it aims to hire 60-70 specialists this year and scale up to more than 100 people in 2023.
He continues: "As for the specialised knowledge that we expect to build among the taskforce in our Colombo office, the company follows a two-pronged approach where we initially hire professionals experienced in software testing in the financial services industry while building the same capability from grassroot levels. So we will recruit new university graduates and nurture them to become specialists in this industry."

"In both scenarios, be it experienced specialists or fresh graduates, we aim to create a highly qualified team of experts demonstrating deep expertise not just in the testing space but also in the financial services knowledge domain. Such interdisciplinary expertise is at the core of the people component of the professional services provided by Exactpro for its financial services industry clients," De Silva explains.
He also notes that "as part of our effort to create a productive and fostering work environment, we remodelled an office space in the heart of Colombo. Our Sri Lankan office is quite spacious and ready to welcome over 70 specialists."
"The work environment and atmosphere are absolutely important for our workforce in many ways. It will help boost productivity and the quality of work, so we're determined to build a casual and fun work atmosphere for our teams," he assures.
De Silva sums up: "Our team here is only shaping up; and it's an exciting new beginning of collaboration, networking, building connections and collectively reinforcing the backbone of the financial services industry."
Telephone (94) 0761 127667  |  Email info@exactpro.com  |  Website exactpro.com