EURO GRAFT

CORRUPTION IS CORROSIVE
The European Union is experiencing a trend of relentless and extensive corruption – Rajika Jayatilake elaborates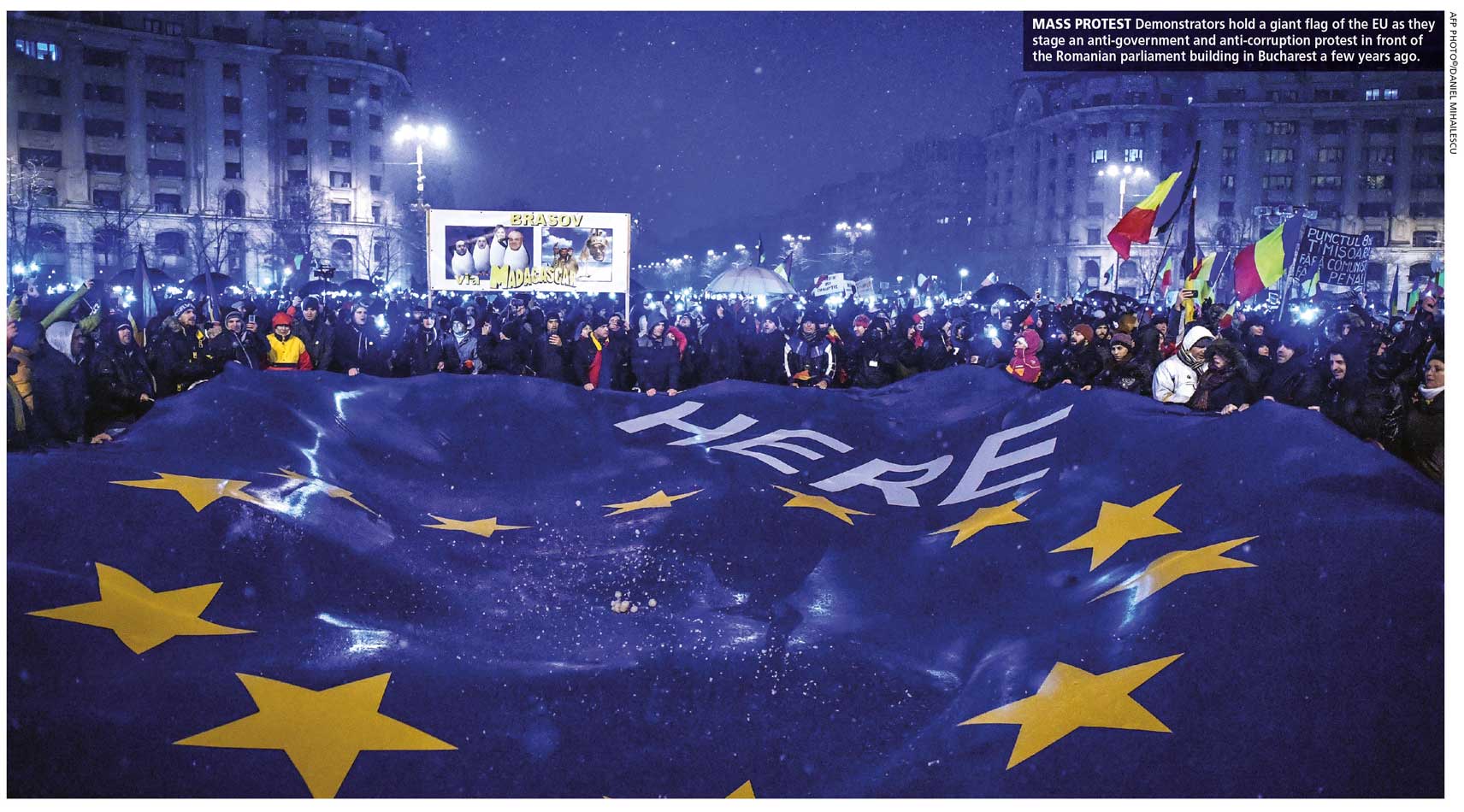 Many people lose their humanity in the quest for money and power, corrupting everything and everyone in their path. As Austrian writer Karl Kraus once said, "corruption is worse than prostitution. The latter might endanger the morals of an individual; the former invariably endangers the morals of the entire country."
Moreover, the average score in the latest Transparency International (TI) Corruption Perceptions Index (CPI) reflects widespread global corruption. This makes it imperative that the leadership of individual nations cracks down on corruption and finds ways to crush its malignant growth to ensure that everyone is looked after.
For instance, US President Joe Biden has made fighting corruption a national security obligation. He has sought to strengthen the government's ability to fight "the abuse of power for private gain, misappropriation of public assets, bribery and other forms of corruption" at home and abroad.
However, in the EU – with its image of affluence, stability and democratic way of life – there appears to be a distressing trend of increasingly widespread corruption.
In fact, according to a recent survey by TI, nearly a third of the people in the 27 European Union countries feel that corruption is increasing its stranglehold on their countries while 44 percent think it's not getting better.
Furthermore, 37 percent of businesses in the bloc believe corruption is problematic for business engagement. As a result, there is a strong perception of an extensive and systemic lack of political integrity in the EU. The average CPI score for member countries is 48 out of 100 where zero denotes the most extreme corruption and 100 represents the least corrupt countries.
The Association of Accredited Public Policy Advocates (AALEP) to the European Union recently submitted a list of countries with a 'Low and Relatively Low Level of Corruption.' This list includes Denmark, Finland, Sweden, the Netherlands, Germany, Luxembourg, Austria, Belgium, Estonia, Ireland, France, Spain, Portugal, Lithuania and Slovenia.
Another list it submitted includes nations with a 'High and Relatively High Level of Corruption.' These are Cyprus, Latvia, Poland, the Czech Republic, Malta, Italy, Greece, Slovakia, Croatia, Bulgaria, Hungary and Romania.
Nevertheless, what appears to be a positive sign is that corruption is recognised and exposed in the EU unlike in the developing world where it thrives as a way of life.
Recently, Chancellor Sebastian Kurz resigned shortly after Austrian prosecutors raided his office for evidence of bribery and breach of trust. He was being investigated for alleged misuse of government funds for coverage in a daily newspaper. As he resigned, Kurz said he was stepping down so that "the coalition can continue to work in the interests of the Austrian people."
Before that, Estonia's Prime Minister Jüri Ratas resigned over a corruption scandal involving one of his key officials who accepted a bribe in exchange for a political favour. Estonia is considered one of Europe's most incorruptible countries and ranked by TI as the 17th least corrupt nation.
On the other hand, TI ranks Bulgaria as the bloc's most corrupt member state. In fact, it has been consistently rebuked by the European Commission (EC) for its inability to rein in corruption and failing to jail even a single official on bribery charges.
During the previous regime, inflamed crowds took to the streets to protest government corruption while even Bulgarian President Rumen Radev accused then prime minister Boyko Borisov of running a "mafia government."
The US recently imposed sanctions on three Bulgarians and 64 companies with ties to the same over allegations of corruption.
Romania too has seen mass street protests in recent years over bills introduced in parliament to dilute judicial independence, and make prosecuting crime and high-level corruption difficult.
Meanwhile, former ruling party leader and one of Romania's most powerful politicians Liviu Dragnea was jailed for three years on corruption charges although he recently managed to get released from prison early.
Unsurprisingly, TI has ranked Romania as one of the EU's most corrupt member states. Brussels has been carefully scrutinising Romania's justice system since it became a member in 2007.
Croatia's former prime minister Ivo Sanader was charged with corruption over abuse of state funds for personal gain and was recently sentenced to eight years in prison.
In the meantime, a recent election in the Czech Republic resulted in the unexpected but narrow defeat of billionaire Prime Minister Andrej Babiš who is being investigated for misusing European Union subsidies.
What's more, because the EU is a heavily interconnected union of 27 nations, it's affected by corruption even in the smallest member state. This being so, the Treaty on the Functioning of the European Union has categorised corruption as a 'euro crime' and included it among very serious crimes with a cross-border dimension.
As a former prime minister of India Atal Bihari Vajpayee once said: "There can be no compromise regarding corruption."
There can be no compromise regarding corruption
Atal Bihari Vajpayee Former Prime Minister of India