ENTREPRENEURIAL BOOM

COVID-19
A SILVER LINING
Manilka Ediriweera discusses how the pandemic generated new enterprises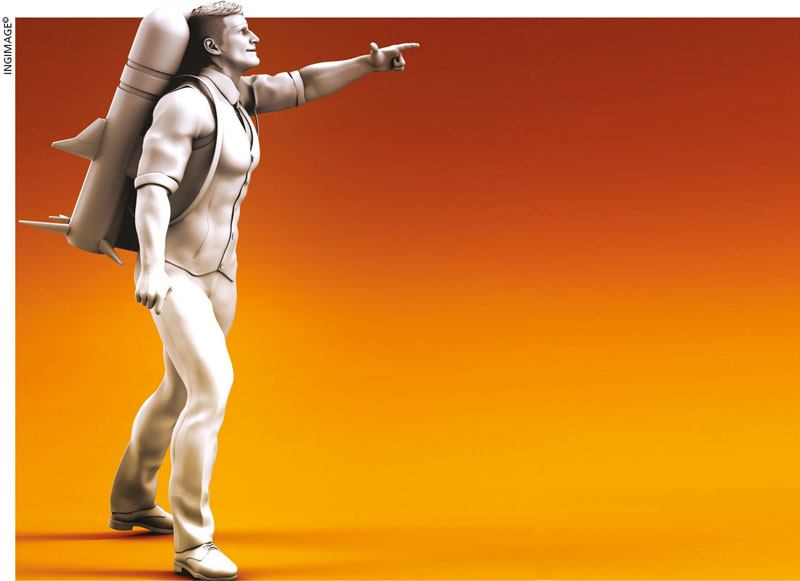 COVID-19 has been an unprecedented health and economic catastrophe for the world. But like every dark cloud has a silver lining, the pandemic has one too – i.e. the entrepreneurial boom.
As the world shut down, people were forced to stay indoors for weeks and months, and folks had to adapt to what is now known as the 'new normal.'
Dining out and grocery shopping were replaced by delivery services, physical meetings and classes were held virtually over videoconferencing, workouts at home replaced visits to the gym and even trips to the hospital declined as we adjusted to this new way of life.
Suddenly, people had more time on their hands and were able to rethink their jobs, identify their passions, adopt new technology, tap into fresh ideas, and unleash bursts of creativity to develop new business ideas and/or pandemic-based solutions.
Individuals and businesses alike needed to think differently as they were pressured into adapting to changing behaviour, attitudes, demands and regulations to survive. This led to improvements in existing business models and the creation of novel options, which opened new doors that led to the global entrepreneurial boom that we are currently witnessing.
According to management consultant firm McKinsey, the number of applications for new businesses in the US reached an all-time high in July 2020. Last year, more than 4.4 million new enterprises had been created in the US alone and similarly in France, 84,000 startups were registered by October 2020.
Substantial increases in entrepreneurship were also seen in countries such as Turkey (23%), Chile (14%), the UK (9%), China and Estonia (3% each). However, nations such as Russia and Portugal (-26% each), Romania (-24%) and Spain (-21%) showed a decline in entrepreneurship relative to 2019.
The differential growth of entrepreneurial activity or new business development can be the result of changing consumer preferences during the pandemic. New business generation may also have been seen due to furloughs and layoffs, creation of new markets, adoption of novel technology and even the convenience of administrative procedures for starting up businesses.
For some, it was a necessity rather than a choice; while for others, it was about pursuing a passion instead of simply coming up with pandemic-based solutions. However, it is clear that entrepreneurs are rising to the challenge, and working hard to get their ideas out and turn them into reality.
Startups and entrepreneurs are working on a variety of new projects such as improved personal protective equipment (PPE), emerging vaccine technology and better ventilators, while others are pivoting their businesses by redirecting existing knowledge, skills, people and networks, to meet emerging needs and gaps in the market.
During the COVID-19 crisis in Sri Lanka, more than 15 delivery companies emerged and web-based marketplaces selling fresh produce were launched with enhanced online offerings. Vendors also began adopting and introducing digital mechanisms that made shopping convenient for their customers.
This surge in entrepreneurship through new businesses isn't entirely surprising since entrepreneurs are no strangers to crises. They're known for being risk takers who ride the wave instead of drowning in it. This is evident if you look at the 2007/08 financial crisis that heralded startup businesses such as Uber and Airbnb, which are giants today.
History has shown that crisis inspires innovation. This time too, it isn't any different as entrepreneurs identify unmet needs in the market and move quickly to fulfil them.
What has changed however, is that these ventures are developing from the ground up with a digital mindset. These businesses will have technology as a built-in contingency plan to respond to any future crises that come their way.
According to McKinsey, the average percentage of partially or fully digital products and/or services rose from 35 to 55 percent between December 2019 and July 2020, a seven year acceleration over the average adoption rate recorded from 2017 to 2019.
Technology became more accessible and the internet allowed businesses to reach wider audiences. Social media expanded as well and enabled entrepreneurs to make their products available online, customisable and deliverable according to consumer expectations.
So even though the global pandemic killed countless businesses, it also incubated an explosion in entrepreneurship and marked the beginning of a new era of entrepreneurship.
From small-scale catering and contract work to consulting, the pandemic has produced an astonishing number of entrepreneurs – who amidst all the challenges of the pandemic, have identified and seized opportunities, and taken risks in a period of high uncertainty.