COP26 MEETING
SUMMIT IGNORES CRIMES AGAINST HUMANITY
Saro Thiruppathy is disappointed but not surprised to learn that even COP26 failed to genuinely commit to protect the Earth from disaster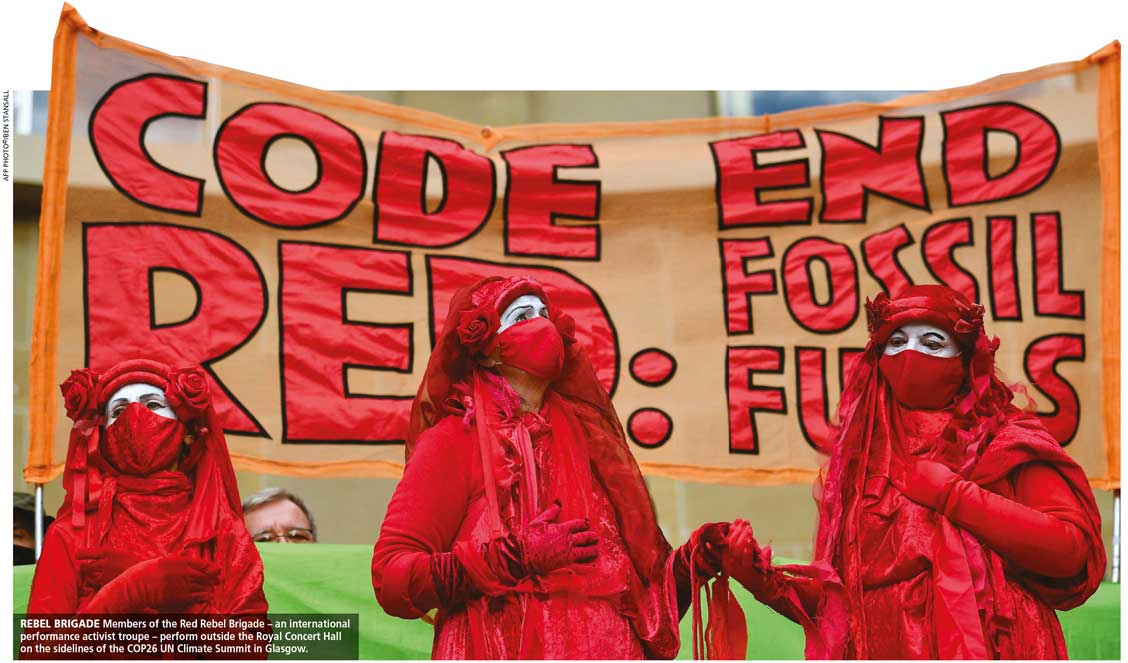 Most of the world's citizens had very little hope that any positive outcomes would emerge as result of an overrated and overhyped COP26. This sense of disillusionment has steadily increased over the past six years, ever since world leaders adopted the Paris Agreement in 2015.
At that time, they puffed and preened as they trotted out a range of measures and commitments, which they claimed they'd take to save humanity from the disaster of climate change as a result of global warming.
But year upon year since then, the Conference of the Parties (COP) has yielded nothing – zero, zip, zilch, nada! These farcical annual events that draw the rich and the poor, and developed and developing nations, to spend heaps of money – which many can barely afford – take place with plenty of pomp and pageantry.
However, it's doubtful whether many of those leaders who attended the conference even bothered to read the damning report released by the Intergovernmental Panel on Climate Change (IPCC) a few months before the circus came to Glasgow.
COP26 BETRAYAL Amnesty International's Secretary General Agnès Callamard issued a damning statement about this betrayal of the Earth's occupants: "The United Nations Climate Change Conference has failed to deliver an outcome that protects the planet or people. Instead, it has betrayed the very foundations on which the United Nations was built – a pledge first not to countries nor states but to the people.
"Throughout their negotiations, our leaders have made choices that ignore, chip away or bargain away our rights as human beings, often discarding the most marginalised communities around the world as expendable collateral damage," Callamard added.
If science was nonexistent and knowledge of global warming was unknown by all and sundry including elected leaders, then perhaps the glib statements that emanated from COP26 could possibly be ignored.
But we are living in the age of knowledge, technology and scientific advancement. And when respected scientists warn of horrific damage to the planet and say that youth will inherit a parched Earth, it's criminally irresponsible for smooth talking leaders to ignore those dire warnings and blithely proceed to con their way out of yet another supposed climate conference.
As the Earth's temperature rises, the polar ice caps are melting and raising sea levels. The Amazon rainforest, which was a carbon sink, is steadily deteriorating and scientists say it's reaching a tipping point and releasing more CO2 into the atmosphere than it can absorb.
Researcher at the National Institute for Space Research
in Brazil Luciana Gatti says that burning the forest produces about three times the amount of CO2 than the Amazon can absorb. She adds that in areas where there's been 30 percent or more deforestation, the carbon emissions are found to be 10 times higher than where deforestation is less than 20 percent.
So the failure by COP26 to commit to maintaining temperature rise to 1.5°C above preindustrial levels is condemning much of the global south, which is home to half a billion people, to a life of misery. Insufficient water, rising sea levels, extre-me heatwaves, droughts and floods are now the norm rather than the exception.
CLIMATE FINANCE The commitment to mobilise climate finance began in 2009 at COP15 in Copenhagen. Wealthy countries pledged
to channel US$ 100 billion annually to less developed countries by 2020 to help them adapt to climate change and mitigate further rises in temperature.
That was 12 years ago! And that promise too has been broken and nations that pledged accordingly apparently can't agree on accounting methods.
The reality is that developed nations have failed to honour their promise. Not a penny has been raised and now the rich want to delay this critical support until 2023 and no time frame has been decided as yet.
Meanwhile, a group of 24 nations known as Like-Minded Developing Countries (LMDC) that include African nations, India and even China, in a fit of optimism, want the wealthy world to pay at least US$ 1.3 trillion annually as climate finance from 2030.
Though the Paris Agreement is fast becoming only a cosmetic exercise with a photo op for world leaders, it has given youth, indigenous communities, climate activists and others a benchmark, and an impetus to keep the burning issues of climate change alive in the public domain.
Recognising the abject failure to help secure a safer Earth, COP26 President Alok Sharma issued a wishy-washy apology to the global community for the "imperfect" agreement. But climate activist and columnist George Monbiot was more to the point when he described it as a "pathetic, limp rag of a document."
Meanwhile, UN Secretary-General António Guterres tweeted: "The #COP26 outcome is a compromise, reflecting the interests, contradictions and state of political will in the world today. It is an important step but it's not enough. Our fragile planet is hanging by a thread and we are still knocking on the door of climate catastrophe."
In a separate tweet, he wrote: "My message to young people, indigenous communities, women leaders and all those leading on #CimateAction, I know you might be disappointed but we're in the fight of our lives & this fight must be won. Never give up. Never retreat. Keep pushing forward. I am with you."