ENDURING LEGACY
Deshabandu George Ondaatjie
Mercantile Investments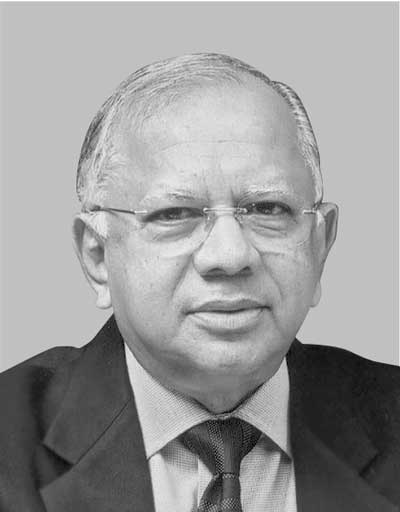 Reading about Deshabandu George Ondaatjie, one cannot help but acknowledge the sense of ebullience that rises from the words written about this gentleman who to the grief of many no longer walks amongst us. But his spirit most certainly has imbued so much that still lives and thrives today.
One reads in an appreciation a vivid description of how he came to build the Nilaveli Beach Hotel: "He stood on the virgin beach of Nilaveli in July 1971 and cast his eyes beyond the sun bathed emerald waters into the horizon… In an instant, George asked his driver to fetch a mammoty, dug the ground and symbolically laid the foundation for what became the first beach hotel in that backwater fishing village."
The writer cites this as one of the "many great business decisions that George made prompted by his gut sense rather than resort to cumbersome analytics." It wasn't the most ideal time in the island's history to be venturing out on such an enterprise. But this impetuosity was not arbitrarily exercised – Ondaatjie had a keen sense of purpose and an inquiring mind, which complemented his decisive urgency.
Ondaatjie seized not only the day but life itself, amassing accolades not only as a pioneering hotelier but also as an investor and the founder of the Mercantile Investments Group of Companies.
At the time of his demise, he was the Chairman and Joint Managing Director of Tangerine Beach Hotels, Royal Palms Beach Hotels, the Nuwara Eliya Hotels Company (Grand Hotel) and Nilaveli Beach Hotels – the first planned hotel development on the east coast of Sri Lanka.
Always looking to the future and not behind him at what had gone before, Ondaatjie revelled in creative risk taking. It is recounted that when Ondaatjie asked leave of tycoon Cyril Gardiner to embark on his own used car sales business, the latter had given him an IOU, which read: "Come back if you need me"! But Ondaatjie never needed to cash it in.
It is from these simple beginnings that he laid the foundation for Mercantile Investments. By dint of hard work, a keen and focussed strategy and demonstrated integrity, he built the firm into one of the premier finance houses in the country at the time.
In 1994, George Ondaatjie was conferred the prestigious Deshabandu title by the Government of Sri Lanka for his pioneering efforts as an entrepreneur, financier and hotelier.
George Ondaatjie: his enduring legacy is his enthusiasm and integrity.