EMPLOYEE RELATIONS
Compiled by Rohan Morais
EVOLVING HRM PARADIGMS
Natasha Fonseka underscores the importance of managing people at work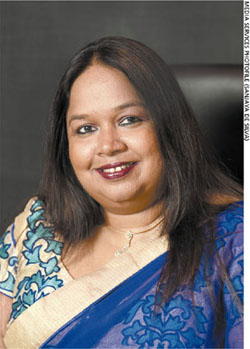 Q: What course of action would you adopt if you were to hypothetically encounter a problem that has no official guidelines for resolution?
A: As human resource (HR) professionals, we often encounter problems for which there are no certified protocols. Each individual is unique and so are the problems they encounter.
Therefore, I would begin the process by analysing the problem from different angles; and if necessary, then seek advice from respective company heads or the CEO before settling on the best course of action.
Q: How would you handle a situation where a stakeholder requests you to implement a policy that might not benefit or even be detrimental to the company in the long run?
A: If faced with such a situation, I'd always uphold my ethics and professionalism. An explanation of my refusal to comply with the request would be proffered diplomatically to the stakeholder.
I would then explain why implementation of the requested policy would be detrimental or of no benefit to the company.
Q: Could you tell us how someone in your position should approach a situation in which employees in the lower rungs of the organisational structure are in disagreement with their superiors on a sensitive HR-related matter?
A: This would require us to take on the role of facilitator or mentor. So we need to sit in on discussions with superiors and other employees to clarify matters. Then we would delve deeper into the matter to explain, and obtain collective and constructive feedback – and in conclusion, be strong enough to convince the staff to arrive at a common consensus.
Generation Y will always probe and question any decision until we hold a deeper discussion with them to explain it with a suitable rationale that's convincing.
We must listen to both concerned parties, and make them understand that we acknowledge their feelings, emotions and views. And we should understand the reason for the disagreement, and provide them with a professional and convincing explanation.
Moreover, a follow-up discussion must be conducted within a week to determine how both parties feel about the situation – and in special cases, even make necessary changes to decisions that have been made previously in the interest of the company and its employees.
Q: Do you recall an instance when you foresaw a problem relating to either employees or a union that you prevented from escalating? And how did you handle it?
A: This is a common occurrence and communication is key. It is not a mere exchange of information, but also about understanding the emotions and intentions behind it. Effective communication is not about merely conveying a message, but how it is received and understood in the way it is intended to be. We do have HR open days, one-to-one discussions between employees, a strong and effective grievance handling process, focus groups, employee opinion boxes and so on. All these tools help us remain connected with employees.
If and when we foresee a problem, we hold a discussion and try our best to understand the employer's and employees' points of view. Having an open-door policy in an organisation also helps, as it provides access to discussions between employees and employers or management.
Q: Is sexual harassment at the workplace an issue in Sri Lanka, as it is in the West – and how do you capture the attention of employees who fail to understand its seriousness?
A: Sexual harassment in the workplace has reduced significantly and is no longer a major issue in Sri Lanka. This is primarily due to the active laws against sexual harassment, as well as the policies and procedures that organisations have established to minimise such issues.
Along with having a strong grievance handling process in place, most companies conduct programmes periodically to educate their staff on the consequences of violating policies and regulations that the organisation has implemented to eradicate sexual harassment.
Q: What sort of changes and inclusions in HR do you foresee in the next 10 years or so?
A: HR would no longer be a personnel management or administrative function. It will take on the role of a strategic business partner that supports and facilitates the operations of an organisation.
So it will evolve to include business knowledge and the needs of organisations. Robust career development plans would be established to bind Generation Y members as they represent a migratory population. Going forward, HR will play a critical role in balancing and aligning both business and people strategies.
The interviewee is the Head – Group Human Capital and Taxation of Softlogic Holdings