EMERGING MEDIA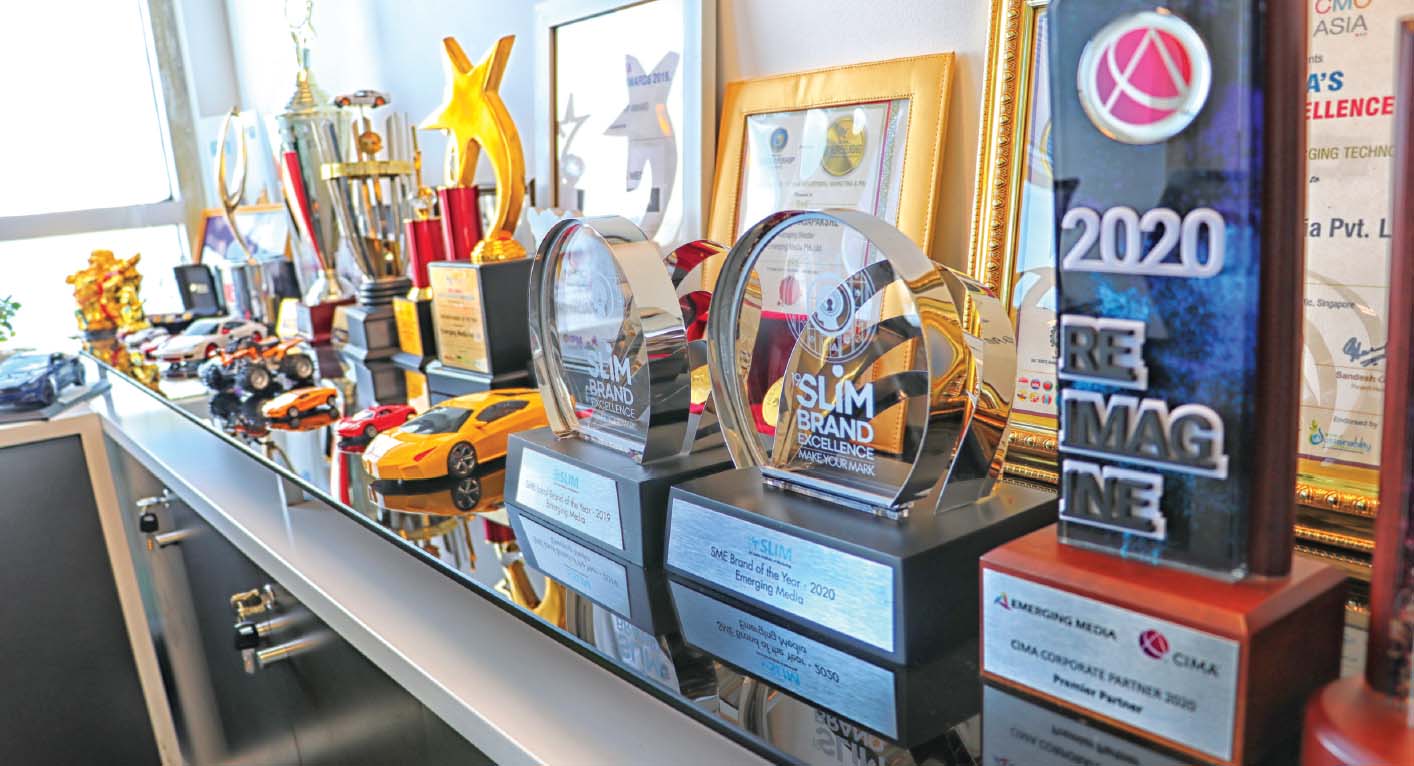 Q: How important is it to adhere to an ethical code of conduct in the billboard and outdoor advertising sector?
A: With the rapid expansion of integrated marketing communications, advertising has become a demanding and challenging industry. It plays an important role by creating the primary demand for products and services.
The mixing of art and facts in advertising communications is subservient to ethical principles. The truth in an advertisement has to be seen from a consumer's perspective rather than a legal point of view.
Ethics is a choice between good and bad, right and wrong – it is governed by a set of principles of morality at a given time, place and society. As the one of largest outdoor digital display advertising networks in Sri Lanka, Emerging Media takes a serious look at the ethics, principles and values that govern the actions and decisions of groups.
Q: How did the coronavirus outbreak affect operations of location-based and outdoor advertising?
A: The past couple of years have been crucial for us since marketing budgets were drastically cut due to the deterioration of the economy. Major events haven't been organised since 2019 and service brands tend to pull out their ads due to restricted operations.
Our main revenue generator – i.e. LED screens – witnessed a major downfall due to the country's spells of long lockdown periods.
But it isn't all doom and gloom, I would say. As marketers, we need to identify the opportunities in every crisis, which in this case is the possibility of aggressive advertising demand following the pandemic.
Major commercial brands will invest more to advertise their products and services to catch up from where they left during the crisis. Therefore, we have expanded our platforms and equipped ourselves with strategies to cater to this opportunity.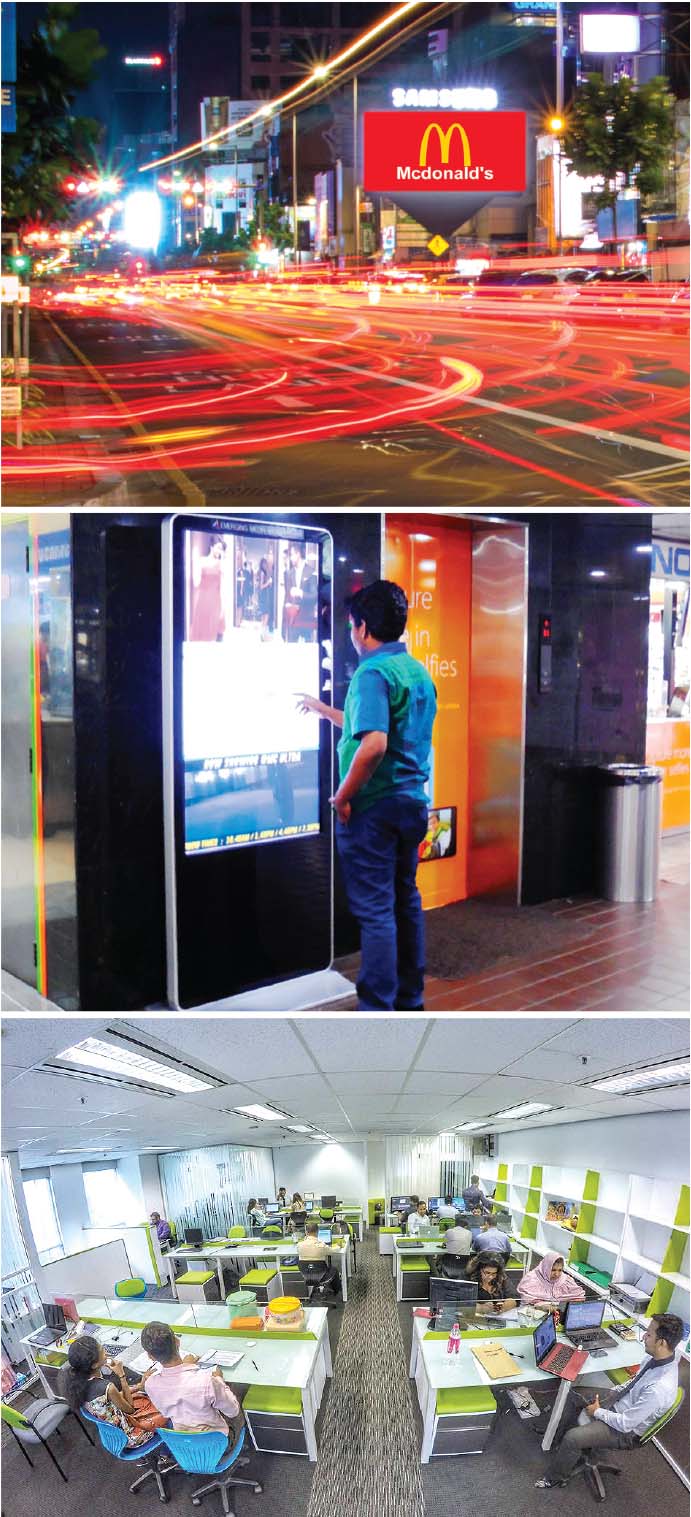 Q: With more than a decade of operations under its belt, what are Emerging Media's main strengths?
A: Emerging Media takes pride in saying it has earned fame and recognition through its brand promise, to provide prime locations, prominent visibility and premium quality to a rapidly growing clientele through innovative advertising platforms.
We have always strived to be the first to introduce the latest digital advertising technologies to Sri Lanka.
As a market leader in the outdoor advertising sector, we maintain a network of diversified indoor and outdoor solutions, such as LED screen networks, hoardings, hosting events, device marketing and e-concierge solutions.
Moreover, our installations are in prominent locations like shopping malls, food courts, railway stations, hospitals, pharmacies, salons and gyms to enhance the visibility of partnering brands.
A workforce comprising more than 55 employees specialised in marketing, public relations, communications, event management, production, operations, maintenance, finance, accountancy, human resources, legal and IT is geared to steer the company beyond the 'new normal.'
Emerging Media aspires to position itself as the symbol of Sri Lanka's location-based digital display advertising through an innovative and futuristic approach. This has been recognised already – we have already won awards and accolades from several prestigious awarding bodies in the country.
Q: So is Emerging Media equipped to deal with the latest trends in the industry?
A: Over the last decade, we have seen a consistent increase in digital outdoor advertising. Most popular brands worldwide are embracing the power of storytelling and have identified that focussed reach will reduce the marketing spend.
With mobile integration in outdoor advertising and multi-channel integration coming into play, advertising opportunities have increased.
Data science will play a major role in the future of digital outdoor advertising where companies will laser target their desired demographics to use campaign budgets effectively.
To meet our objective of providing clients with the most innovative and competitive outdoor advertising experience, we at Emerging Media have a specialised marketing team who continuously research innovations in the industry and remain abreast of upcoming market trends.
Our promise is to provide the perfect combination of technology, insights, creativity and analytical expertise to offer clients the ultimate brand experience in the outdoor digital space.
Q: And last but not least, what strategies do you employ to stay ahead of the competition?
A: The ad industry is moving rapidly towards digitalisation in this era and competition is increasing day by day.
Emerging Media stands out ahead of competitors in terms of innovation. Our main strength is that we have a centralised digital advertising network providing the convenience of scheduling and controlling adverts in one go.
We believe that continuous learning and adaptation is essential for us to keep improving and bring in the latest innovations for clients. This is imperative to maintain our status as a market leader in outdoor digital advertising in Sri Lanka.
– Compiled by Isanka Perera
COMPANY DETAILS
Telephone:2447662/0778 478678
Email:info@emergingmedia.lk
Website:www.emergingmedia.lk