ELITE CORRUPTION
THE BUCK STOPS HERE
Rajika Jayatilake notes that Kenyan leaders may undergo an intriguing lifestyle audit in order to stop corruption
Every day, regular global citizens are reminded of the adverse effects of corrupt political power on their lives – the billowing cost of living, regular price hikes of essentials and unreasonably high taxation to name a few. As Pope Francis I said: "Corruption is paid for by the poor."
However, there is a proven cure even for societies infested with the highest levels of corruption – and that is transparency. As the founder of Transparency International Peter Eigen observed, "people should be conscious that they can change a corrupt system."
A country's leadership needs to take the moral high ground on this issue, as in the case of Kenya. The African nation has the dubious honour of being among the most corrupt countries in the world – Transparency International's 2017 Corruption Perceptions Index ranked Kenya 143rd out of 180 countries. Only Somalia, South Sudan, Libya, Eritrea, Burundi and Zimbabwe – all either conflict ridden or politically unstable – were considered to be in a worse state than Kenya.
Corruption has pervaded all corners of Kenya over many years. But at long last, politicians have understood the fallout from ignoring it and the leadership is conscious that the buck essentially stops at the top.
Recently, the President of Kenya Uhuru Kenyatta and Deputy President William Ruto offered to be the first to undergo a 'lifestyle audit' in what is to be a strong anti-graft initiative.
Head of law firm ENSafrica's forensic department Steven Powell explained: "A lifestyle audit is the term commonly used by forensic auditors and management in companies to describe the tests that are performed to determine if the lifestyle of an employee is commensurate with that person's known income stream."
If Kenyatta and Ruto submit themselves to a lifestyle audit, all government officials in Kenya will be required to show how they earned the money to buy mansions, luxury cars and ranches, which so many of them own. The reasoning here is that only if corruption is uprooted at the top can petty irregularities that regular people indulge in be stopped.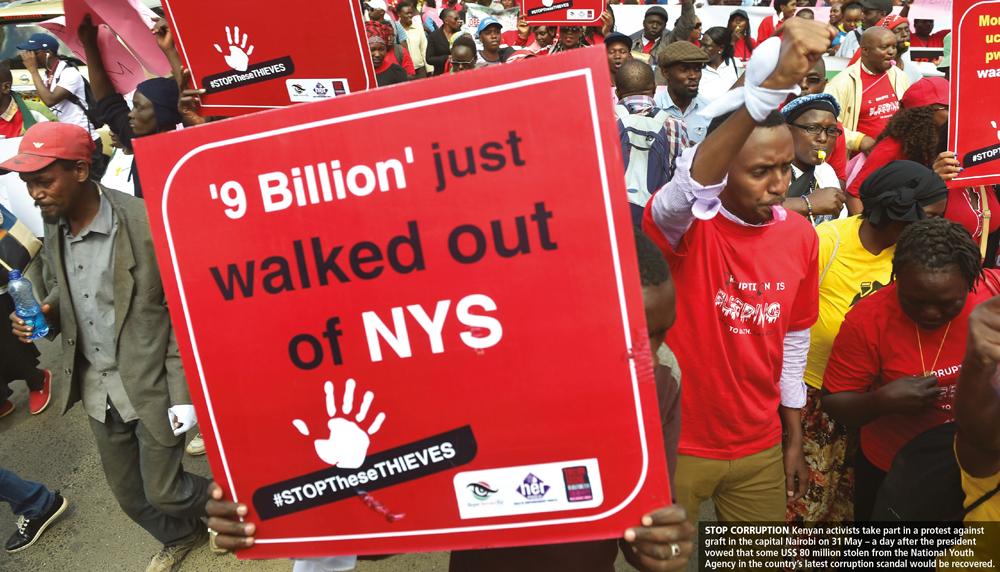 Kenya's lifestyle audits are presently at the proposal stage. However, the urgency for change is increasing as corruption continues to raise the cost of living for Kenyans.
Hundreds of thousands of Kenyan youth are unemployed. Real estate developers are incorporating bribe related expenses into their project costing. Poor squatters are bribing municipal officials to live in illegal slums. Corrupt government officials and equally corrupt corporate executives are importing contaminated food products and earning enormous commissions.
Kenya's former Chairman of the Ethics and Anticorruption Commission Philip Kinisu has noted that the country is losing a third of its state budget – the equivalent of about US$ 6 billion – to corruption every year. And when former US President Barack Obama visited Kenya in July 2015, he cited corruption as "the biggest impediment to Kenya growing even faster."
Kenyan politician Nicholas Gumbo became a whistleblower in parliament when he recently revealed his discovery of horrifying levels of government corruption. A basic wheelbarrow was expensed at US$ 1,000, regular pens at 85 dollars each and a desktop computer charged at US$ 11,000. According to Gumbo, one government department had listed sex toys as public assets, which meant they were bought with state funds.
Auditor General Edward Ouko said: "The elite corruption in this country is carried out with increasing impunity and brazenness. A billion shillings is the new million. Ordinary folks have to ride with the tide."
Meanwhile, following recent talks between Kenyatta and Swiss President Alain Berset, Switzerland has pledged to return billions of shillings Kenyan politicians have stashed away in banks to Kenya. In July 2012, the Swiss National Bank – which is the central bank of Switzerland – reported that Kenyans had hidden away 818 million Swiss francs in local banks.
Kenya is among several African countries with looted money hidden in Switzerland.
"We freeze and return stolen assets. We have agreed on a framework [with Kenya] on returning the money. Action for returning the proceedshas begun," Berset revealed. He explained that "returning wealth to Kenya is important as it will be put to work. Asset recovery sends the message that corruption does not pay."
Uhuru Kenyatta is the son of Kenya's founder president Jomo Kenyatta. He is currently in his second and final term as president, and in the midst of an intense effort to wipe out bribery and corruption in the country. Nevertheless, the looting of the nation's coffers has intensified in recent times in ever increasing volumes.
Earlier, Kenyatta stopped all government agencies increasing taxes and instructed that any agency wishing to do so had to show 'just cause.' He said: "Before we ask for additional tax, we must manage what we have well."
Meanwhile, Kenyan poet Shailja Patel warned that the elitists' continued contempt for the masses could result in an insurrection. Years ago, Mahatma Gandhi had noted that "civil disobedience becomes a sacred duty when the state has become lawless or corrupt."