EDUCATION SECTOR
INTERNATIONAL INSTITUTE OF HEALTH SCIENCES

Q: What motivated your organisation to enter the education sector?
A: The macroeconomics of Sri Lanka was a driving factor behind the establishment of the International Institute of Health Sciences (IIHS). Labour was a leading export of which a large proportion was unskilled. There was a global need for nurses and exporting labour in the form of nursing staff seemed like a valuable business concept – one that would improve the image of Sri Lankan labour.
Given that only some 10 percent of local A-Level students gain entry into state universities annually, IIHS wanted to utilise a model of inclusivity and provide opportunities to students at the bottom of the pyramid.
Since its establishment as a nursing training school, IIHS has expanded into physiotherapy, biomedical sciences, medicine, health administration and education. Our vision is to transform people, the community and the landscape through innovation. We achieve this by creating opportunities to work in First World countries such as the US and Australia, and in Europe.
IIHS serves as an international university learning centre through two models – viz. facilitating foreign university programmes in Sri Lanka and transferring students to international institutions through articulated pathways.
Q: What are the challenges facing the education sector?
A: Since healthcare services come under stringent regulatory compliance, there are strict entry barriers. However, this is a positive factor as it enables high quality training.
The private sector does not receive very much support from the government by way of tax concessions and facilities. Semi-government institutions on the other hand, receive subsidies, land and other facilities. This unhealthy competition makes it difficult to sustain private sector organisations.
As healthcare and education are provided by the government, there is resistance to the involvement of the private sector in these fields. However, those receiving free education should be incentivised to remain in the country and contribute to its development.
We serve a different segment by aiding students to obtain international qualifications to fill vacancies in developed countries.
Q: And what are the organisation's future plans?
A: IIHS is working towards becoming an international and regional centre for education. To this end, we are setting up four learning centres outside Colombo. We're also considering a regional model covering Bangladesh, Pakistan, Bhutan, Nepal and Myanmar, and expect to set up a unit within the next few years.
We recently expanded our portfolio to include a Certificate in Premedical Studies from the University of Aberdeen. This will create
a pathway to join the university's medical degree (MBChB), and provide an opportunity for local and regional students to access high quality medical education.
The medical programme is highly sought after with only 17 places for international students from 800 applicants but this pathway will increase that number to 30. With a history exceeding 500 years and the university's affiliation to five Nobel Laureates, we expect this programme to fulfil our mandate of creating opportunities for students in overseas markets.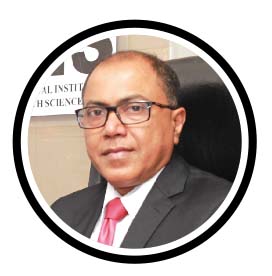 To promote healthy competition, we're looking to support the entry of other institutions. There is adequate space in the market and this will challenge us to improve.
Dr. Kithsiri Edirisinghe
CEO/Founder
Director – Academic, Strategy
and International Affairs
Telephone 0768 213827/0768 231831
Email info@iihsciences.edu.lk, nadeeka@iihsciences.edu.lk
Website www.iihsciences.edu.lk