DRAFT REPORT ON NEW CONSTITUTION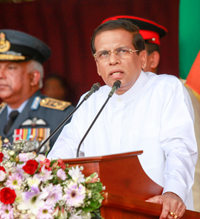 President Maithripala Sirisena recently emphasised that the draft report on new constitutional proposals does not in any way promote the concept of a federal state.
The president stressed that he will not allow anyone to draft a constitution that would harm the unitary status of the country and further asserted that he will not leave room to change the prime position given to Buddhism in the existing constitution.
He stated that there is no clause in the new constitutional proposals to separate or divide the country, and that the report presented to the parliament has taken into consideration the ideas and suggestions of all parties, leaving room for alteration, discussion as well as negotiation.