DIMO
Q: In what type of businesses is DIMO involved?
A: DIMO is a wholly owned subsidiary of Diesel & Motor Engineering, and a key player in the energy, healthcare and building services sectors.
We're one of the largest suppliers of high end medical equipment to the healthcare sector, and market leaders in the radiology and ophthalmology specialties, while having established our presence in critical care solutions.
In the energy sector, the company is involved in handling power generation, distribution and transmission.
The solutions that we offer in the building services vertical include building management systems (BMS), medium voltage power systems, lighting solutions, fire detection and protection systems, CCTV and access control systems, Master Antenna Television (MATV) systems, elevators and escalators, pumping systems, automated car parking solutions and building cleaning systems.
Our efficient engineering and service teams manage the design, installation, testing, commissioning and maintenance of our products and solutions. We are known for our exceptional building management solutions, and being market leaders in the fire detection and protection space.
The Construction Industry Development Authority (CIDA) has graded us as an EM 1 contractor under the Electrical & Mechanical Services (EM) speciality for the past seven years.
Siemens – the German multinational conglomerate – is our flagship brand in all three verticals. It is the market leader in every sector and front-runner in new technologies. We've always been supported by Siemens' engineering excellence and this partnership has enabled us to bring the latest technologies to Sri Lanka across all our verticals.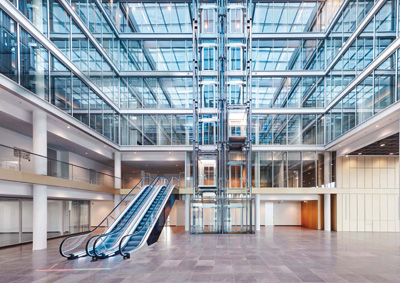 Q: What are the latest trends in the building services sector?
A: Green buildings have become a trend and this is where building management systems (BMS) come in. These systems help monitor and control all services of a building, offering maximum comfort and safety to occupants while saving energy. And they simplify maintenance of building services.
To cater to this area more effectively, we have ventured into 'Building Performance and Sustainability Solutions' where our experts gather data and provide solutions to optimise the performance of services, thereby reducing energy consumption. We invest in such solutions so there's no burden on owners, and enter into contracts to share the saving.
Our core partner Siemens has developed a cloud based platform called MindSphere, which provides real-time monitoring, and generates alerts and solutions for predictive maintenance of building services.
Q: Could you elaborate on your recent partnership with thyssenkrupp?
A: The construction industry is increasingly leaning towards players who can act as a one stop shop. As a mechanical and electrical (M&E) solutions provider, elevators and escalators were one category missing from our building services portfolio. Our search for a reputed and reliable brand for this category led us to thyssenkrupp – a global leader in elevators and escalators based in Germany – whose unique engineering capabilities stand for safety and innovation.
Our goal was to partner with a company whose values perfectly align with DIMO's core principles of service, reliability and trust; and our exemplary partnership with thyssenkrupp has not fallen short of this.
While this partnership commenced in June 2018, we've witnessed remarkable results within a short span of time. Since becoming the sole distributor, installer and service provider of thyssenkrupp for Sri Lanka and the Maldives – for elevators, escalators, moving walks and stairlifts – we've managed to increase our market share from two to eight percent.
We have knowledgeable, skilled and experienced staff to manage the brand, and our sales, service and installation teams are top-notch. Overall, the image and credentials of both DIMO and thyssenkrupp have taken us to the high end of the market, and are bound to revolutionise urban mobility.
Q: What is the current growth rate in the local elevator and escalator market – and could you describe the competition?
A: With a large number of high-rises cropping up in and around Colombo, the elevator business is displaying positive results and growing at a rapid pace. Moreover, the number of elevators, escalators and moving walks required is now more than ever, owing to a higher number of floors and greater traffic within buildings.
This segment records year on year growth of approximately 11 percent.
Competition has intensified but we're prepared to take on competitors and any challenges that may come our way. Unlike us, most other elevator suppliers in the country have not ventured into the building services category. Our comprehensive offering, ensuring the best in quality and safety, puts us ahead of the competition.
Additionally, we keep a close tab on upcoming projects, and maintain a close relationship with architects, consultants, contractors and developers, offering them the total package of solutions. DIMO has earned the image of having the best after sales service in the country.
We intend to maintain this momentum – and will continue to raise the bar in every sector we foray into.
Q: And what are DIMO's future plans in the building services sector?
A: Our ultimate goal is to elevate building services to a higher level, leveraging on the latest technology and solutions of the digital era.
We're constantly working towards evolving our products and solutions to achieve international standards. And we plan to work more closely with the authorities for legislation on elevator safety, power consumption, building safety and the overall growth of the industry.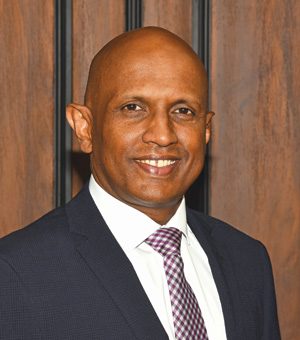 Wijith Pushpawela
Director
Telephone 2449797
Email dimo@dimolanka.com
Website www.dimolanka.com