DFCC
DFCC Bank Credit Cards makes Avurudu 10 times more special with 10 times more rewards
Committed to spreading joy this Avurudu season, DFCC Bank is offering customers the opportunity to enjoy '10 Times the Rewards' to make this holiday period truly special. DFCC credit cardholders will receive 10 times additional CashBack on clothing, supermarkets, hotels, airlines and fuel when they pay with their card and enjoy a memorable season. Cardholders will also enjoy discounts at leading merchants across Electronics and Household; Holiday and Travel; Health and Well-being; Jewellery; Clothing and Accessories; Restaurants; Supermarkets and Leisure categories. Thereby, DFCC Bank credit cardholders receive a golden opportunity to save more as they swipe.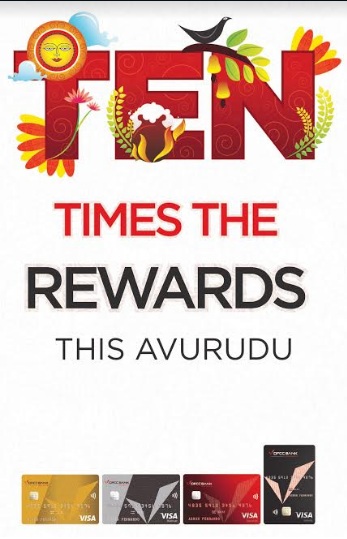 Lakshman Silva, CEO, DFCC Bank, stated, "The Avurudu season is the most special time of the year, when families and communities come together as one to celebrate the festive season. DFCC Bank contributes to the happiness this Avurudu by offering our credit cardholders the opportunity to earn 10% additional CashBack on the amount they spend at supermarkets, clothing outlets, fuel stations, hotels and airlines. To be eligible for the 10 times more special with 10 times more rewards promotion, all they have to do is use the card for more than ten times during the month spending a total of Rs. 20,000 or more. I wish all our customers a happy and peaceful New Year season."
Some of the attractive offers that cardholders can enjoy include; Upto 40% discount at Cinnamon Group's luxurious properties at scenic spots around the island; 10% off on selected pieces at Mallika Hemachandra Jewellers whilst Fior Drissage is offering an amazing 50% on any piece of jewellery; 25% and 10% off respectively on selected items at Arpico and Keels supermarkets; Buy 1 get 1 free offer to watch the latest movies in town when you book via DFCC credit cards at EAP Films and Theatres; special offers at Dominos, along with discounts at Tsing Tao and Pastamania; fantastic discounts from leading fashion outlets such as Kelly Felder, Cool Planet, DSI, Spring and Summer and many more. All offers have different discounts and promotional periods, so customers are advised to check the validity period while availing of the offers.
For more details on the DFCC credit card offers or to apply for a new DFCC Credit Card, customers can visit www.dfcc.lk or drop into their nearest branch.