COVER STORY | SRI LANKAN OF THE YEAR
The Healthcare Worker is conferred LMD's Sri Lankan Of The Year title for 2020
Year 2020 will no doubt be remembered for the coronavirus pandemic, which has threatened to blight the future of an entire planet and its people – and as such, the healthcare sector has been pushed to the forefront of efforts to mitigate the impact of the highly contagious respiratory disease, which has wreaked havoc across the world.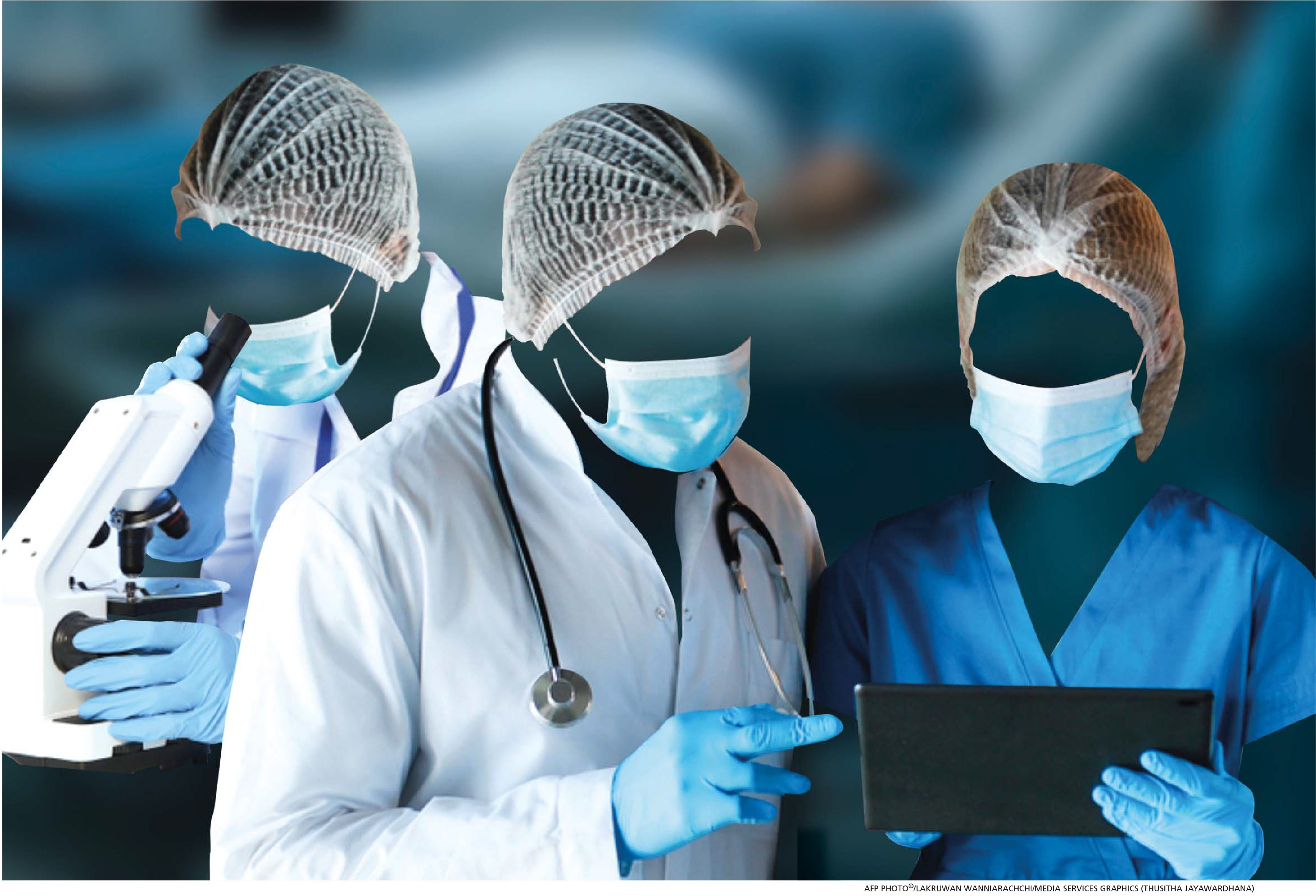 Whereas the medical community and its support staff are crucial to healthcare systems at any time, they're at a far higher risk of becoming infected with severe acute respiratory syndrome coronavirus 2 (SARS-CoV-2) and exposed to serious harm during the ongoing COVID-19 pandemic.
As a report in The Lancet medical journal explains, "healthcare workers could be exposed to atypical patients, infected family members, contacts and colleagues or live in communities of active transmission," thereby risking their own lives in having to deal with the vicissitudes of the deadly novel coronavirus.
The landscape is no different closer to home with everyone from medical practi­tioners and nurses, to health inspectors, hospital staffers and helpers playing a crucial role in Sri Lanka's COVID-19 response, which has been thrust into the spotlight once more as a new wave of the viral pandemic rears its ugly head as a tumultuous year comes to a close.
But despite the very real threats to their lives and those of their loved ones, Sri Lanka's healthcare workforce continues to toil and carry out their duties – as they have since the emergence of COVID-19 in the island earlier in the year.
It was back in December 1994 when LMD took the bold step to nominate its Sri Lankan Of The Year (SLOTY) for the first time – and this accolade would not only go on to be emulated by others but also rank among the nation's foremost awards in the years to come.
And given their unstinting commitment to anchoring the nation's pandemic response for most of this year, it is our collective view that 'The Healthcare Worker' is worthy of being conferred LMD's SLOTY award for 2020.
Others who came into contention for our annual SLOTY award also warrant a mention.
They include the tri-forces (for manning the front line so to speak), President Gotabaya Rajapaksa (for his decisive leadership during the first wave of the virus), Dr. Anil Jasinghe (the gentleman who represented the medical community at that time) and Election Commissioner Mahinda Deshapriya who happens to be a former SLOTY (for his diehard efforts to see a general election run smoothly at a time of national crisis).
Our shortlist also contained a number of Sri Lankans who flew the flag on the international stage – viz. Hiran Cooray (he was recently honoured with life membership of the Pacific Asia Travel Association – PATA), Dian Gomes (who was appointed as an executive committee member of the International Boxing Association – AIBA) and Reshika Udugampola (she was invited to join the International Olympic Committee's Marketing Sub-Committee as the nominee from South Asia).
And there were representatives from the business community too: Mohan Pandithage (for his astute leadership of Sri Lanka's leading listed company in the LMD 100), Krishan Balendra (for his leadership of the nation's 'Most Respected' company), Ishara Nanayakkara (for his business acumen – his dealings in Southeast Asia bolstered the nation's rapidly diminishing forex reserves at a crucial time earlier this year) and Kasturi Chellaraja Wilson (the first female Group CEO of a listed conglomerate in Sri Lanka who was invited to sit on the newly constituted National Sports Council).
It is only fitting however, that the very heart of our nation's COVID-19 response mechanism – the healthcare workforce – be honoured as the foremost source of national pride in a year of extreme hardship for the nation and its people.
As Sri Lanka continues to grapple with the myriad challenges posed by a pandemic like no other, the unstinted efforts of the healthcare community are emblematic of the commitment that is desperately needed from the citizenry – in the days, weeks and months ahead.
– LMD
Health is Wealth
Compiled by Zulfath Saheed
"Health systems can only function with health workers; improving health service coverage and realising the right to the enjoyment of the highest attainable standard of health is dependent on their availability, accessibility, acceptability and quality," states the WHO, which estimates a projected shortfall of 18 million healthcare workers by 2030, mostly in low and lower middle income countries.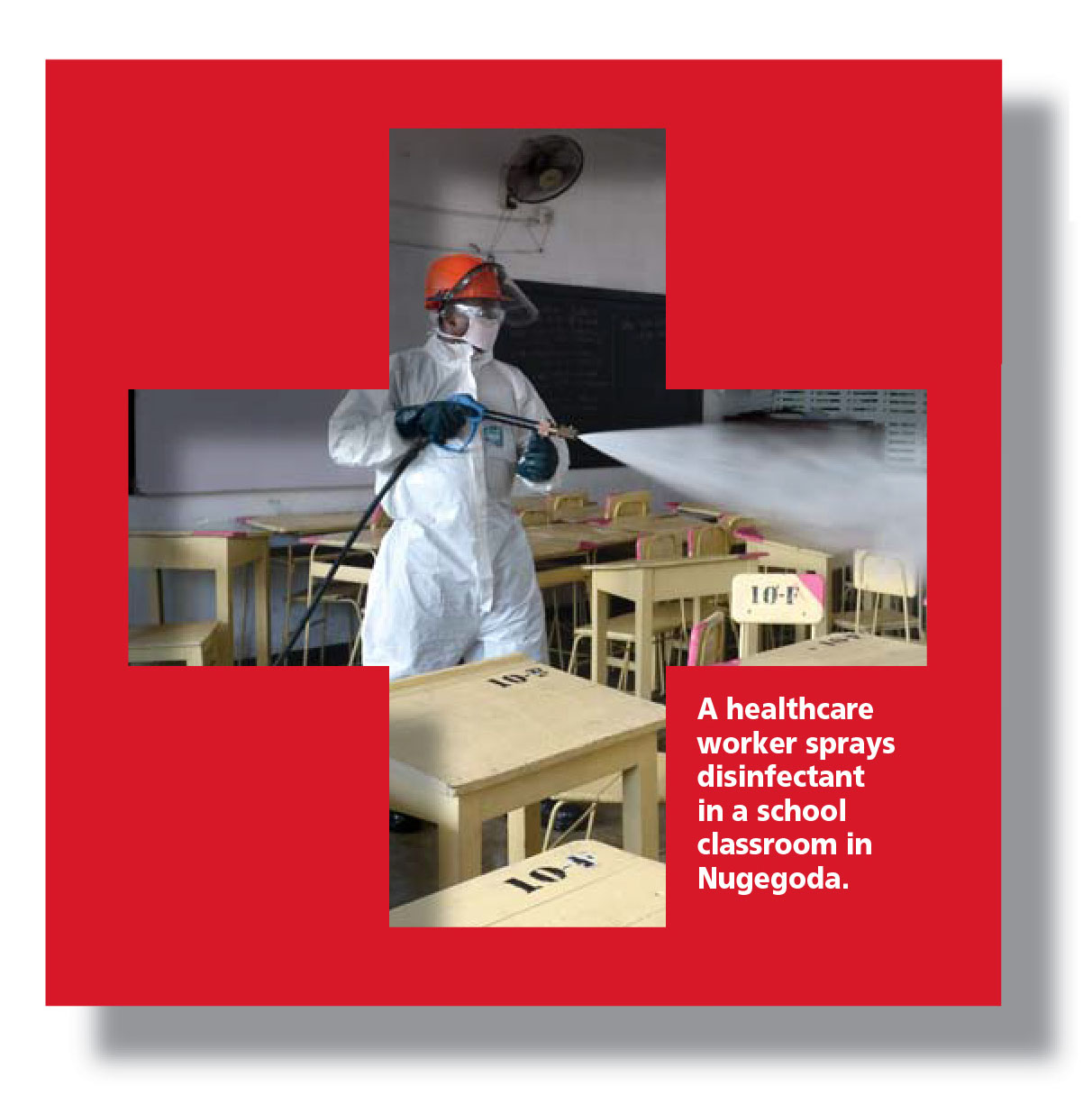 The World Health Organization points out that countries at all levels of socioeconomic development face "difficulties in the education, employment, deployment, retention and performance of their [health] workforce" to varying degrees.
To this end, it also notes: "The chronic underinvestment in education and training of health workers in some countries, and the mismatch between education and employment strategies in relation to health systems and population needs, are contributing to continuous shortages. These are compounded by difficulties in deploying health workers to rural, remote and underserved areas."
Commonly defined as those whose job it is to protect and improve the health of their communities, healthcare workers have been front and centre in the response to the COVID-19 pandemic. But resource shortages may impede their efforts with countries such as Sri Lanka not proving to be an exception.
A human resource profile of the Ministry of Health at end 2015 revealed a count of slightly over 16,000 state medical officers with nearly a third of that number being in the Colombo District. Meanwhile, there were in excess of 30,000 nursing officers, according to Health Ministry data, with the state healthcare service reporting a total of 123,845 in terms of its human resource capacity.
With respect to the coronavirus in particular, it has been reported that there was a limited supply of personal protective equipment (PPE) and N95 grade masks in certain parts of the country during the early stages of the outbreak in Sri Lanka, bringing into question the safety of healthcare professionals attending to patients.
And the spotlight fell on the plight of healthcare workers in the island a few months ago when nursing staff attached to a number of hospitals in the Southern Province resorted to strike action, citing the nonpayment of overtime and off-day allowances.
As the face of COVID-19 mitigation efforts, healthcare workers across the board are finding themselves increasingly burdened by the stresses that accompany a months' long campaign to fight a deadly pandemic.
The coronavirus pandemic has impacted healthcare workers physically and psychologically. As already noted, they're more vulnerable to being infected than the general public due to frequent contact with infected persons – they are called upon to work under extreme pressure and in demanding conditions, at times without proper protective equipment, and make tough decisions that could well be a matter of life or death for patients.
Across the globe, health and social systems are struggling to cope while services to provide regular healthcare could even be sidelined, leading to higher mortality and morbidity.
It is also noteworthy that 70 percent of the health and social workforce around the world comprises women, according to the WHO. This means that women are playing a disproportionate role in responding to the COVID-19 pandemic – be it in manning the front line, being carers at home or community leaders and mobilisers.
This has meant that in some countries, coronavirus infection among female healthcare workers is almost double that of male counterparts even though they tend to be paid much less. What's more, masks and other protective equipment designed and sized for men may leave women at greater risk of exposure.
Dr. Mahen Boralessa is the Senior Registrar in Cardiology at the Institute of Cardiology – National Hospital of Sri Lanka in Colombo. He notes that "Sri Lanka is in the thick of the second wave of Covid-19; we are faced with a surge of a higher number of cases in the community than during the first wave."
"These are truly uncertain times. No country has yet discovered the right strategy to combat an unseen enemy, which has proven its capability to continue striking wave after wave. It has brought forward a challenge on every healthcare worker carrying out his or her duties on the front line of every hospital in Sri Lanka – and the hopes of an entire nation rest on their shoulders amid the pandemic," he explains.
Boralessa laments: "It is an immense burden of safeguarding life whilst having to sacrifice many things that are dear to one, which lie beyond the hospital. The risk of taking the virus home has compelled many healthcare workers to stay away from their families for weeks – and the hardest hit by this are children who miss their parents."
"There is also an immense sense of fear for anyone serving on the front line. While a majority of patients experience mild flu-like symptoms, death is always a reality with a virus that has claimed more than 1.3 million lives the world over. Their fears are justified; anyone would fear death especially with the high mortality rate of healthcare workers globally who have been exposed to the virus while providing care."
As the cardiologist notes, "Sri Lanka is still a developing country with limited resources. Therefore, providing care in this setting is extremely difficult. How do we safeguard the lives of healthcare workers whilst saving thousands of citizens infected by the virus? We are a nation that takes pride in free healthcare but unfortunately, there is limited provision to compensate the loved ones of healthcare workers whose lives may be endangered by rendering their duty to the nation."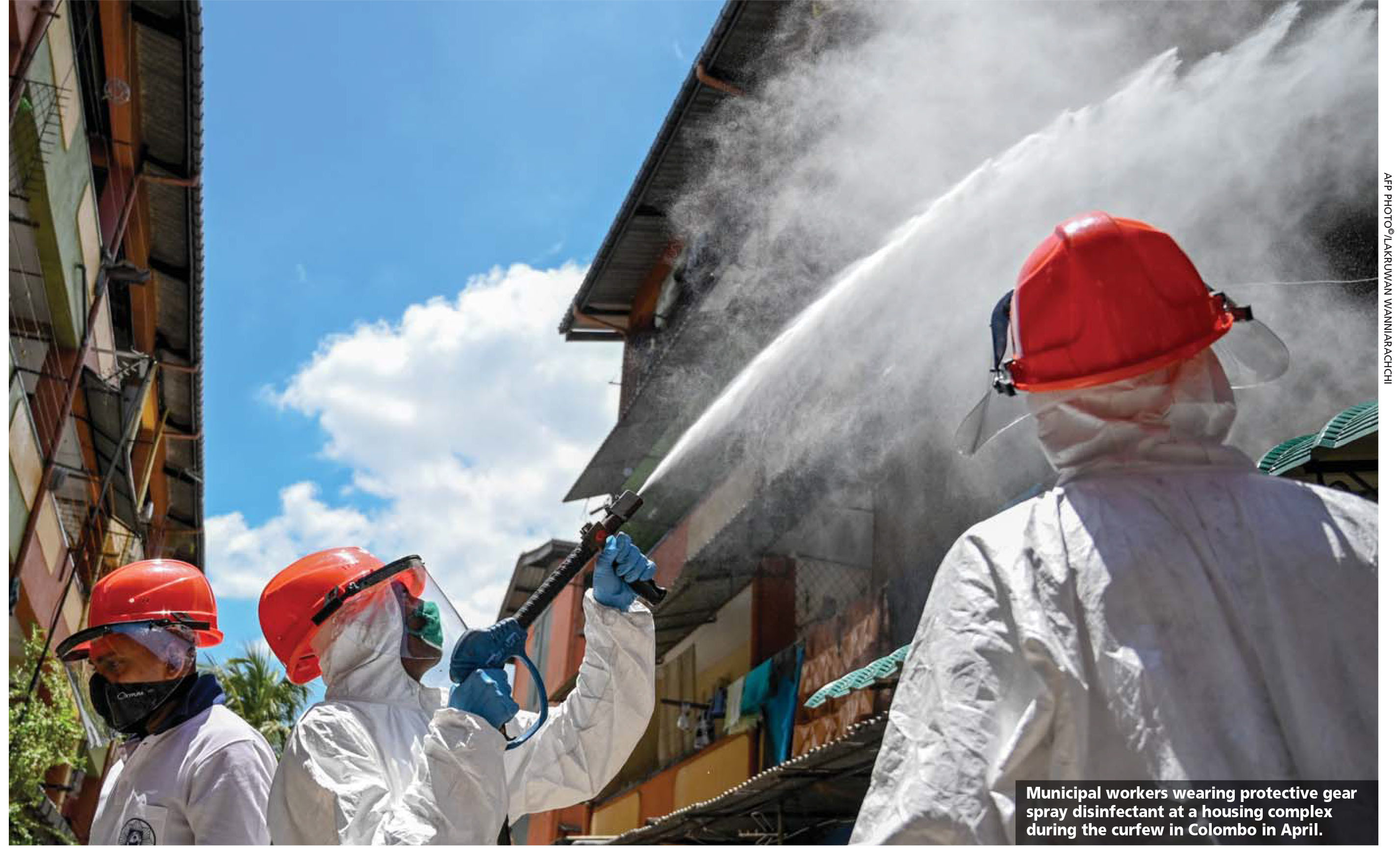 "These are truly difficult times especially against the backdrop of economic challenges with the majority of citizens earning daily wages to meet their basic needs. Unlike developed nations that have economic reserves, it is an impossible task for Sri Lanka to go into lockdowns whilst having to manage mounting debts, financing essential services and attempting to spur economic growth in the midst of a global financial crisis," he asserts.
He adds: "Yet, above all, safeguarding the lives of fellow Sri Lankans must always be a priority. Therefore, every citizen has a responsibility to fulfil. We must curb the spread of the virus – and this starts with every Sri Lankan promoting safety by encouraging the practice of good hygiene. Let's take this message to our homes and to our communities."
Describing the sentiments of the nation's healthcare workers at present, Pushpa Ramyani De Soyza – National Coordinator (Training) and Triage Team Leader of the Accident and Orthopaedic Service of the National Hospital of Sri Lanka – told reporters recently that "our workload is high and it's extremely stressful."
In an interview with the Daily Mirror, De Soyza explained: "For a long time, we didn't have any issue with the staff; but now, since many of them are in quarantine curfew areas, they're unable to report to duty. They are not provided with transport and it is a big challenge right now. Workers are stressed… Emergency units are at high risk because not even the minor staffer is reporting for duty. The workers have to work round the clock."
Moreover, especially during the coronavirus pandemic, the role of the Public Health Inspector (PHI) has garnered increasing attention in local circles.
Upul Rohana is the President of the PHI's Union of Sri Lanka. He contends that "the programmes conducted thus far have been successful. However, in this process there are certain shortcomings that need to be rectified… This [COVID-19] is a new disease that has spread across the world, which we are learning about… Therefore, these kinds of gaps and shortcomings can be expected in any part of the world."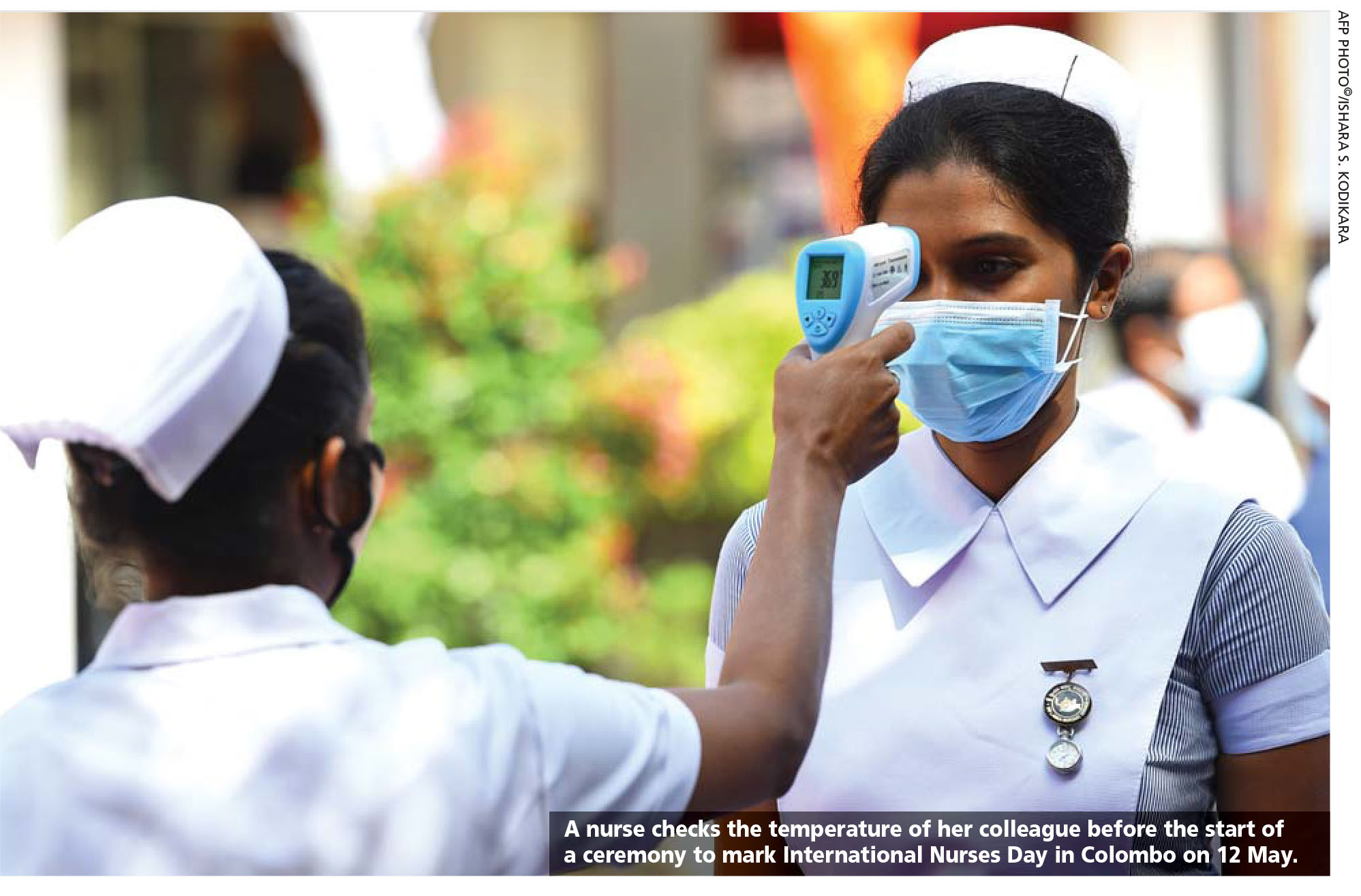 As for the availability of human resources, he asserts: "There are at least 800 vacancies for Public Health Inspectors in the Health Ministry. And only PHIs were called on to work in the field during COVID-19. Therefore, there weren't sufficient PHIs for the job."
Furthermore, Rohana cites the challenges faced by PHIs during the initial stages of the pandemic in the context of worker transportation and provision of safety equipment. One may also recall that in July, PHIs launched a token strike calling for the enshrining of greater powers in the government gazette notification so as to carry out their duties with greater vigour.
With the latest COVID-19 clusters originating in Minuwangoda (apparel factory) and Peliyagoda (fish market), the number of beds available to treat new COVID-19 patients stood at around 251 at the end of October, according to the National Operation Centre for Prevention of COVID-19 Outbreak.
It was also reported that hospital occupancy amounted to slightly over 1,400 while the total capacity was less than 1,700, suggesting that only a limited number of beds were available for new COVID-19 patients at the time.
The National Institute of Infectious Diseases (IDH), Welikanda Base Hospital, Kamburugamuwa Hospital, Teldeniya hospital and Kattankudy hospital had already exceeded their bed capacity. Nevertheless, health authorities say they have identified another 147 hospitals to treat new COVID-19 patients with a capacity to accommodate over 3,000 patients.
Providing a firsthand account of what it is like to work in healthcare establishments during emergency situations such as the coronavirus, LMD's health columnist Dr. Sanjiva Wijesinha – who is an Associate Professor of the Department of General Practice of the Faculty of Medicine, Nursing and Health Sciences at Monash University in Melbourne – notes that "the COVID-19 pandemic has changed our perspective of what it is like to work in primary healthcare."
He elaborates: "Doctors and nurses involved in emergency care, outpatient departments, intensive care units and respiratory wards in hospitals, as well as those working in general practice clinics, are called on to deal with patients 'off the street' – as are ambulance paramedics."
He adds: "They have all been particularly exposed and vulnerable to themselves contracting the COVID-19 infection from the very patients they look after."
"Despite President Donald Trump blithely and foolishly boasting that COVID-19 is a mild disease and that 99 percent of affected patients recover completely, this coronavirus is in fact a deadly virus that not only kills but can incapacitate and have long-term sequelae in those who manage to recover," he cautions.
Wijesinha sums up: "From seeing patients at our clinic dressed in my customary shirt and tie, I've had to change to wearing surgical scrubs, a mask and personal protective equipment (PPE) when I see patients. Most of us in the healthcare profession know of batch mates and colleagues who have contracted COVID-19 – the price they have had to pay for honouring their vocation to serve others."
Need we say more?