COVER STORY
THE 100 CLUB
The 2019 A-List
Sri Lankan businesspeople who continue to drive the engine of growth
LMD pays tribute to 100 Sri Lankan businesspeople who continue to drive the nation's engine of growth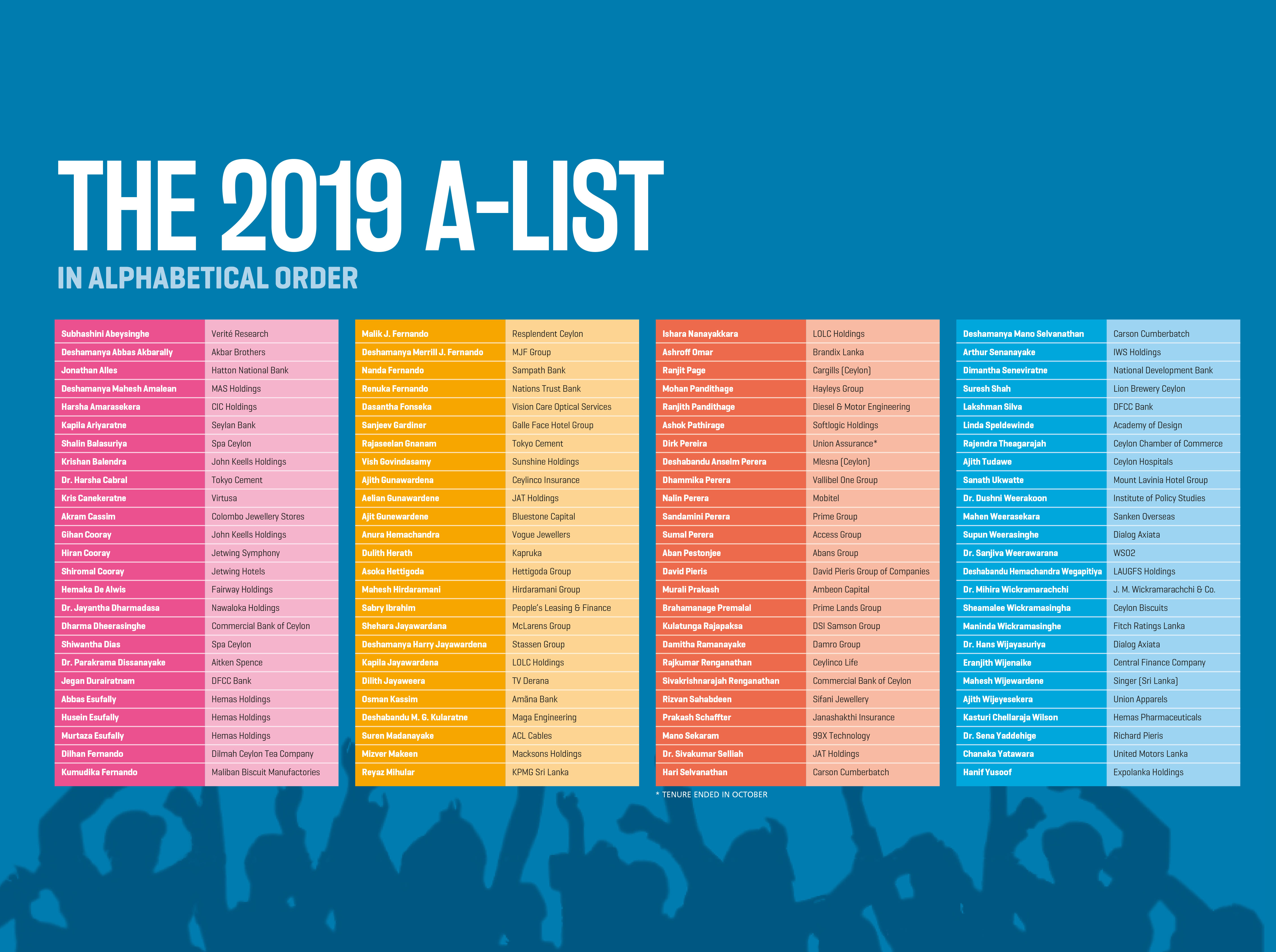 Sri Lanka is said to be in its deepest economic slump in more than a decade with mounting debt, political uncertainty and global headwinds piling the pressure on an economy that lies at the crosscurrents of regional trade.
It's been more than 10 years since the end of the protracted civil conflict but the nation continues to grapple with concerns over security, stability and sustainability while recovering from the Easter Sunday terrorist attacks in April last year.
This means that the corporate community is left to pick up the pieces, sustain its resilience and help Sri Lanka's development journey stay on track.
THE STATE OF PLAY The Sri Lankan economy grew by 1.6 percent year on year in the second quarter of 2019, according to the Department of Census and Statistics. The services sector was the chief contributor to GDP (60%) although it recorded its lowest ever growth since 2010, which reflects the impact of the Easter Sunday attacks, while industry and agriculture followed with contributions of 26 and seven percent respectively.
Meanwhile, Sri Lanka finds itself in 99th place in the ease of doing business rankings, which is a step up the ladder from 2019. In the World Bank report's analyses, Sri Lanka also stands as the leader in the South Asian region when it comes to registering property, which is one of 10 categories considered in assessing an economy's 'doing business' environment.
This therefore, is a reflection of the business climate in which the nation's engine of growth has operated, and where our businesspeople and professionals have strived to succeed.
HALL OF FAME This New Year edition of LMD pays tribute to the business front-runners in 2019. Dubbed 'The 100 Club,' our A-List of Sri Lankan businesspeople is based on nominations received from LMD's contributors, as well as an in-house think tank led by the editorial and senior management teams.
In the 2019 hall of fame, LMD showcases 100 leaders from among the best in Sri Lanka's corporate and professional community.
LMD's collective think tank works on the basis of nominating those who helm Sri Lanka's best in class business houses for financial performance (with the LMD 100 being a key point of reference), corporate respect (LMD's Most Respected rankings come into play here) and branding successes (our Brands Annual, which is compiled in collaboration with Brand Finance, says it all) – and indeed, other dimensions including entrepreneurship, the spirit of innovation, major accolades in the recent past and all else that make for inspiring leadership.
A-LIST PROFILE In this edition's roll call of the island's leading business personalities, we pay homage to leaders from diverse fields.
The 2019 lineup is led by representatives of Sri Lanka's diversified companies, which are followed by the financial services industry. Meanwhile, the hotel sector, apparel industry and tea trade also feature prominently, alongside domains such as construction, ICT, gems and jewellery, real estate development, telecommunications, and economic and policy research.
When it comes to designations, the majority of leading businesspeople are chairpersons or managing directors, or members of the corporate C-Suite.
Reflecting the diversity of the private sector, the 2019 A-Listers span at least two generations; and on the gender front, 11 percent of the 100 strong list comprise women. Sri Lanka's 'Business Hall of Fame' is also graced by those who happen to share 'family ties' with one another.
Many of the 2019 A-Listers have in fact appeared on the cover of the country's pioneering business magazine and together with their fellow 100 Club counterparts, they continue to blaze a trail for and on behalf of their companies – and therefore, the nation.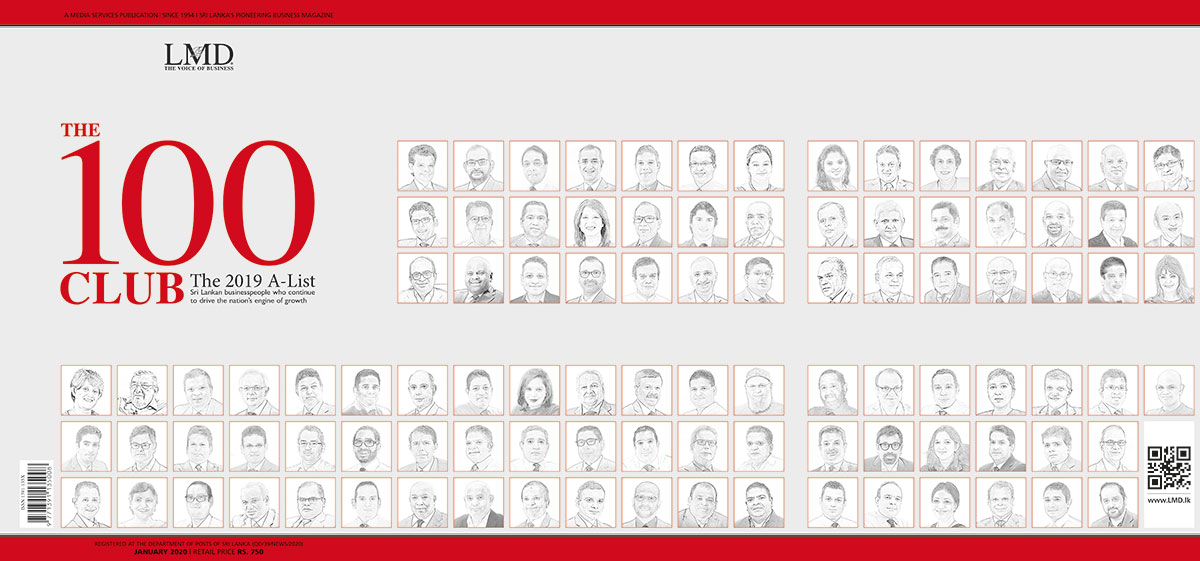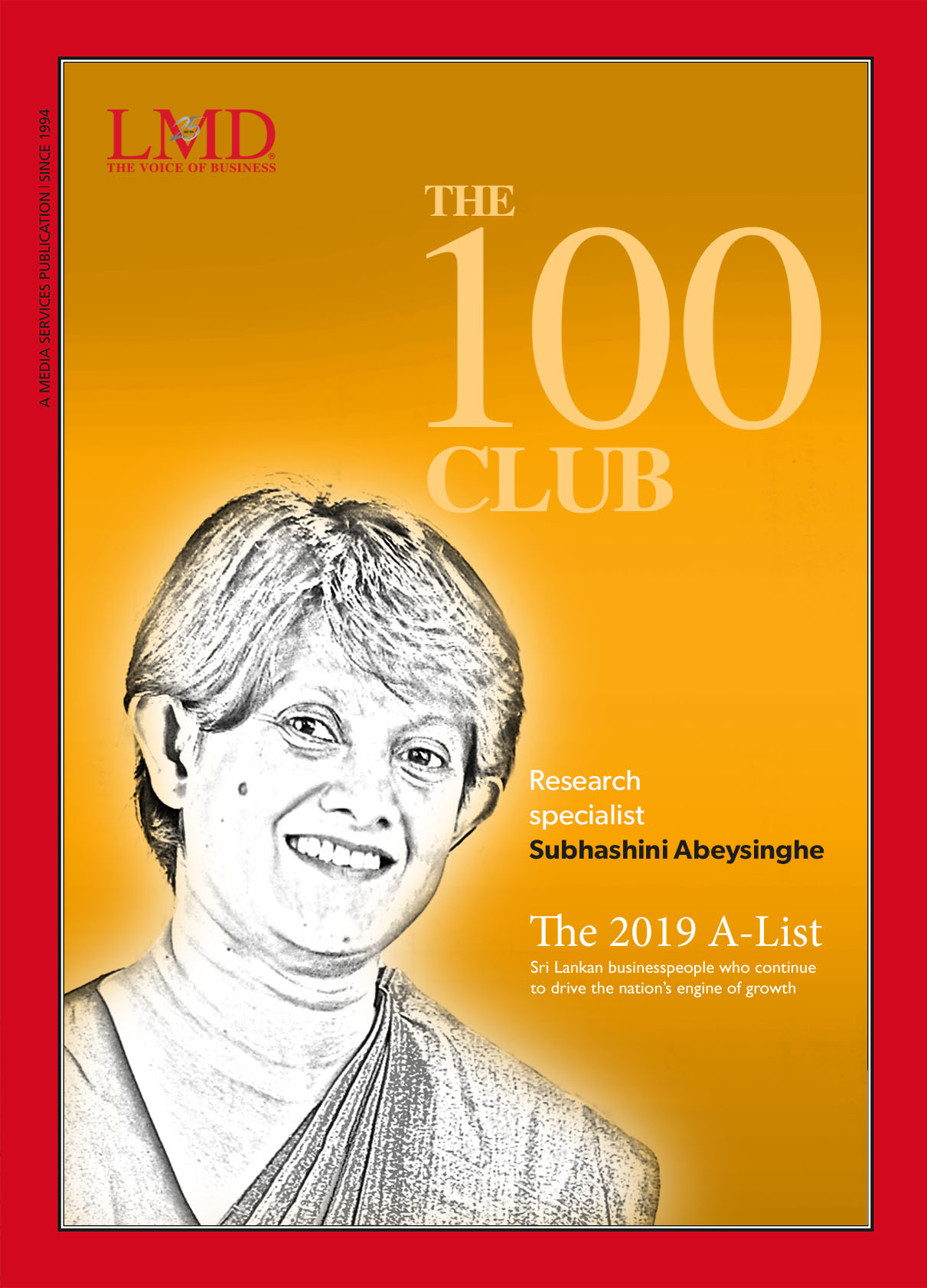 Research specialist
Subhashini Abeysinghe is armed with an in-depth understanding of the national economy; and in addition to her expertise in multilateral and regional trade agreements, she has access to people and data in both the private and public sectors in her capacity as the Research Director of Verité. Abeysinghe holds a BA and an MA from the University of Colombo, as well as an MA from the World Trade Institute. Her fields of expertise also include trade policy and facilitation.
THOUGHT LEADERSHIP
Lack of accountability of public servants is a severe drawback to the development of Sri Lanka's economy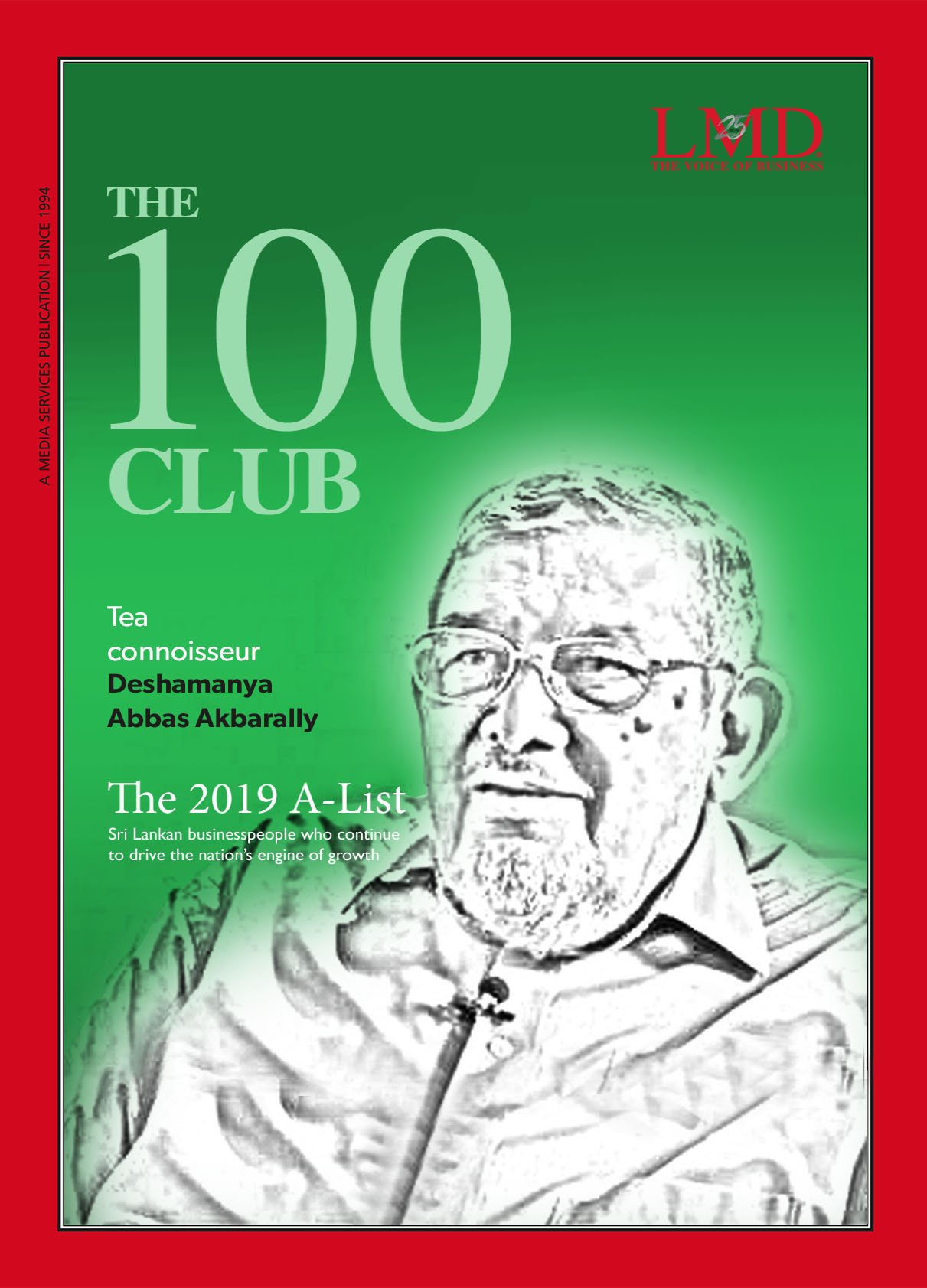 Tea connoisseur
Deshamanya Abbas Akbarally boasts a track record of over half a century in Sri Lanka's tea industry. He is the Chairman of Akbar Brothers and Honorary Consul for Jordan. Akbarally's career began in 1951 in the tea department of Hebtulabhoy & Company, a family business founded by his grandfather. Along with his brothers, he branched out to focus on tea manufacturing in 1969 and would go on to record immense success in the years that followed.
EXPORT TRADE
Decision makers must understand the industry, and their decisions must benefit the entire trade and thereby the country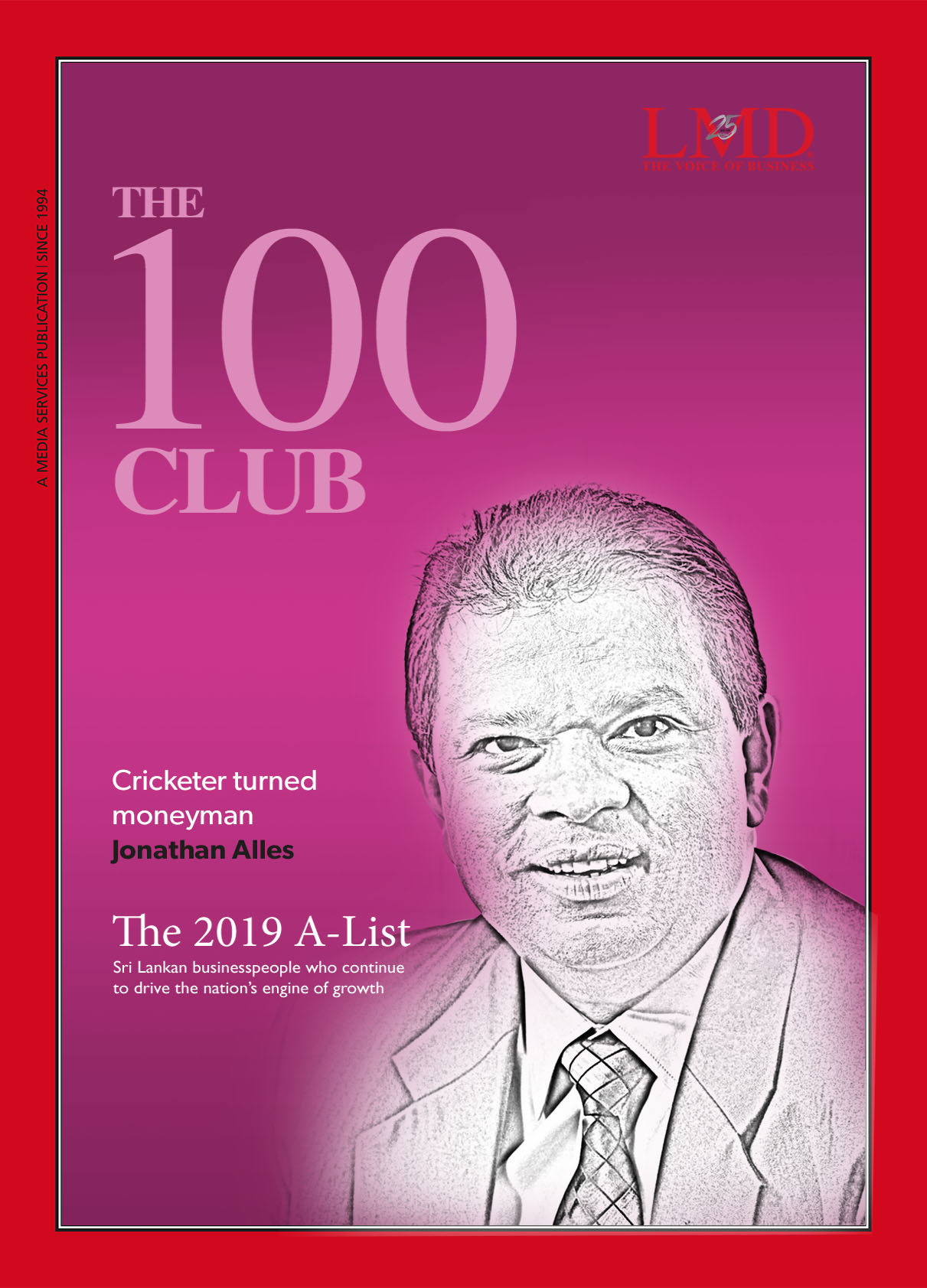 Cricketer turned moneyman
Jonathan Alles was elected Chairman of the Asian Bankers Association, which is a testament to his dynamism in the banking sector and wider business world. A schoolboy cricketer turned banker, he holds an MBA in finance, is an Associate member of the Institute of Bankers of Sri Lanka (IBSL) and has extensive experience having worked in the Middle East. As the MD and CEO of Hatton National Bank (HNB), Alles has been instrumental in taking the banking sphere to the next level.
FINANCIAL STABILITY
The most successful and respected corporates around the globe deliver sustainable growth and stability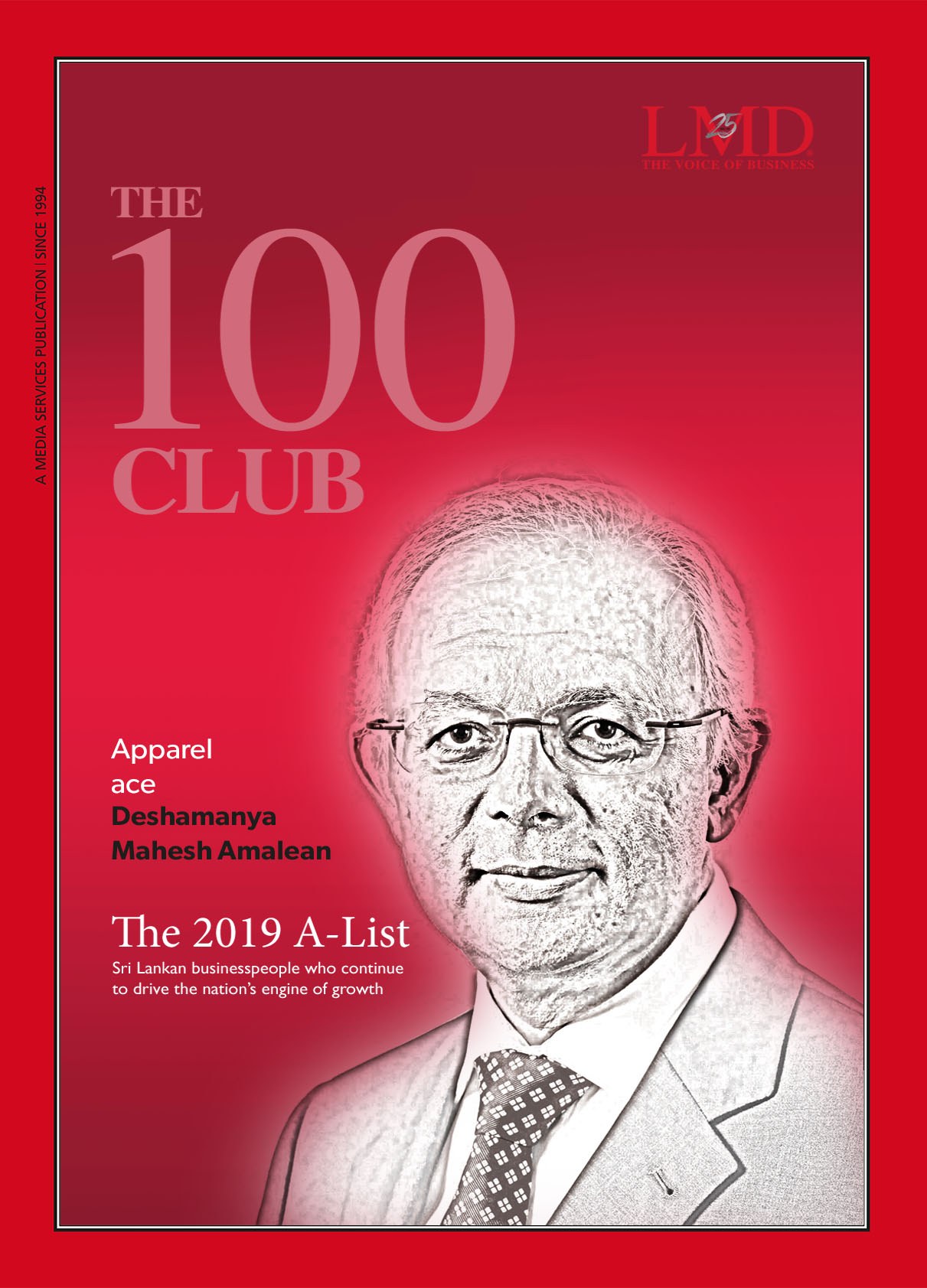 Apparel ace
Deshamanya Mahesh Amalean is a cofounder and the Chairman of apparel giant MAS and has a reputation for being an exemplary visionary. Conferred the Humanitarian Award at the FEMMY Awards 2019, he was also among five global business leaders recognised by the UN at the Women's Empowerment Principles' inaugural 'Leadership Awards for Cultural Change for Empowerment.' In addition, Amalean received the CNBC-IIFA Global Leadership award and was ranked amongst the Top 20 Asian Progressive Leaders by World Business Magazine.
INNOVATION QUOTIENT
We need to inculcate an innovation-driven mindset through which businesses can continuously create and add value
Legal eagle
Harsha Amarasekera was appointed to the board of CIC Holdings in 2005 and as Chairman in 2014. With his gamut of expertise – including commercial, business, securities, banking and intellectual property law – Amarasekera practises in the original as well as appellate courts. He also serves as an independent director of a number of companies listed on the Colombo Stock Exchange (CSE). Amarasekera was admitted to the bar in November 1987 and took oaths as a President's Counsel in November 2012.
LONG-TERM PROGRESS
To be truly sustainable in the long term, it is imperative that [the group] not only keeps pace with the market but continues to stay ahead of the curve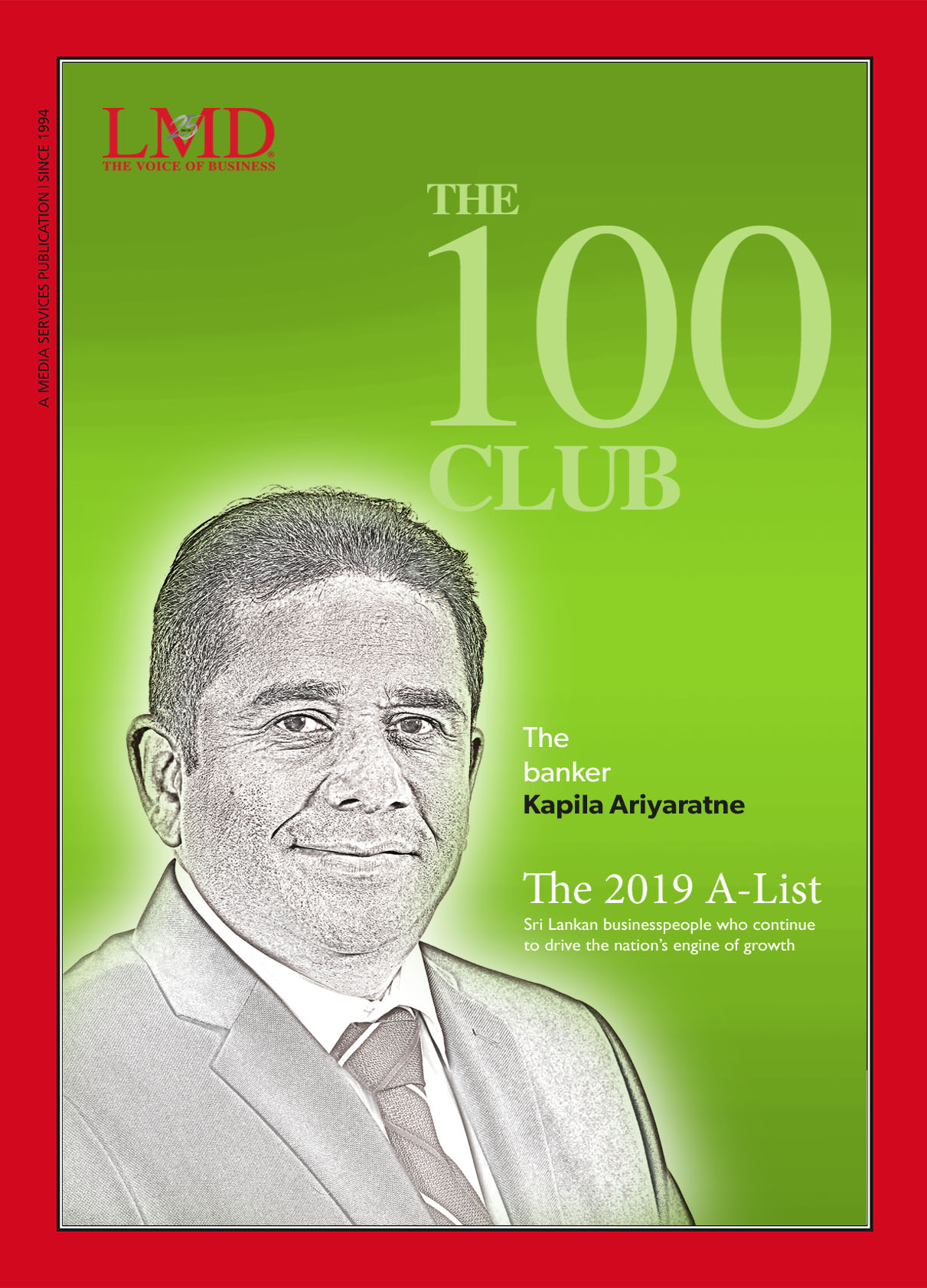 The banker
Kapila Ariyaratne counts over 30 years of varied experience in banking, having entered the sector in 1984. While much of his experience stems from corporate banking, Ariyaratne has hands-on knowledge of international trade finance and customer service, credit risk management, institutional and correspondent banking, and SME and microfinance. A former student of Royal College, he is a First Class Honours graduate of the University of Colombo – in addition to being a sportsman who won school colours in rugby football, and university colours in rugger and hockey, having also represented CR & FC.
ECONOMIC RENEWAL
We must embark on a journey of stabilising and growing the economy, while addressing critical issues faced by people through sustainable short and long-term plans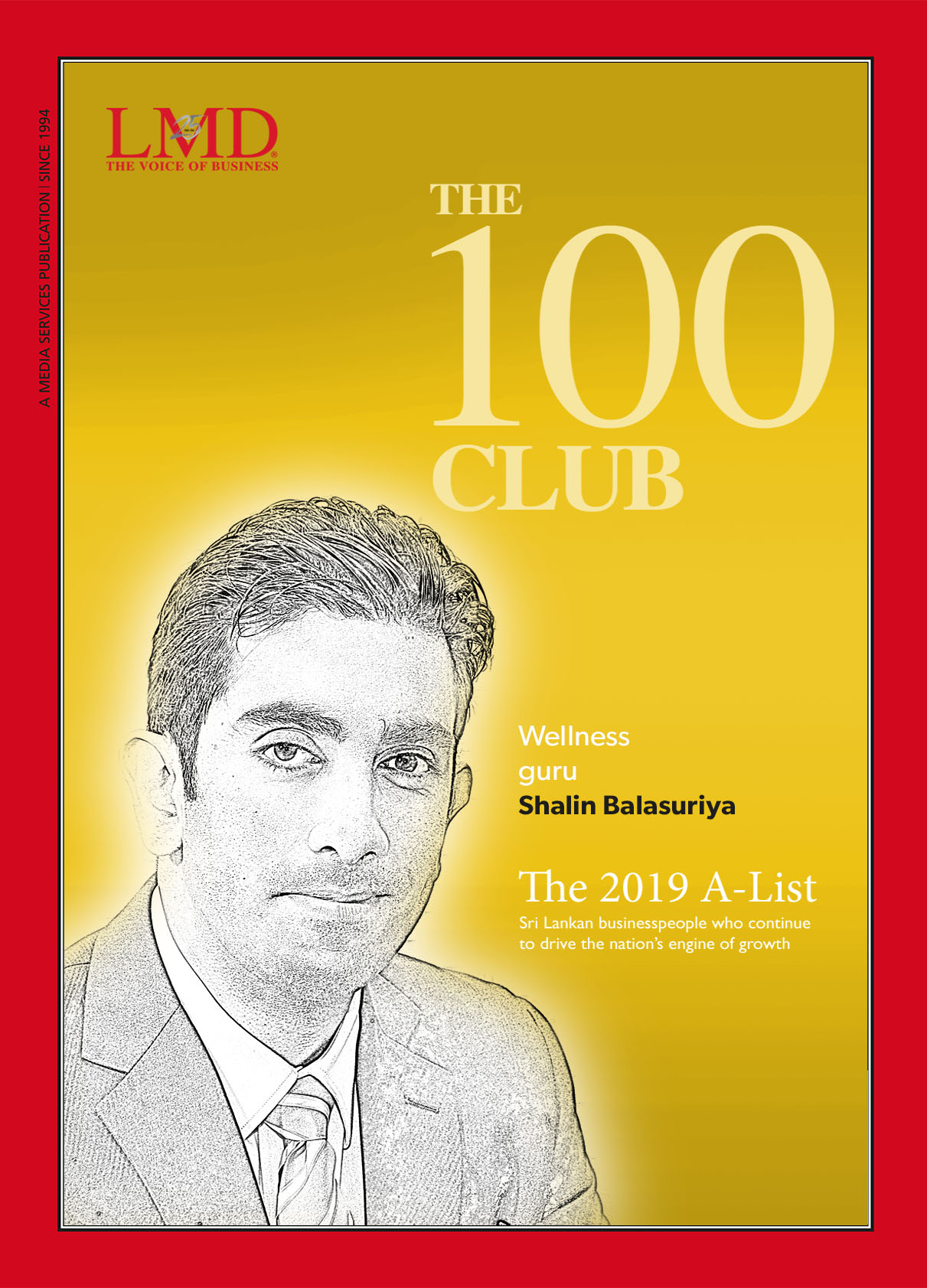 Wellness guru
Shalin Balasuriya has already made a name for himself in the wellness space. He is deemed to have been instrumental in repositioning Ayur­veda as a luxury lifestyle brand both at home and abroad. In the past, the cofounder of Spa Ceylon was feted as one of the 'Ten Outstanding Young Persons of Sri Lanka' in recognition of his corporate, economic and/or entrepreneurial accomplishments.
HEALTH IS WEALTH
The wellness industry globally is seeing wellness become a key part of several industries from travel and tourism to retail, recreation, food and beverage, and HR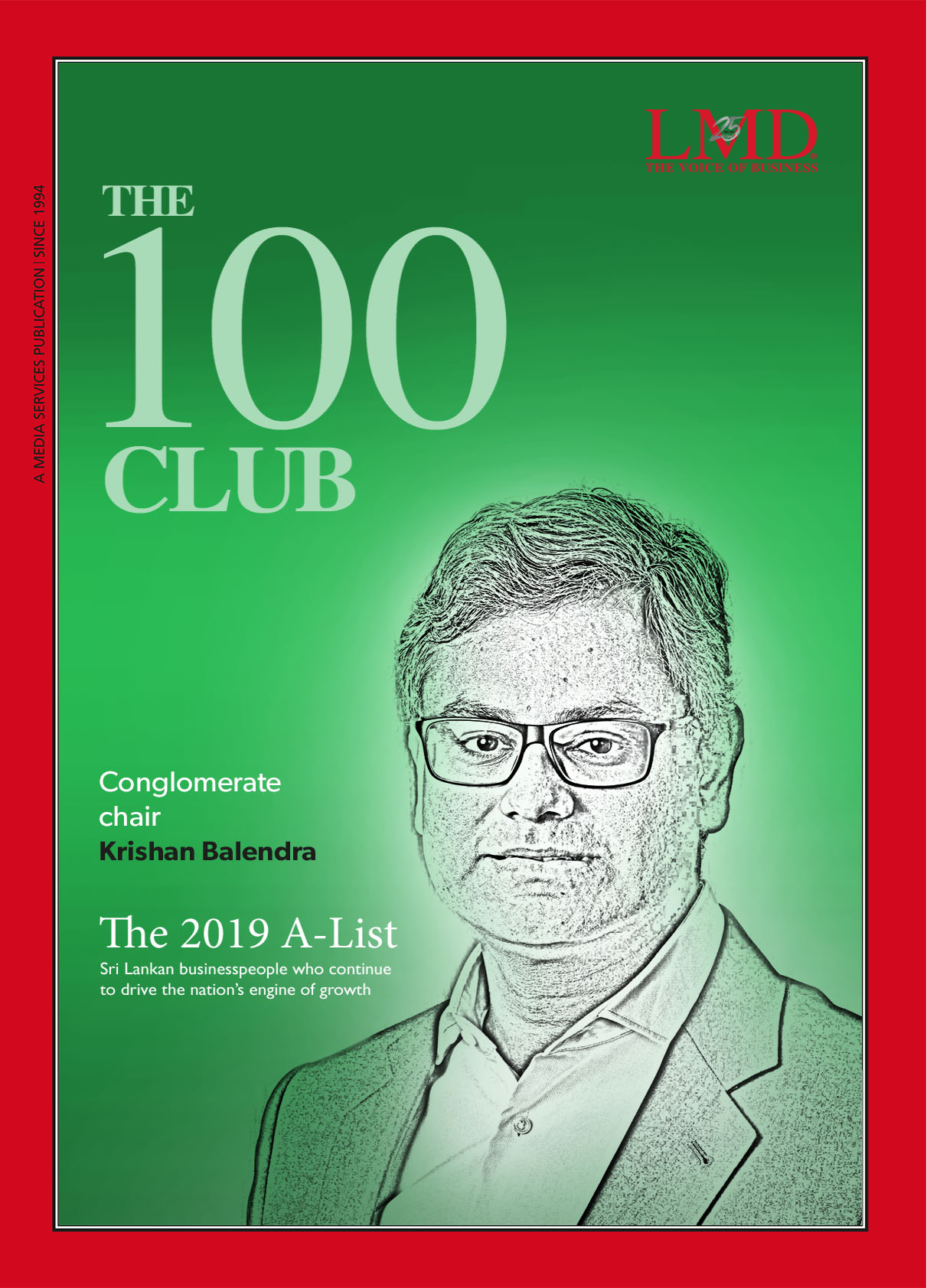 Conglomerate chair
Krishan Balendra follows in the footsteps of his illustrious father Deshamanya Ken Balendra, having taken the reins of the most respected company in the island last January. He is a Director of the Ceylon Chamber of Commerce and the Honorary Consul General of the Republic of Poland in Sri Lanka. Balendra is a former Chairman of Nations Trust Bank and the Colombo Stock Exchange (CSE), and holds a law degree from the University of London and an MBA from INSEAD.
CORPORATE AGILITY
It has now become essential that one stays abreast of the trends of novel and disruptive business models, and embraces business agility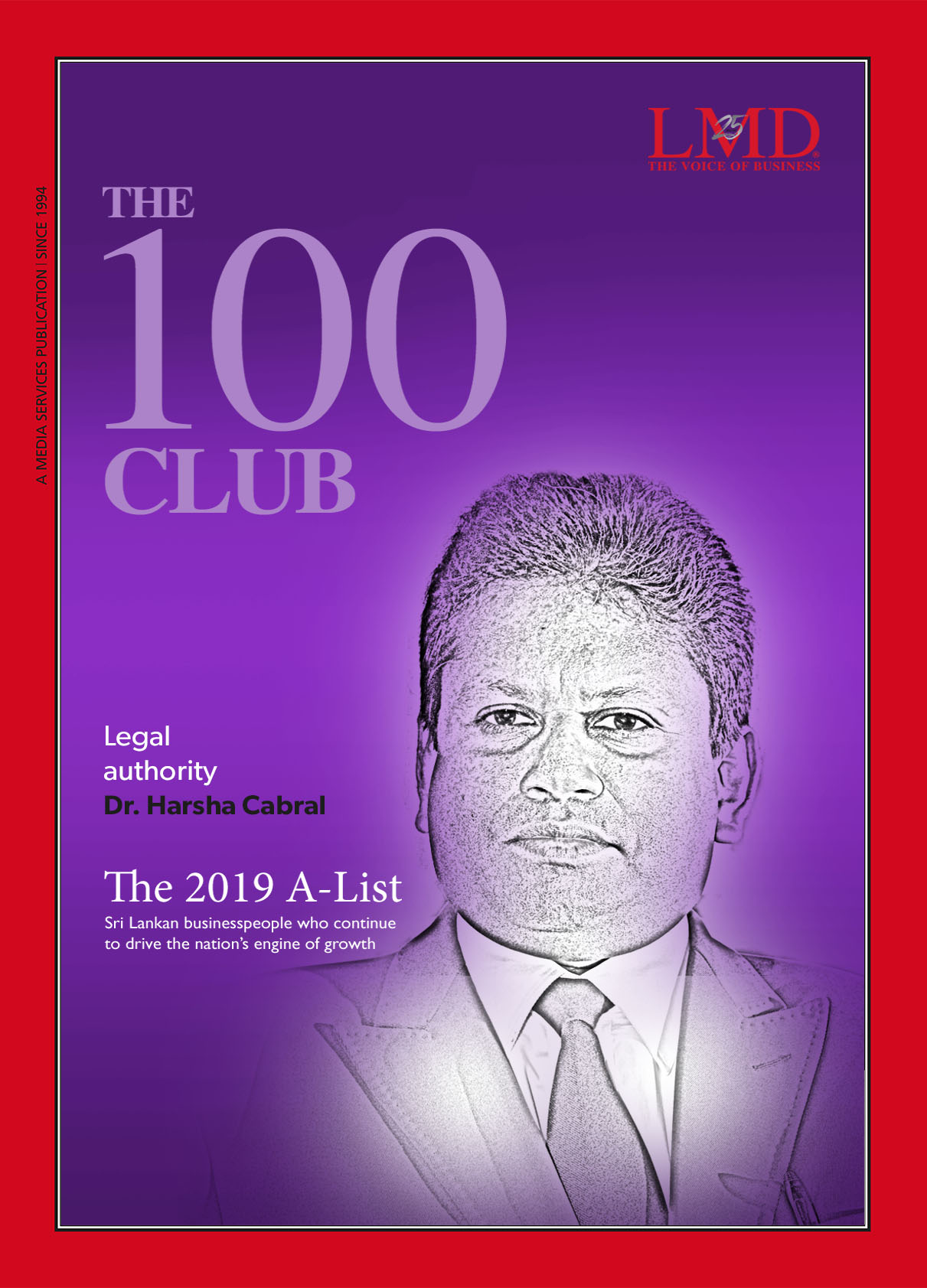 Legal authority
Dr. Harsha Cabral was appointed a Member of the International Court of Arbitration at the World Council of the International Chamber of Commerce in 2015. A senior legal practitioner with over 25 years' active experience, he is a member of countless bodies in the field of law. Notably, Cabral is considered among the chief architects of the Companies Act No. 7 of 2007. He is also the author of several publications covering company, intellectual property, international trade and commercial law, and commercial arbitration.
FAIR GOVERNANCE
Most of the developed companies have recognised that their chairman must be independent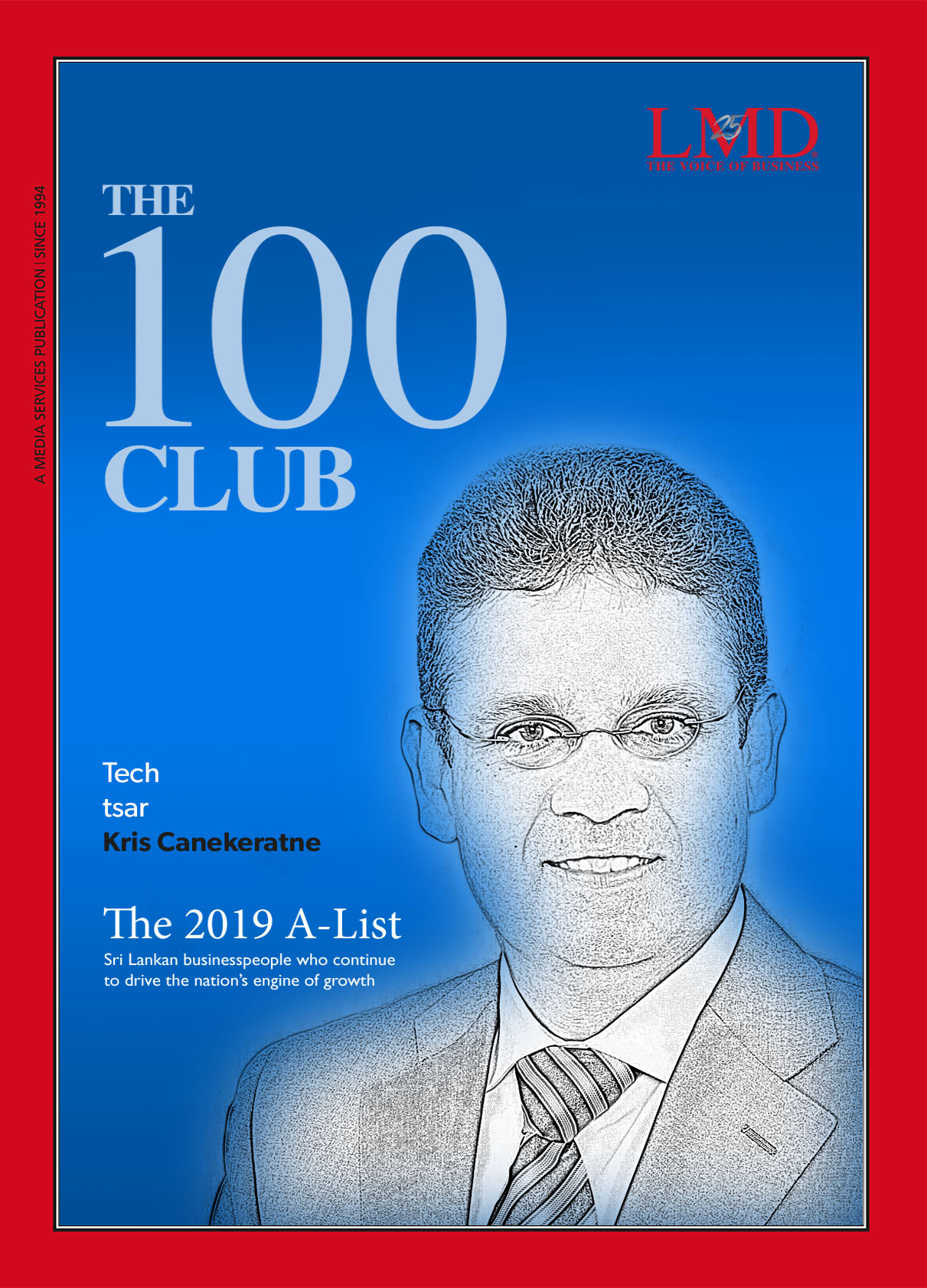 Tech tsar
Kris Canekeratne co-founded Virtusa two decades ago, seemingly in a bid to apply the intellectual power of international teams and software platform efficiencies to accelerate innovation. A transformational leader and an accomplished entrepreneur, he offers a uniquely global perspective. Canekeratne received a TiE Boston 2018 Entrepreneurship Award for leading Virtusa into becoming a world-class provider of business solutions, as well as a Lifetime Award at the inaugural SLT Zero One Awards in 2017.
TECH EXPOSURE
In Sri Lanka, every student should be exposed to technology, design and problem solving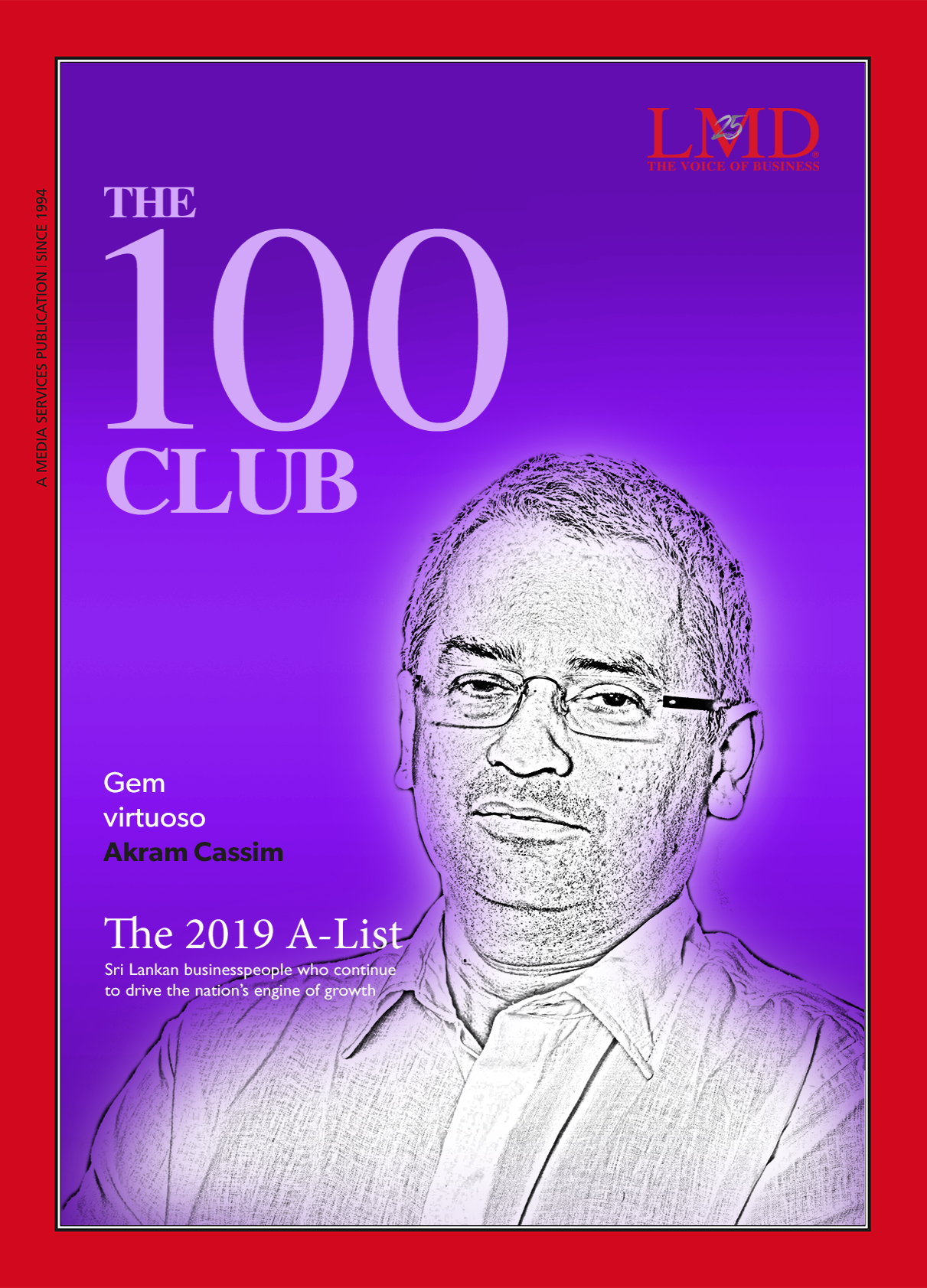 Gem virtuoso
Akram Cassim is a fourth generation jewellery designer in addition to being a Fellow of the Chartered Institute of Management Accountants (CIMA). As Managing Director, he has been responsible for transforming Colombo Jewellery Stores (CJS) into a designer jewellery brand that lays claim to a wide selection of international luxury watches.
LUXURY BRANDING
A long-term strategy is required for duty and tax structures to make the luxury products segment viable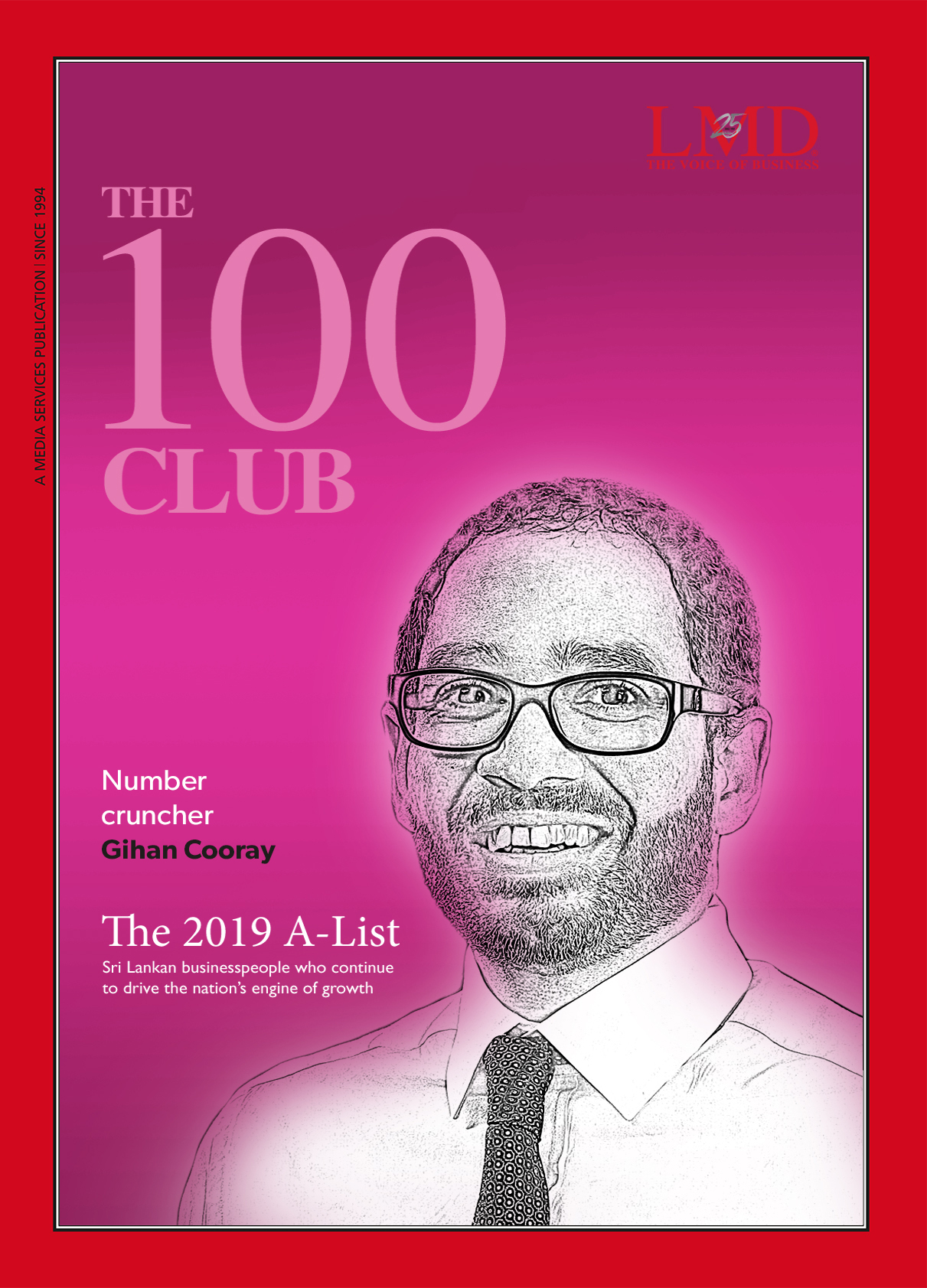 Number cruncher
Gihan Cooray is the Deputy Chairman and Group Finance Director of John Keells Holdings, and was appointed Chairman of Nations Trust Bank in 2018. He holds an MBA from the Jesse H. Jones Graduate School of Management at Rice University. An Associate member of the Chartered Institute of Management Accountants – UK (CIMA), a Certified Management Accountant of the Institute of Certified Management Accountants (Australia) and Diploma holder in Marketing from the Chartered Institute of Marketing – UK (CIM), he also serves as a Member of the Sub-Committee on Economic, Fiscal and Policy Planning of the Ceylon Chamber of Commerce.
POLICY REFORMS
Speedy implementation of policy reforms and trade arrangements with key trade partners could bode well for business sentiment and economic recovery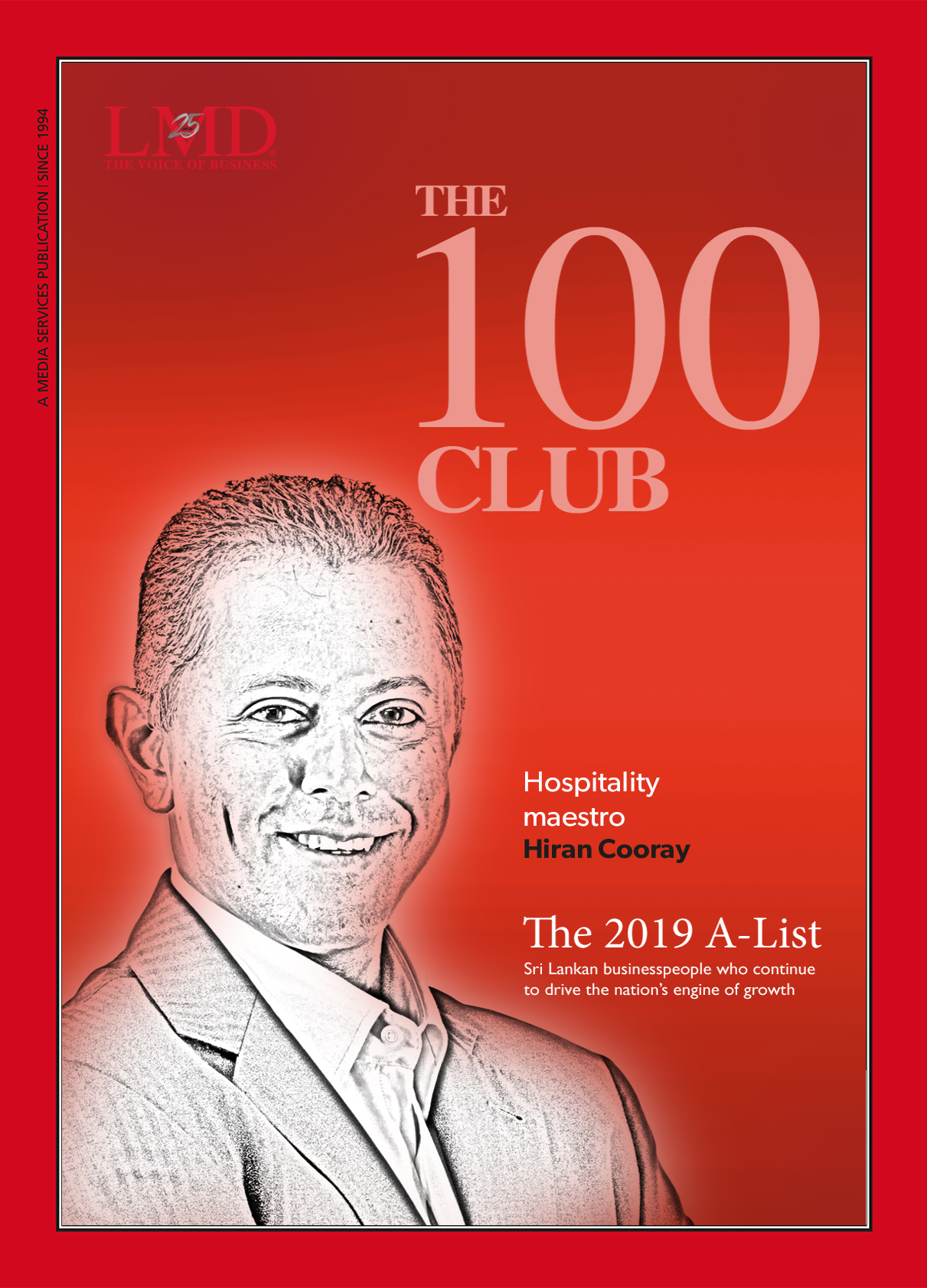 Hospitality maestro
Hiran Cooray is a graduate of business administration from the University of North Carolina and a former schoolboy cricketer. He chairs the trendsetting Jetwing Symphony. Cooray's lengthy track record in the hotel sector is reflected in being appointed Chairman of the Pacific Asia Travel Association (PATA) for 2010-2012, which put Sri Lanka on the map of the world's travel dignitaries. He has served as President of The Hotels Association of Sri Lanka (THASL), was appointed an Alternate Member of the UNWTO – World Committee on Tourism Ethics (2013-2017), and holds over 50 directorships in hotels and related companies.
TRIPLE BOTTOM LINE
If you don't make profits in a business, you cannot look after the people and the planet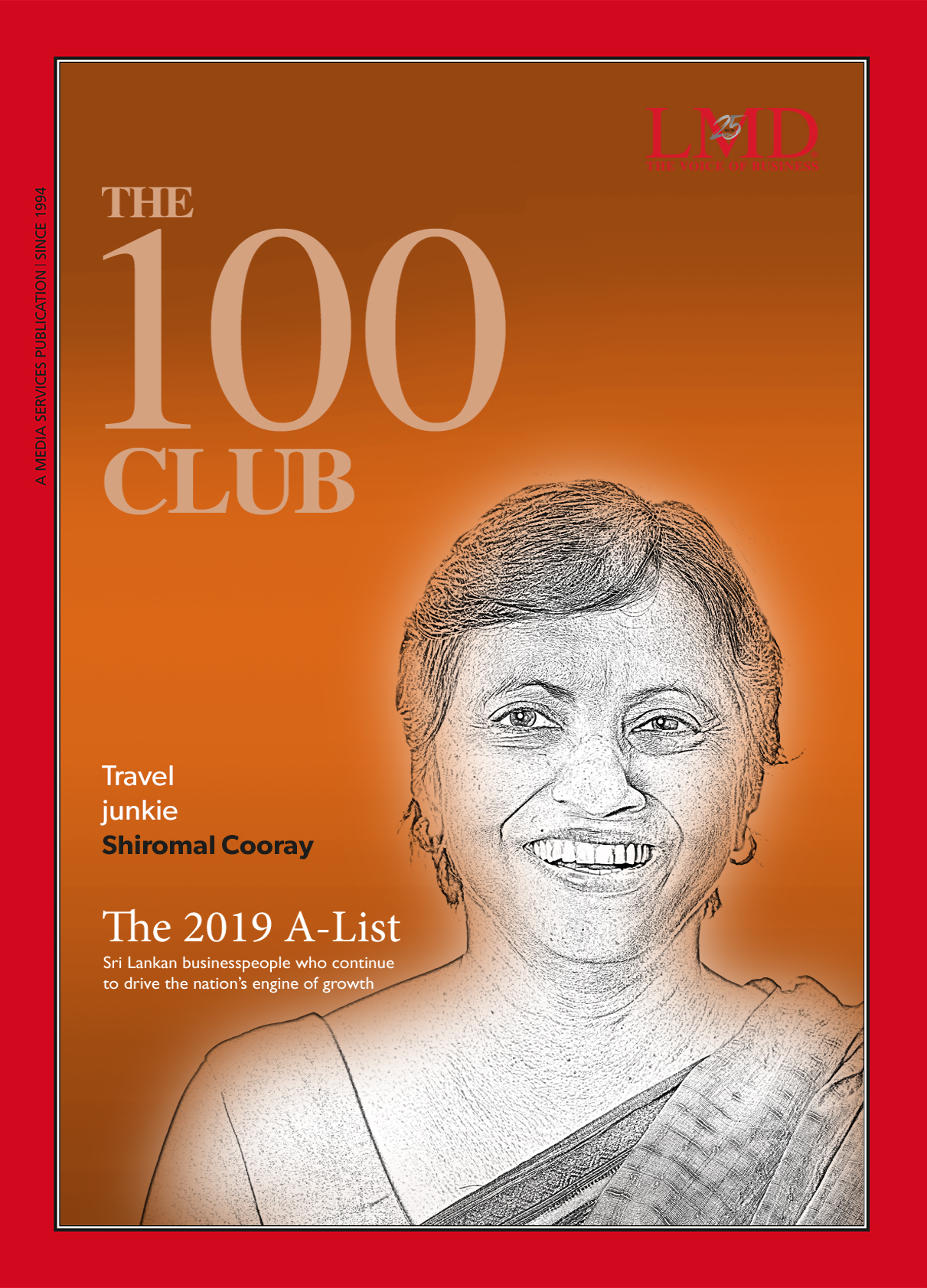 Travel junkie
Shiromal Cooray is a highly regarded professional in the travel and hospitality sector, and an accountant by profession. She helms the family owned Jetwing Hotels and is tasked with taking the business to new heights. A past president of the Sri Lanka Institute of Directors (SLID), Cooray is an Associate member of the Chartered Institute of Management Accountants – UK (CIMA) and is armed with an MBA as well. Prior to joining the travel trade, she was the Finance Director of J. Walter Thompson Sri Lanka. She is also a former Vice-President of the Travel Agents Association of Sri Lanka (TAASL) and past President of the Sri Lanka Association of Inbound Tour Operators (SLAITO).
BUSINESS AGENDA
To gain new business, it is imperative that we communicate stronger messages and ensure they are disseminated effectively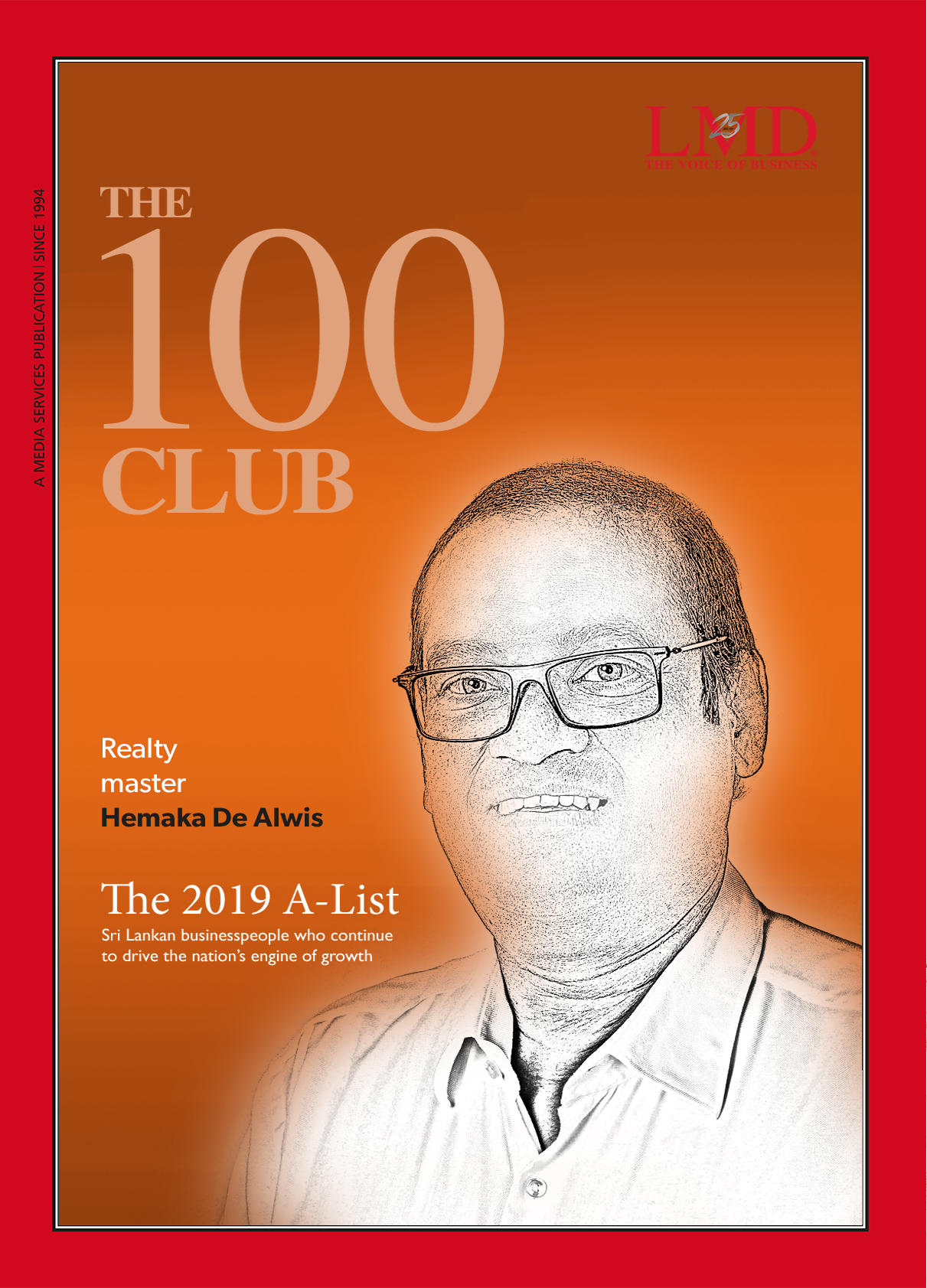 Realty master
Hemaka De Alwis continues to play a pivotal role in Sri Lanka's real estate management and property development space. Although he embarked on a career in law over a decade ago, the Chairman and MD of Fairway Holdings now runs a business with interests in renewable energy, manufacturing and trading, financial services, pharmaceuticals, and travel and leisure. He's open to taking risks, which is ingrained in his entrepreneurial spirit. De Alwis has played a hand in diverse business areas and in the sporting arena too, by way of a legal posting at Sri Lanka Cricket.
PROPERTY DEVELOPMENT
Government must stop seeing itself as a real estate agency and act more like a development agency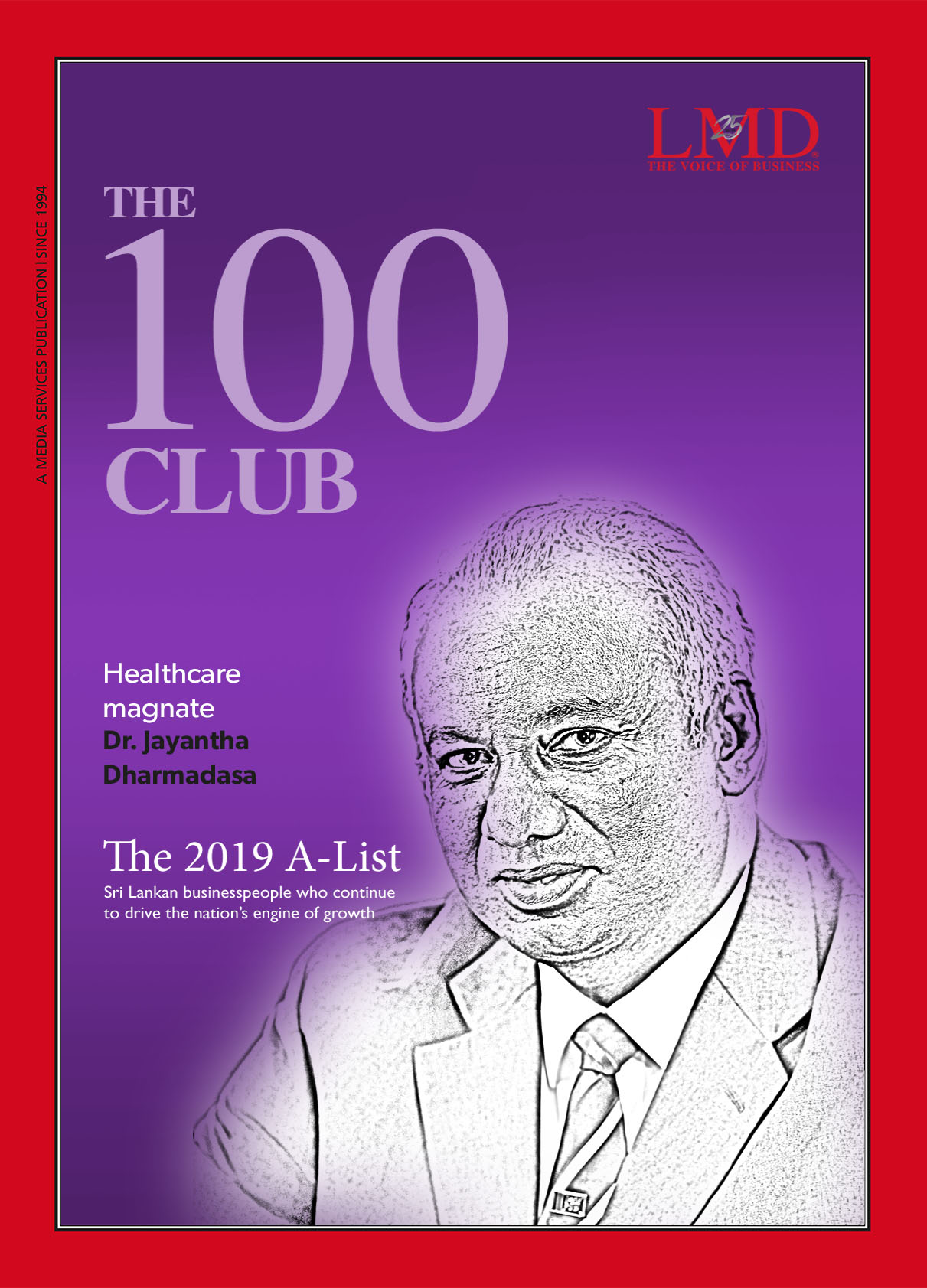 Healthcare magnate
Dr. Jayantha Dharmadasa was awarded an honourary doctorate by Swinburne University of Technology in 2017 for his impact on various sectors in Sri Lanka. A former Chairman of the National Film Corporation, and President of both Sri Lanka Cricket and the Asian Cricket Council, he completed his secondary education at S. Thomas' College, and is a Fellow member of the Institute of Certified Professional Managers.
ETHICAL STANDARDS
Adopting an ethical approach to business, and treating customers and other stakeholders ethically, is needed to be responsible and conduct business in a sustainable manner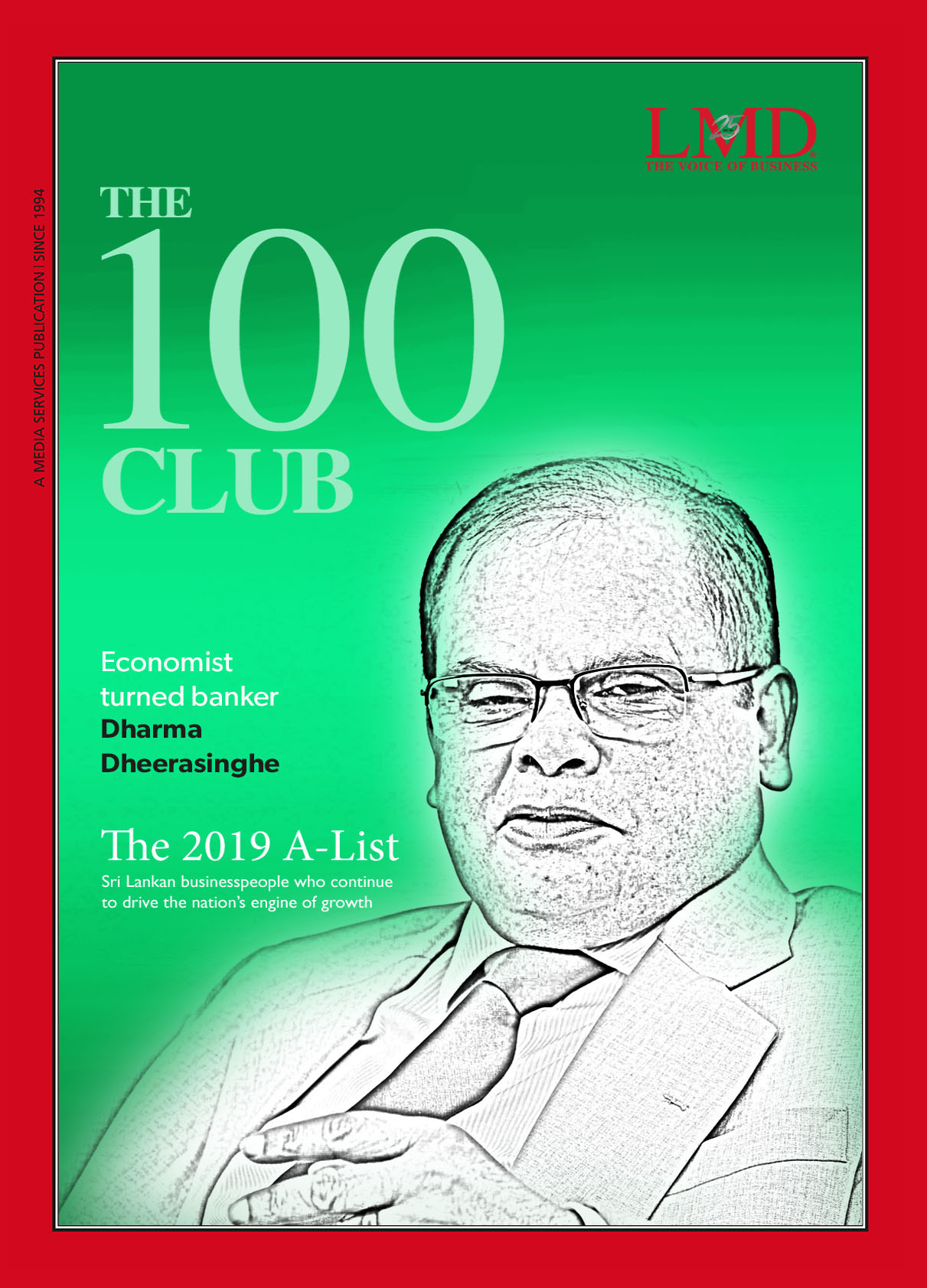 Economist turned banker
Dharma Dheerasinghe joined the Central Bank of Sri Lanka as an economist in 1976 and was appointed Deputy Governor in 2009. He has published on a number of topics relating to economics, and counts over 30 referred articles in reputed journals (including LMD!) in Sri Lanka and overseas. Additionally, he was the IMF's Alternate Executive Director for Bangladesh, Bhutan, India and Sri Lanka. Dheerasinghe is a graduate of the University of Colombo where he read for a Bachelor of Commerce and Bachelor of Philosophy in Econo­mics, and completed a Master's Degree in Transport Economics at Leeds University (UK).
FINANCIAL INCLUSION
It is imperative to increase financial literacy so that more people have access to finance and engage in banking transactions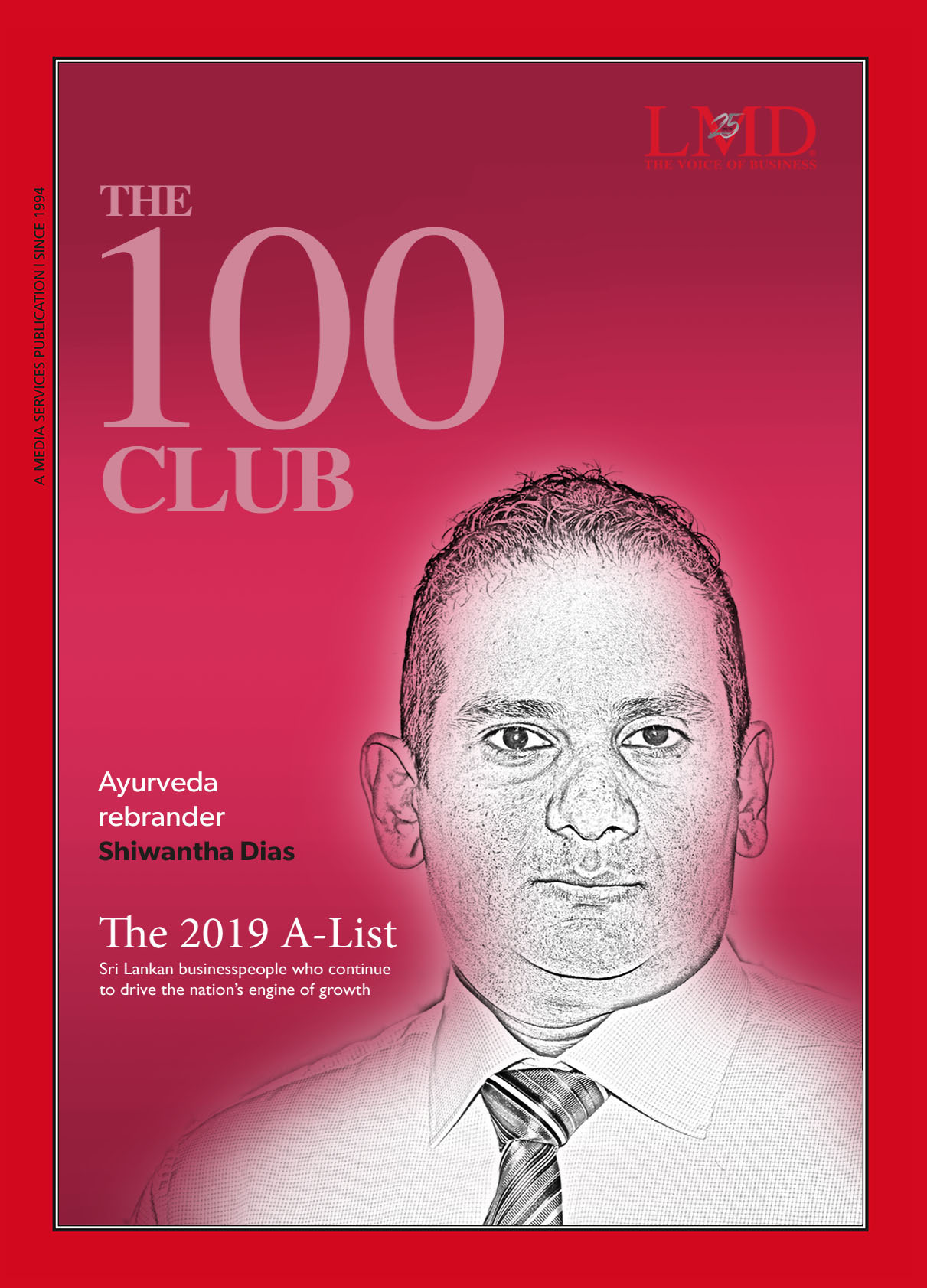 Ayurveda rebrander
Shiwantha Dias heads the product development arm of the Spa Ceylon wellness empire. He is credited for helping his mother build Janet Ayurveda over the course of two decades, prior to cofounding the now iconic Spa Ceylon. In recognition of his efforts, Dias was named among the recipients of the Asia's Greatest Business Leaders 2018 Awards.
WELLNESS MARKET
The continued growth of the international wellness market signals a strong shift in consumer preferences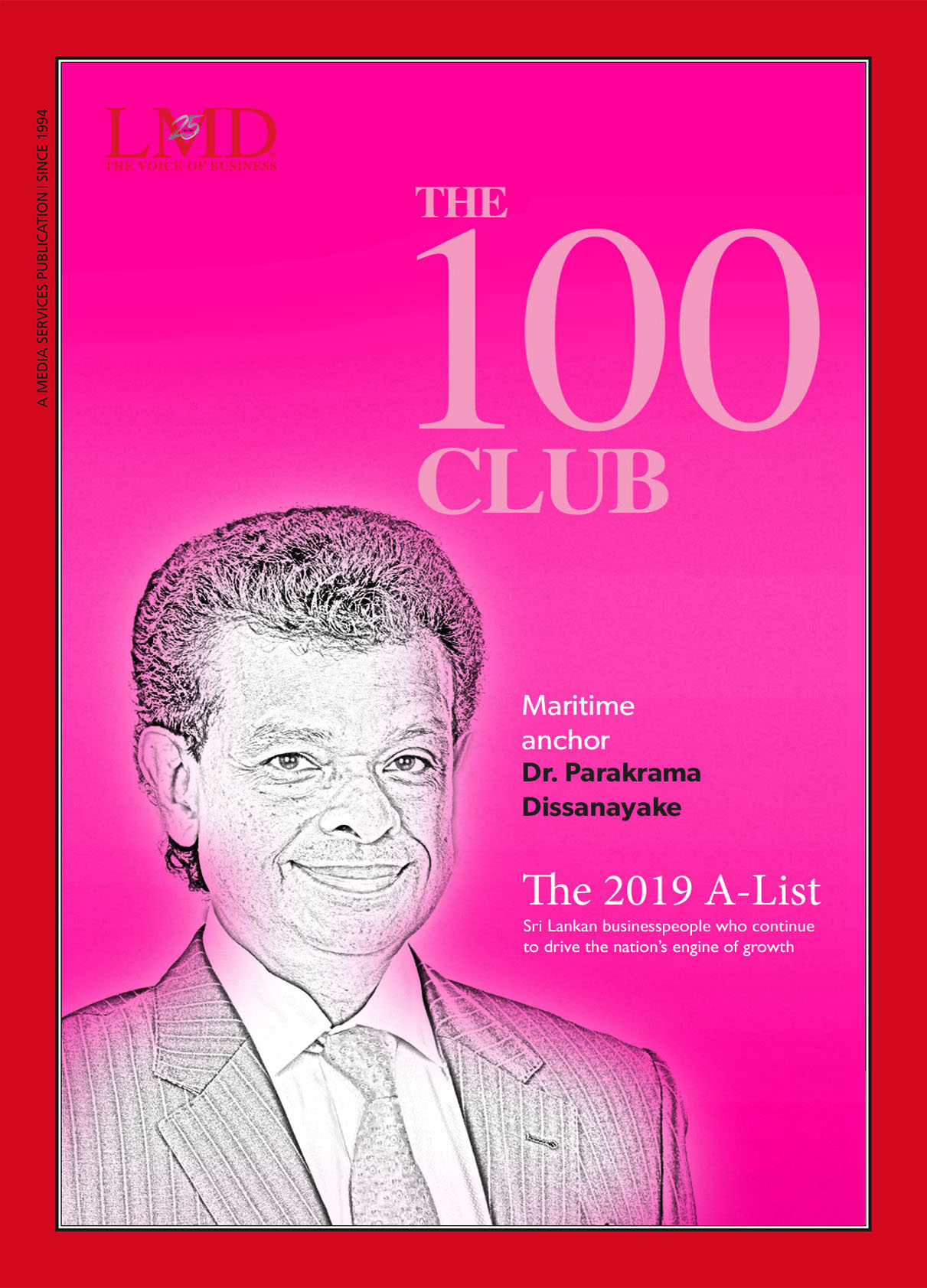 Maritime anchor
Dr. Parakrama Dissanayake was appointed Deputy Chairman and Managing Director of Aitken Spence in 2019. He holds the honour of being the first non-British International President of the Institute of Chartered Shipbrokers (UK), and is widely hailed as an expert in shipping and logistics. Accordingly, Dissanayake has served on the UN/UNCTAD Panel as an expert on ports and shipping among other high-ranking positions in relevant domains. He has also been conferred an Asian Brand Leadership award by CMO Asia.
HI-TECH INVESTMENTS
There's an opportunity to promote Sri Lanka as a knowledge and manufacturing hub for attractive high technology investments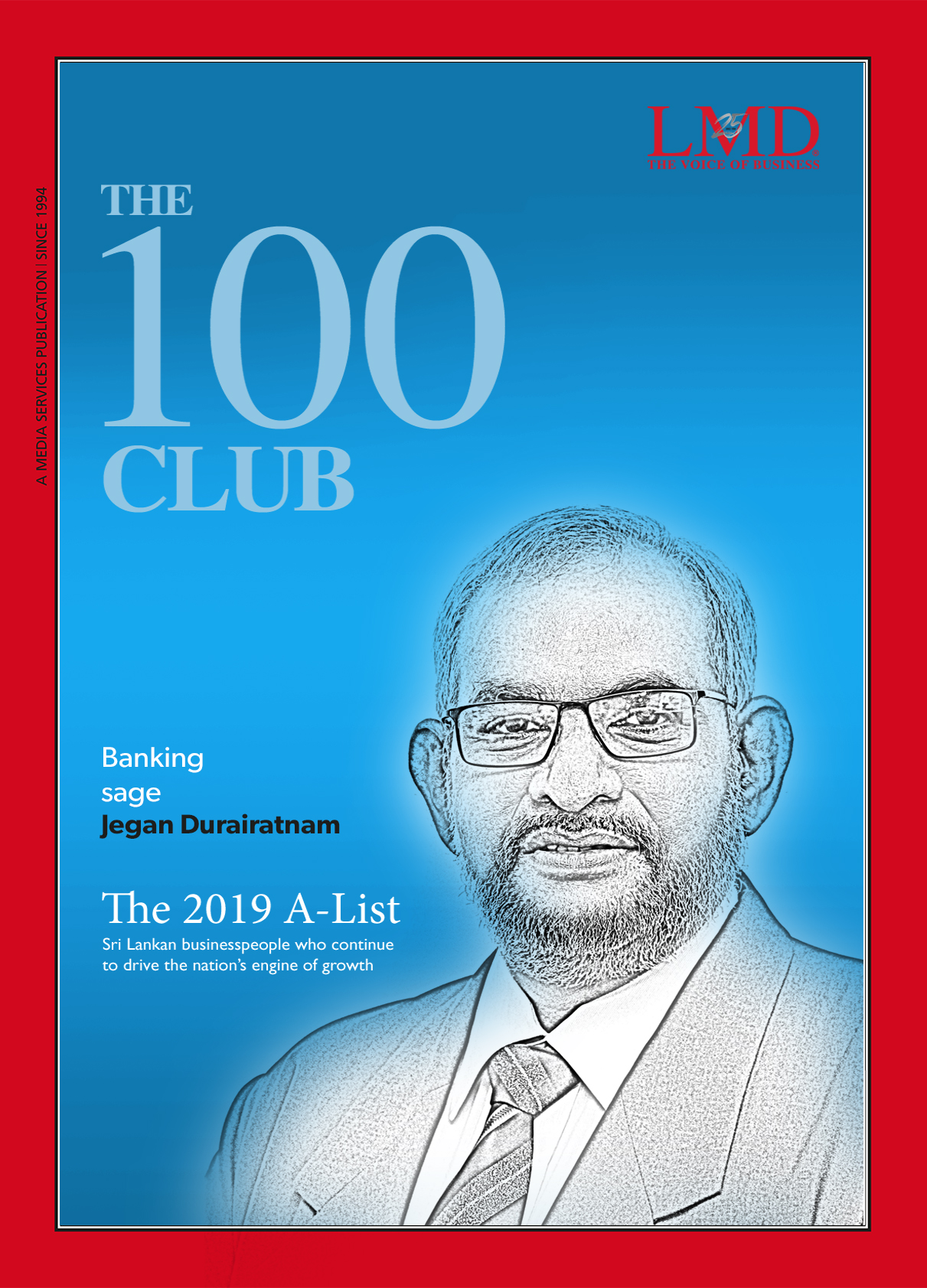 Banking sage
Jegan Durairatnam was appointed to the board of DFCC Bank in August 2018 and Chairman in July 2019. He was named an 'Outstanding Leader in Asia' at the 2018 Asia Corporate Excellence and Sustainability Awards. Upon graduating with a BSc degree from the University of Peradeniya in 1981, he joined Commercial Bank of Ceylon as an executive trainee in 1982.
GREEN ENERGY
There is substantial untapped potential in Sri Lanka for investments in green energy projects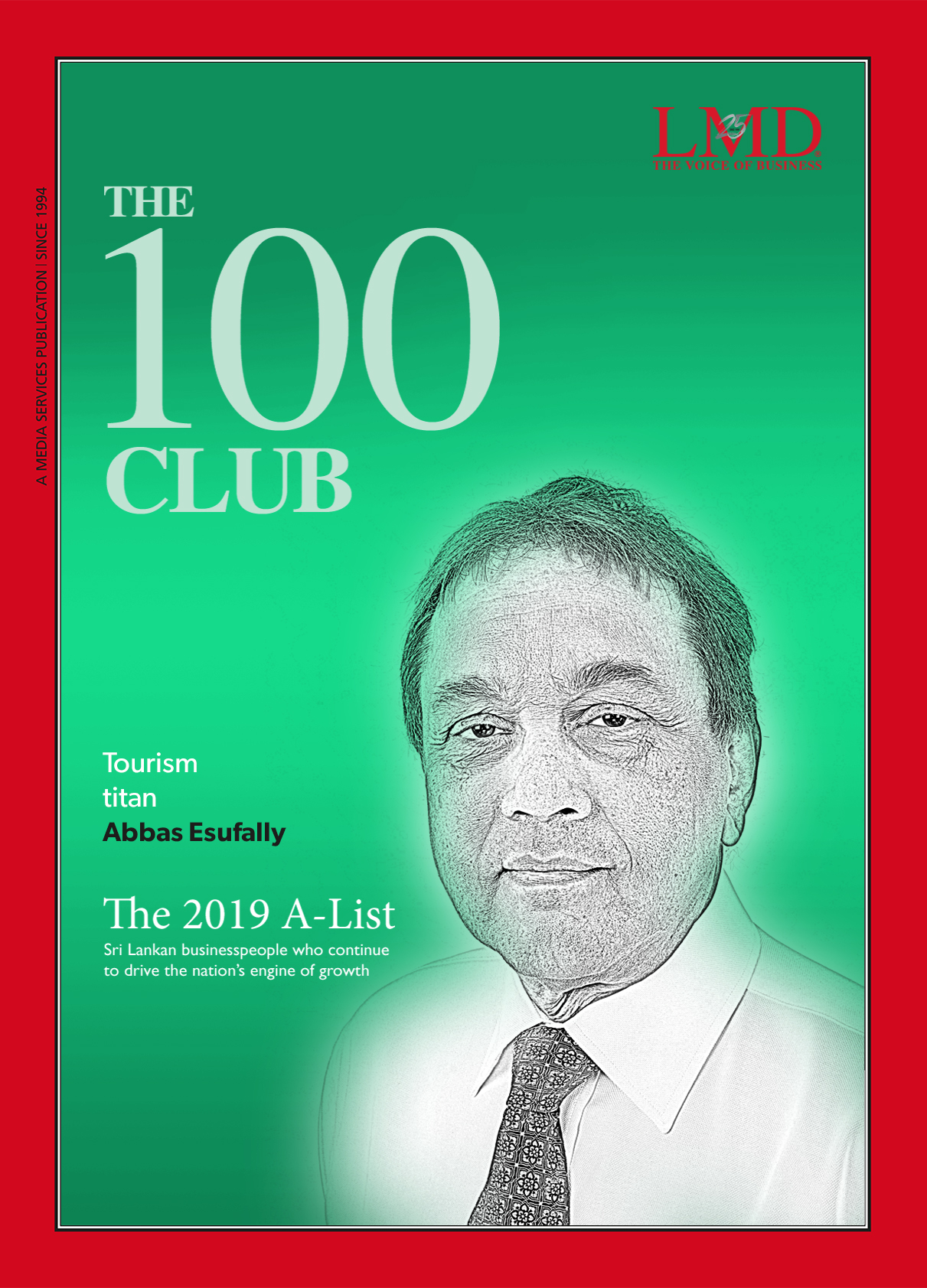 Tourism titan
Abbas Esufally – the first third generation Esufally to join the business in 1977 – boasts over 35 years' experience in the tourism industry and has played a pivotal role in expanding the Hemas group's leisure interests. He also serves on several other listed and unlisted company boards. A Fellow member of both the Institute of Chartered Accountants of England and Wales (ICAEW) and Institute of Chartered Accountants of Sri Lanka (CA Sri Lanka), he is an all island Justice of Peace and serves as the Honorary Consul of Bhutan in Sri Lanka.
INDUSTRY KNOW-HOW
Decision makers must understand the industry, and their decisions must benefit the entire trade and thereby the country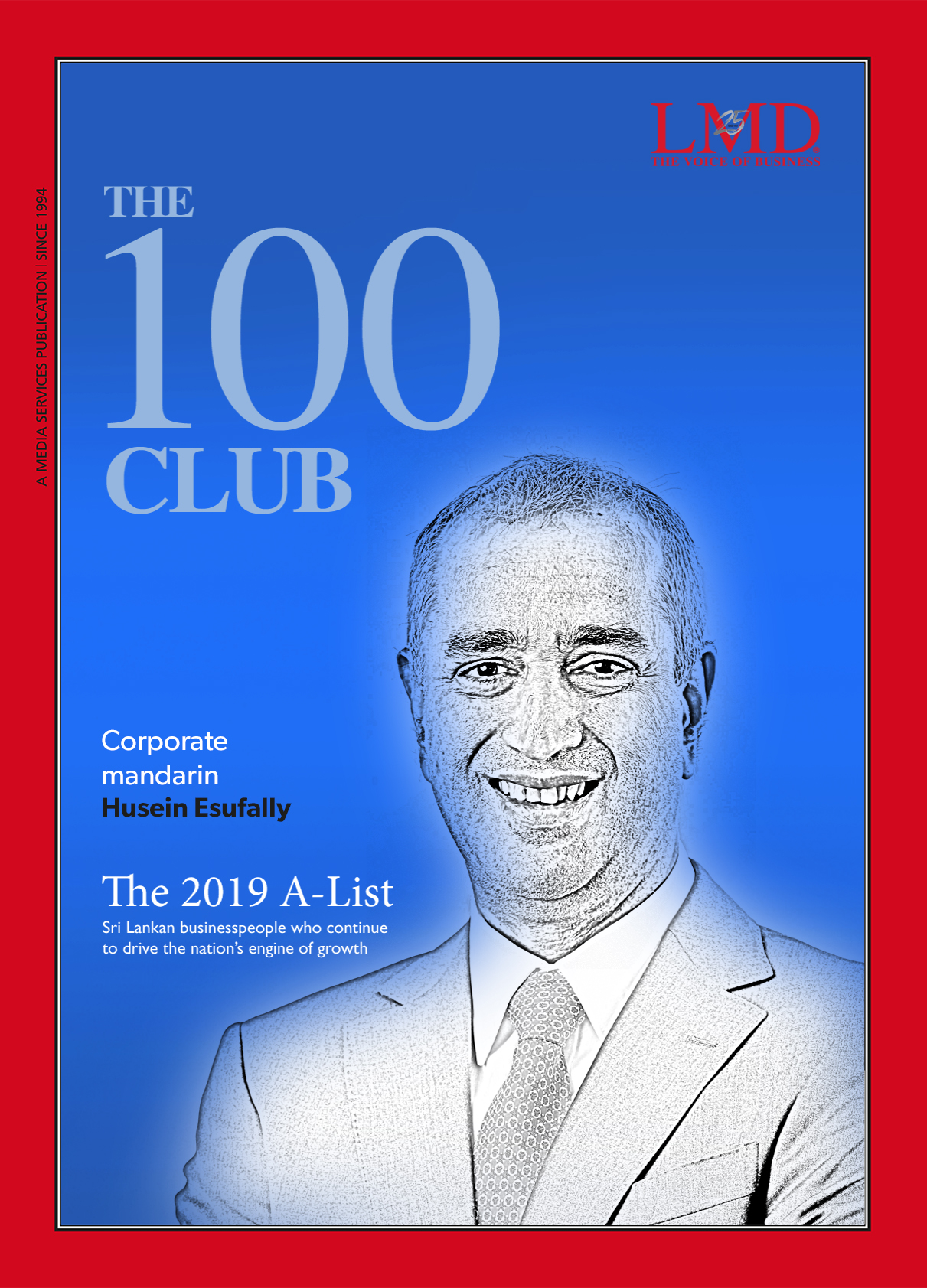 Corporate mandarin
Husein Esufally has more than 30 years' management experience under his belt and heads the family centric enterprise Hemas. Having joined the company in 1981, he has provided leadership to the group while demonstrating prudence – he is viewed as someone who espouses the principle of succession planning by appointing high calibre professionals to positions of influence while taking a backseat should an opportunity present itself. His credentials also include a Bachelor of Science (Honours) degree in electronics from the University of Sussex.
CUSTOMER FIRST
Build strategy around your customer and profits will follow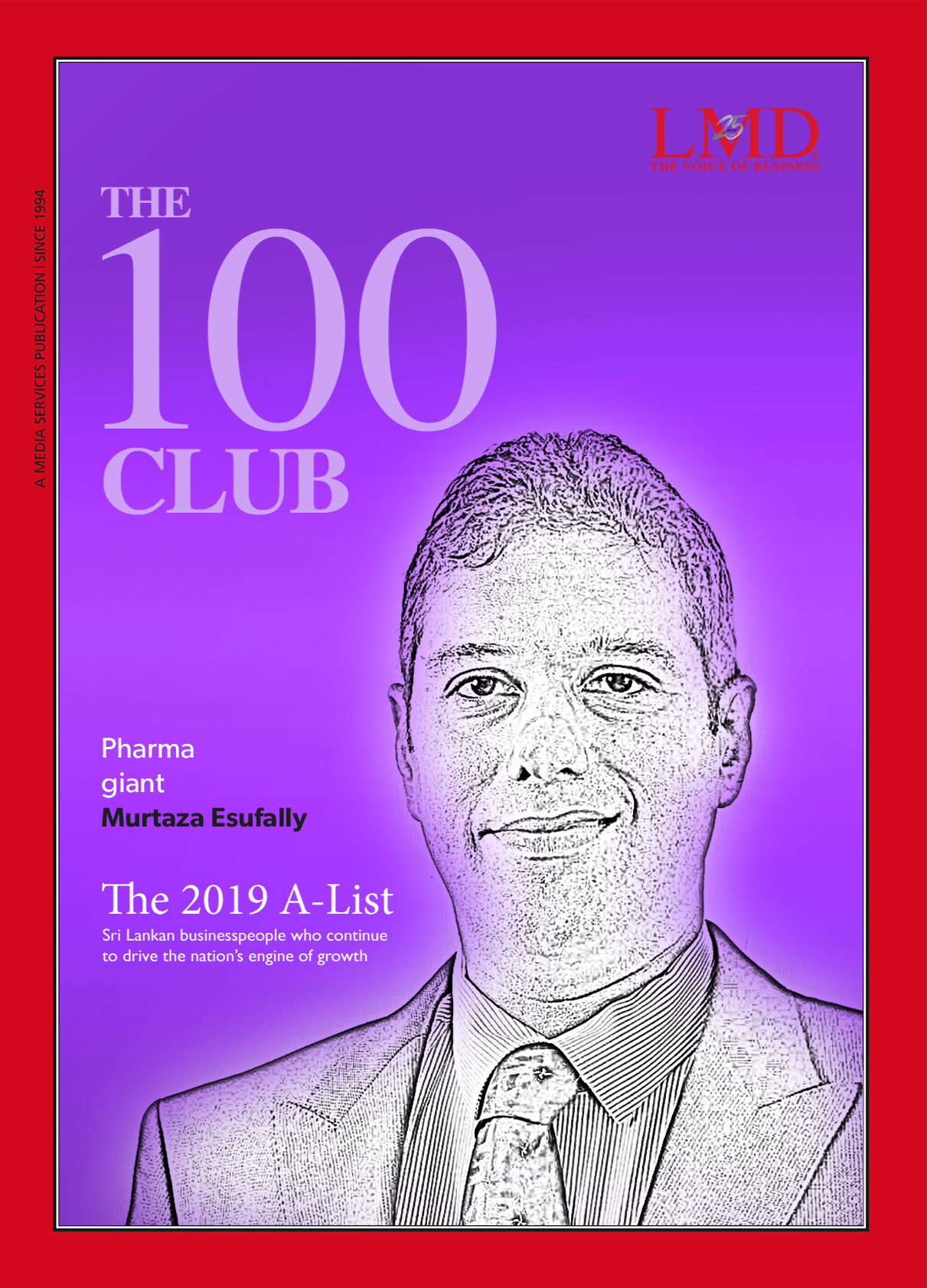 Pharma giant
Murtaza Esufally holds more than two decades of experience in senior management. He is the Chairman of Hemas Hospitals and Hemas Pharmaceuticals, and functioned as Non-Executive Chairman of the Centre for Poverty Analysis. Esufally has an MBA from Melbourne Business School, is a Barrister of Lincoln's Inn and holds an LLB from the University of Essex. Additionally, he is an attorney at law of the Supreme Court of Sri Lanka.
SUSTAINABILITY GOALS
The Sustainable Development Goals are a very useful framework for government, and for companies and civil organisations who want to make an impact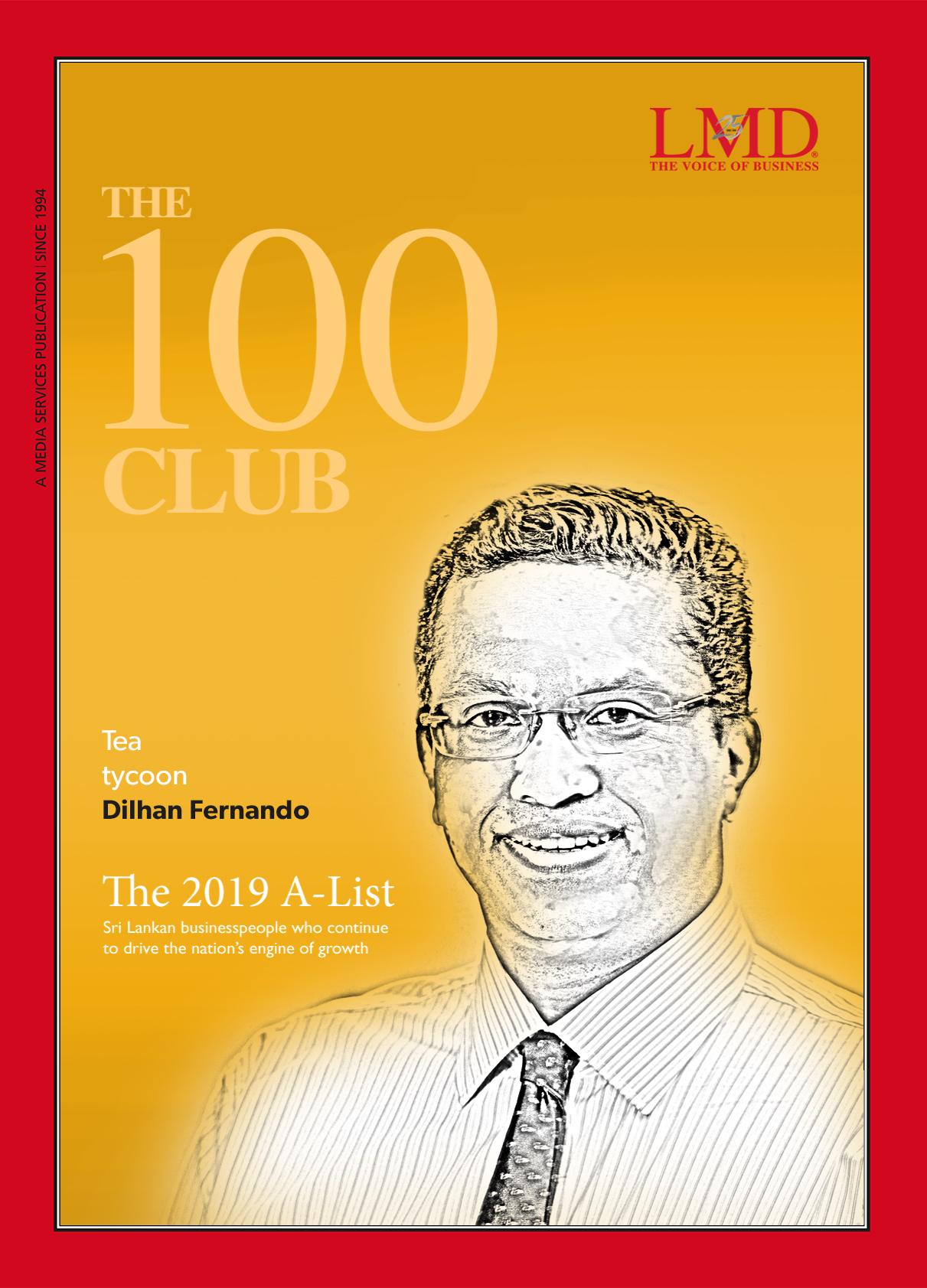 Tea tycoon
Dilhan Fernando was appointed CEO of Dilmah Ceylon Tea Company in 2017. The Director of the Dilmah School of Tea – deemed to be the first such international school of tea – also manages the humanitarian and environmental outcomes for Dilmah, added to which he chairs the private sector driven Biodiversity Sri Lanka national platform.
POSITIVE FORCE
Business as a force for good that does no harm to the societal and environmental fabric of Sri Lanka has more opportunity versus a downside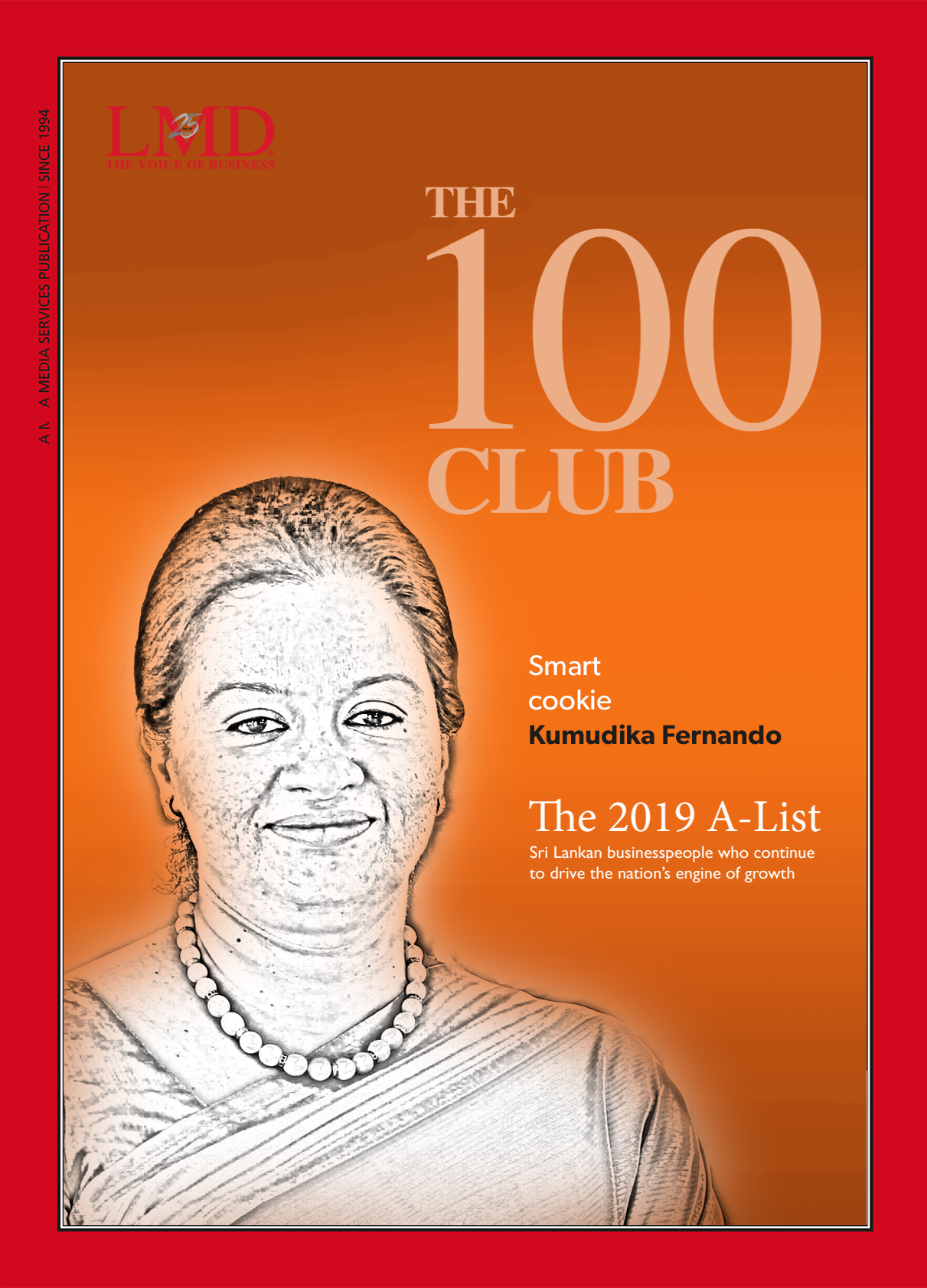 Smart cookie
Kumudika Fernando was named Business Role Model of the Year at the Professional and Career Women Awards 2016, in recognition of her contribution to the national and regional economy through her involvement at Maliban where she was appointed Managing Director in 2009. A proponent of innovation and product development, she pioneered and implemented an ERP system to integrate the functions of the business. A former student of Holy Family Convent, she pursued higher studies in Singapore and the US, and holds a Master's Degree in Psychology.
CONSUMER INSIGHTS
As consumers are becoming more knowledgeable, it's important that we change our proposition to cater to these changing tastes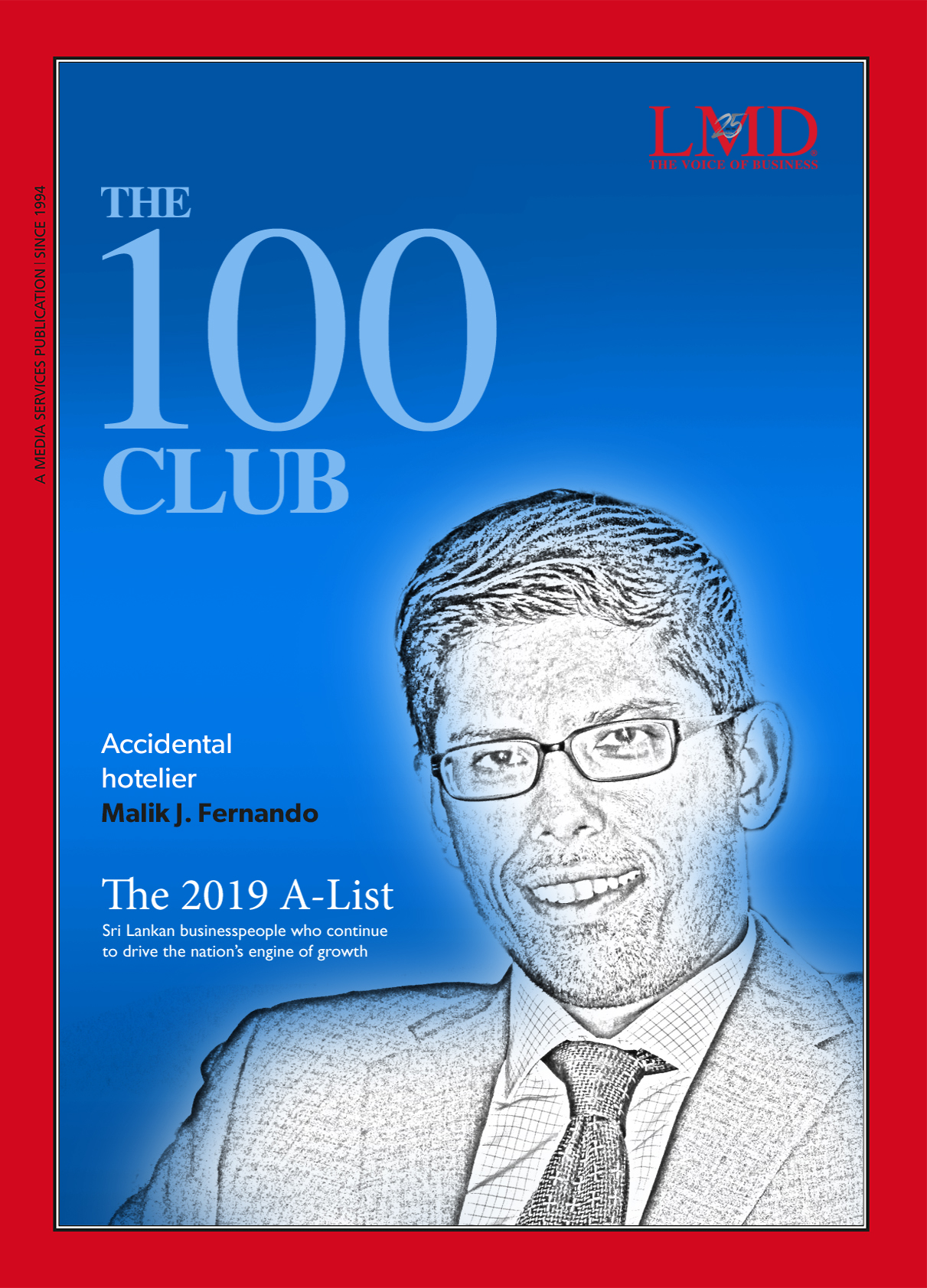 Accidental hotelier
Malik J. Fernando has referred to himself as an 'accidental hotelier' and was appointed CEO of MJF Leisure in 2017. He grew up and studied overseas but with the intention of returning to Sri Lanka to work in the family business. A founder member of the Sri Lanka Tourism Alliance, he graduated from Babson College in Boston in 1989.
TOURISM LIFELINE
The industry, the public, and both present and past tourists have made it clear they'll support, tag, share and do what it takes to stand with Sri Lanka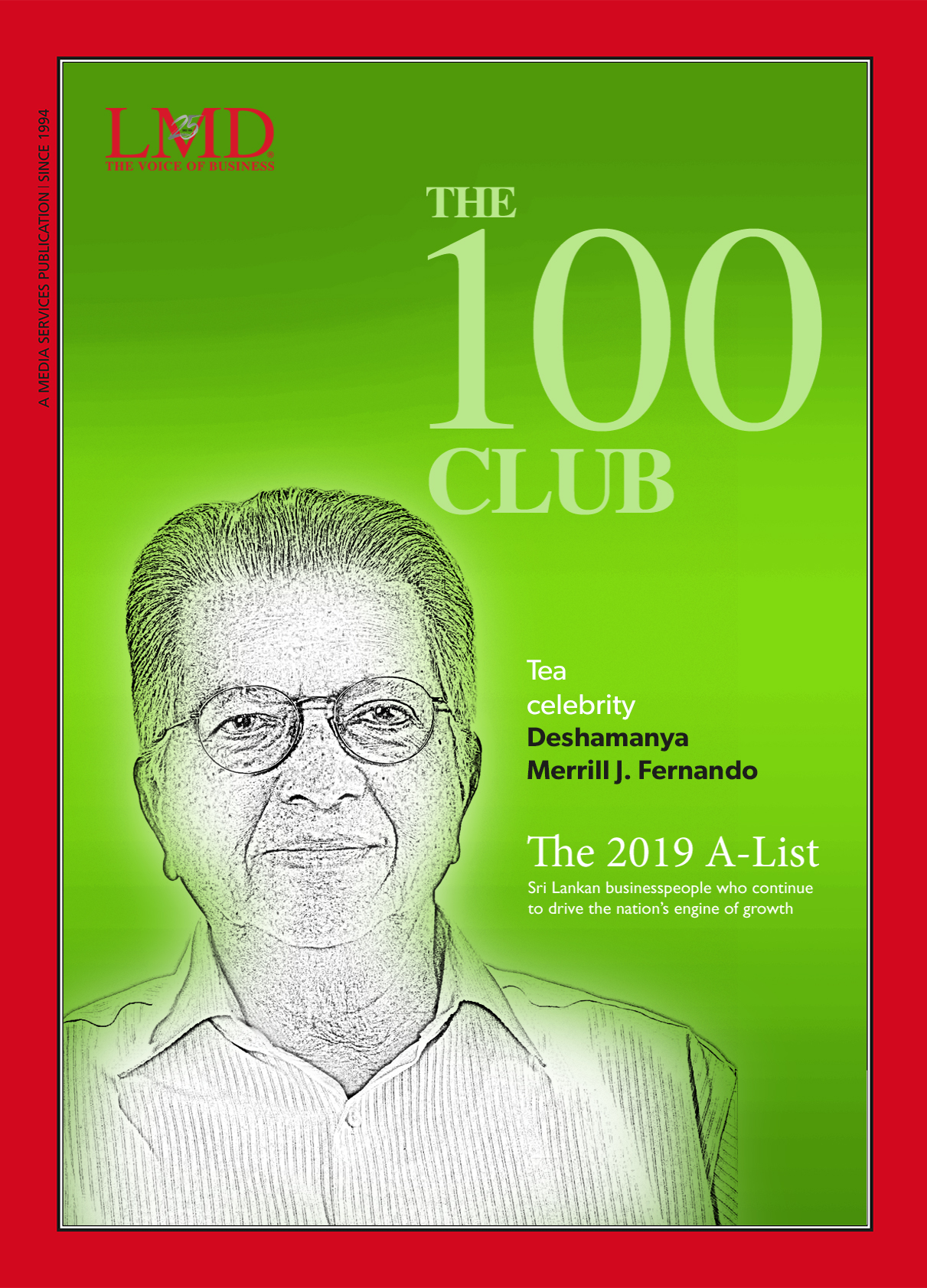 Tea celebrity
Deshamanya Merrill J. Fernando has etched his name in Sri Lanka's corporate history and made a name for himself beyond the island's shores, which is why he was the recipient of LMD's Lifetime Achievement Award in 2011. The iconic businessman is the founder and Chairman of MJF, and celebrated as the doyen of Sri Lanka's tea industry. He is the visionary behind Dilmah, which is arguably Sri Lanka's most high profile brand of the golden brew.
GUIDING LIGHT
Quality has to be the guiding light for any product – because it embodies the integrity of a product
Banking whizz
Nanda Fernando is the MD of Sampath Bank, and boasts over 35 years' experience in banking and finance. He has played multiple roles in the business of banking – including transactional banking in retail and corporate banking among other major growth areas. He is a Senior Fellow member of the Institute of Bankers of Sri Lanka (IBSL), and holds an MBA specialised in marketing from Sikkim Manipal University in India. Further­more, he is a qualified four bead Leader Trainer and past District Commissioner of the Sri Lanka Scout Association.
VALUE ADDITION
Businesses that strive to deliver greater value to all stakeholders are more likely to succeed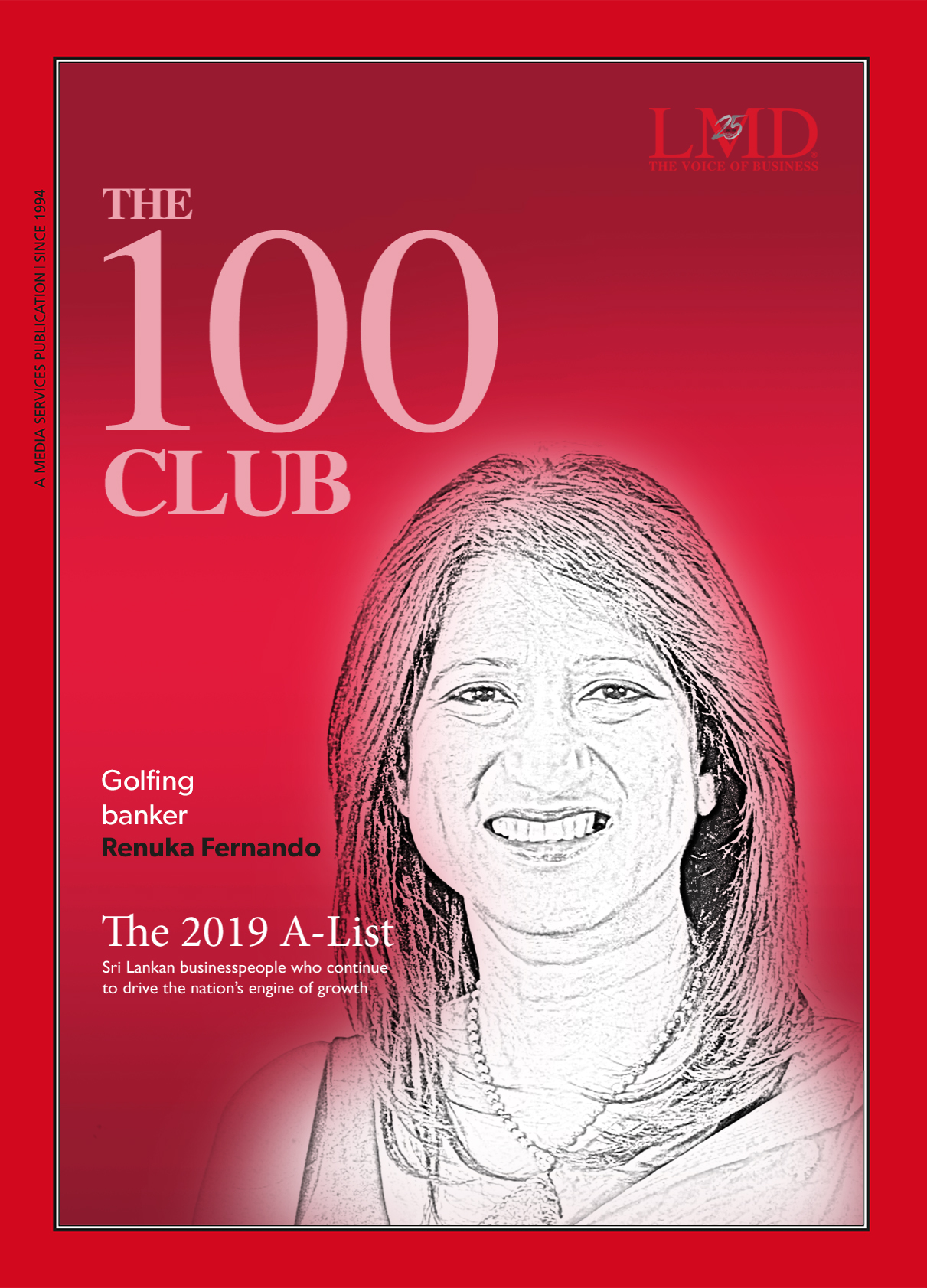 Golfing banker
Renuka Fernando, the CEO of Nations Trust Bank, has honed her skills as a career banker, having joined the digitally savvy financial institution in 2001. She draws on a wealth of knowledge and experience in financial services spanning over three decades. Her previous experience in the banking arena includes spells at ABN AMRO Bank (Sri Lanka), Banque Indosuez (Sri Lanka) and Nederlandsche Middenstandsbank (Hong Kong). She is the Chairperson of the Sri Lanka Banks' Association and was appointed to the American Chamber of Commerce in Sri Lanka Board of Directors for 2018/19.
LEADERSHIP MANTRA
Lead the change or change will lead you out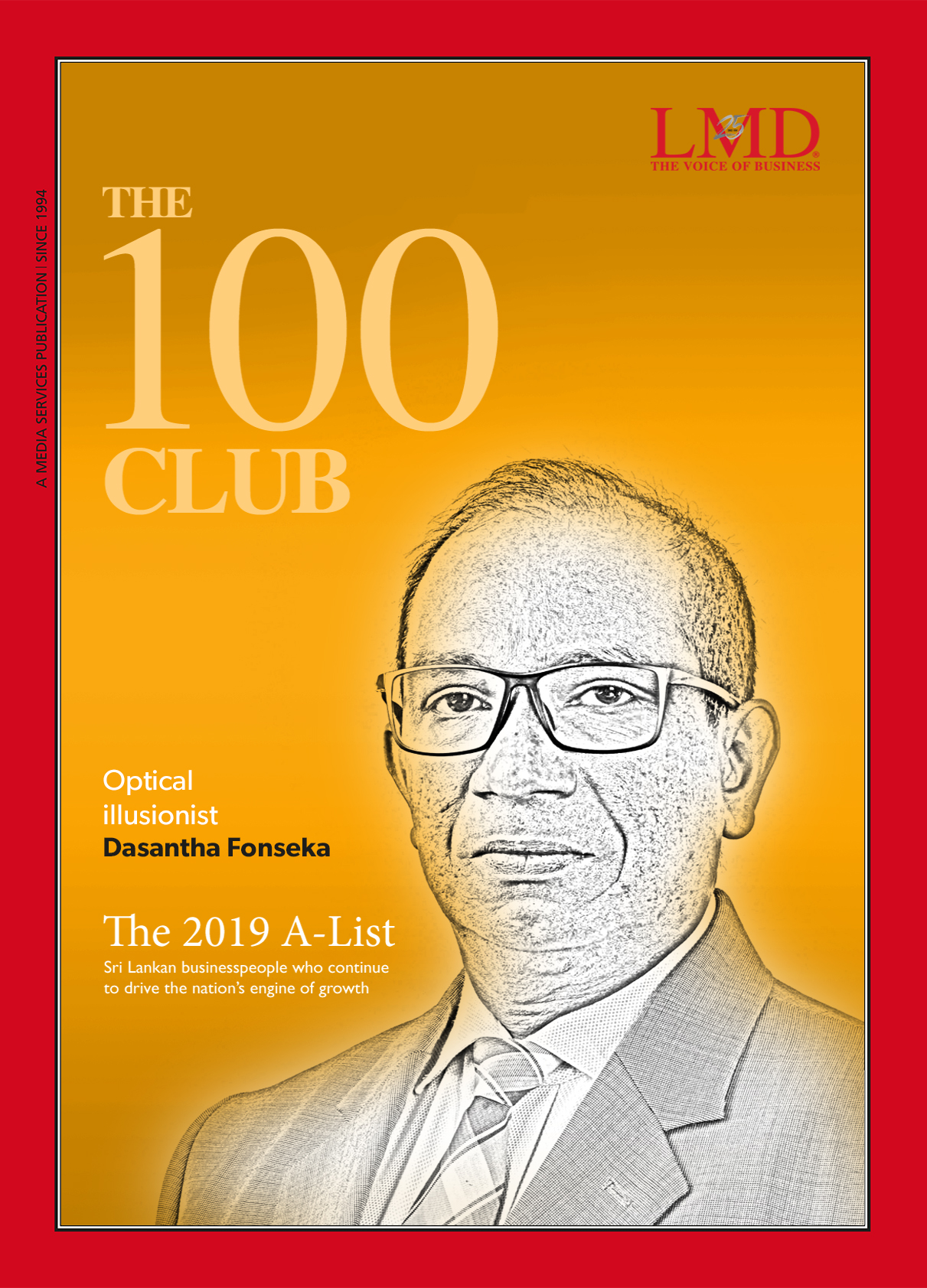 Optical illusionist
Dasantha Fonseka is the founder and Chairman of Vision Care Optical Services, in addition to assuming duties as the Deputy Chairman of the Colombo School of Business and Management. During the year, his eyewear business expanded its footprint in the island, most recently inaugurating its latest branch in the heart of Colombo.
GIFT OF SIGHT
In Sri Lanka, the private sector plays a critical role in fulfilling the eyecare needs of the country

Heritage restorer
Sanjeev Gardiner is the Chairman of Ambeon Capital, Galle Face Hotel Group and Kandy Hotels Company. He is a director of several public and private companies, and counts more than 20 years in the sphere of senior management. Gardiner holds Bachelor of Business degrees from RMIT and Monash University. He has been a council member of the governing body of HelpAge Sri Lanka for over a decade and is a Trustee of the Sir Chittampalam A. Gardiner Trust.
RESULTS ORIENTATION
Be passionate about what you want to achieve – focus on results rather than perfection

Cement authority
Rajaseelan Gnanam claims over 30 years in business management, strategic planning, and social and economic research. He holds the position of Chairman of South Asian Investment as well as Alexandra Industries (Ceylon), and is the CEO of Capital City Holdings, Capital City Development, Capital City Farms, St. Anthony's Consolidated and St. Anthony's Hardware.
STRATEGIC FOCUS
We will continue to maintain our strategic focus to strengthen resilience through value addition and diversification

Plantations pundit
Vish Govindasamy has led Sunshine Holdings with aplomb, which is among the reasons why he boasts a track record of being invited to sit on several committees at the House of Tata – a rare honour for an individual in the corporate sector globally. He holds a Bachelor of Science in Electrical Engineering and an MBA from the University of Hartford. Govindasamy is a Fellow member of the Institute of Certified Professional Managers of Sri Lanka. He was appointed Vice Chairman of the Ceylon Chamber of Commerce for 2019/20
LEADERSHIP IMPETUS
Market recognition provides us with the impetus to keep redefining what it means to be a market leader

Transformative insurer
Ajith Gunawardena is credited for introducing the concept of a direct sales force to the insurance sector and his brainchild of on-the-spot claims settlements transformed Sri Lanka's insurance landscape. Moreover, he was behind Ceylinco Insurance's first overseas joint venture. Gunawardena joined the Ceylinco Group in 1978 as a Sales Manager and was appointed Director in Charge of the General Division of Ceylinco Insurance nine years later. His illustrious track record speaks for itself. He was appointed Executive Chairman with effect from June 2019.
LASTING TIES
Your growth should be steady and long-term as you build long-lasting relationships with customers as well as your team

Coatings celeb
Aelian Gunawardene has been the driving force behind JAT's transformation. He was also conferred the Platinum Award for the 22nd Sri Lankan Entrepreneur of the Year 2017 by the Federation of Chambers of Commerce and Industry of Sri Lanka (FCCISL). Today, JAT is a fledgling conglomerate with interests in several key sectors; it has also expanded its reach to regional markets. The group's MD possesses over two decades' experience in marketing and management, and holds a Diploma in Marketing Management from the Chartered Institute of Marketing – UK (CIM).
ECONOMIC COG
Financial institutions need to support the construction industry, which is a vital cog in the economy

Capital infuser
Ajit Gunewardene helms Bluestone Capital and Digital Mobility Solutions Lanka of PickMe fame. The former schoolboy ruggerite has engaged in stints as Chairman of the Colombo Stock Exchange (CSE) and Nations Trust Bank, and was President of Cinnamon Hotels & Resorts and Deputy Chairman of John Keells Holdings (JKH). Gunewardene holds a degree in economics from the University of North Carolina. Moreover, he chairs the founding committee of the Museum of Modern and Contemporary Art Sri Lanka.
CORPORATE DNA
It is living governance that matters – essentially, it must become part of the corporate DNA

Master jeweller
Anura Hemachandra has played his part in the gem and jewellery sector for over 50 years even as Vogue Jewellers continues to innovate under his leadership. His business journey began at a very young age and he continues to drive the organisation's vision. Hemachandra joined Vogue Jewellers in 1978 and learnt the ropes of the business that was established by his father in 1962.
GILDED LEGACY
Sri Lankans consider that solid gold is a sound investment and certainly a part of the treasures that will be handed down to the next generation.

E-com pathbreaker
Dulith Herath is the founder and chair of one of the nation's largest e-commerce businesses – Kapruka.com. A recipient of an Eisenhower Fellowship for his project Grasshopper (seed funded by AFF and recognised by the UN as an enabler of e-commerce in developing nations), Herath also cofounded Grasshoppers, which provides l