RETAIL SECTOR
Compiled by Savithri Rodrigo
THE YEAR OF TRANSITION?
Kishore Surtani urges retailers to invest in what is a transitional year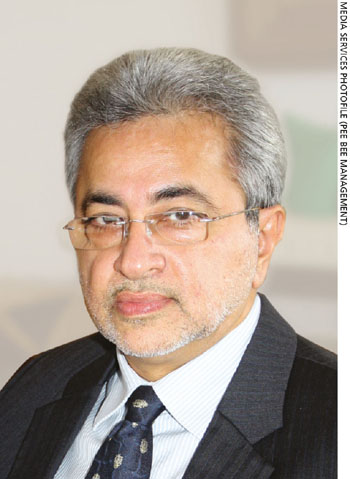 Q: How do you view the retail sector at present?
A: Retail is a vital commercial activity providing consumers with an opportunity to purchase goods from a variety of outlets. In post-independence Sri Lanka, the sector has been dominated by family owned businesses offering customers a more personal and informed service.
The open economy led to a shift from traditional retail outlets to supermarkets, department stores, speciality shops, franchises, restaurants and shopping malls. Presently, the sector is well organised and patronised by all social strata.
Q: What are the latest global trends in retail?
A: The global trend is likely to be continually rapid and radical change – especially in the food sector with restaurants and supermarkets, and ready-made apparel with department stores and franchises entering the fray.
Today, the one stop shop experience has been pushed to the extreme with shopping malls combining speciality shops, food courts and entertainment centres as a high priority consumer focus. But in the long term, consumers will demand change driven by evolving expectations, which will strengthen e-commerce – a new retail experience with phenomenal growth.
Q: Are global trends impacting local purchasing patterns?
A: The global retail sector has improved operational efficiency through innovation and IT. This directly impacts growth and enhances customer satisfaction, by way of quality service and express delivery options.
IT trends have impacted lifestyle and consumer behaviour. The world is busier and requires quick solutions. Shopping takes on a similar tone with Sri Lankans enjoying the new online experience. Given limited time for footfall shopping, e-commerce offers consumers the freedom to select from a range of products on their devices.
Q: Is Sri Lanka attractive to international brands?
A: There's a concerted effort to take tourism to greater heights in the next few years. More expatriates will be living in Sri Lanka due to mega projects planned as part of the nation's development drive. This calls for skilled professionals.
International brands will become imperative, lifting Sri Lanka higher on the global retail destination radar. Local brands across consumer categories play an integral role in the retail sector. Together, strong domestic and international brands will help position the island as a retail destination catering to local and foreign consumers from diverse socioeconomic backgrounds.
Q: Has the rupee's depreciation impacted the retail sector and consumer expenditure?
A: It mainly impacts the cost of importing essentials and manufacturing local consumer products as most raw materials are imported.
Imported finished products also cost more, resulting in higher retail prices. The overall impact of a depreciating rupee is that purchasing power reduces drastically and so consumers prioritise their spending on essentials, deferring the purchase of nonessentials based on their savings.
Q: Are consumers demanding responsible supply chains and manufacturing?
A: Supply chain transparency is a concern with consumers becoming more conscientious about what they buy.
Businesses are expected to meet ethical standards with consumers scrutinising product origins, working conditions, human resources, quality control, sustainability compliance, gender equality, diversity, human rights and equal pay.
To meet these expectations, corporates must instigate changes to ensure environmental stewardship; reduce harm, waste and damage; and practise sustainable sourcing, manufacturing and product distribution.
Q: Is the sector geared for environmental consciousness and responsibility?
A: Consciousness has increased globally. Sri Lankan consumers are influenced by trends and make purchases based on them. Social responsibility policies among high end retailers – including supermarkets, department stores and specialised retailers – must stay true to their green efforts.
Sri Lankan retailers must improve their social and environmental consciousness with long-term stakeholder policies, and implement initiatives that make a difference to the work environment.
Q: How do you envision the retail sector performing this year?
A: It will be challenging, as retail businesses face increased competition in most categories. Lower disposable incomes may also affect revenue.
To gain a competitive edge, retailers should consider sector trends and build capabilities that shape the consumer experience. Companies that are ahead in their categories must lead the way. Retailers must invest and consider 2020 as a year of transition.
The interviewee is the Managing Director of Pee Bee Management Services