STATE OF THE NATION
COURTING DEMOCRACY

INSTEAD OF A DISASTER
Wijith DeChickera has a sanguine sense about recent court verdicts – not only because he loves democracy but hankers for what's best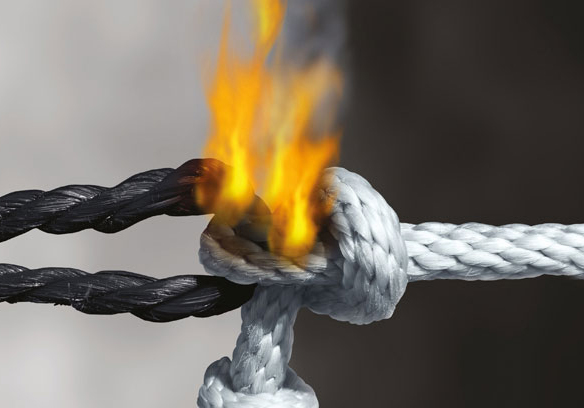 Since President Maithripala Sirisena upset the political applecart on 26 October, the Democratic Socialist Republic of Sri Lanka has not been quite the same. Poised for salutary progress on many fronts, it laboured under the burden of a plethora of developments provoked by the head of state himself – with a little help (or prompting) from his former party boss turned fake prime minister for the purposes of a coup.
However valiantly pro-democracy contenders like the speaker agitated, it was all in vain at one point. Sri Lanka had certainly not been 'democratic' in the two months or so of chaos that followed.
The incumbent executive had a longstanding mandate from a majority of voters to drive the reforms agenda with which the coalition government was tasked four years ago. That he undermined the entire project to do so was made manifest in a panoply of antidemocratic actions against his erstwhile partners in governance. This included arbitrary sackings and the appointment of a prime minister, refusal to heed parliamentary tradition and ad hominem attacks.
And the country also underwent storm and stress brought on by forces that were hardly 'socialist' in nature or economic outlook. Strategically poised to control or at least influence a rapidly burgeoning share of maritime trade in the Indian Ocean, we became the cynosure of two competing global ideologies.
To the left, a rising Eastern neo-empire run on state controlled capitalism roping in an alarming number of nations in East African and South Asian littorals. On the right, a subcontinental giant ostensibly backed by US militarised capitalistic interests.
But there was to be at least some redemption for the ethos of being a 'republic.' And it came at the hands of a holy trinity of court rulings.
For in a genuine democracy – whether a presidential, parliamentary or now mixed system – there are inbuilt checks and balances that stymie authoritarian ambitions. In a liberal constitutional democracy such as ours under fire with an executive acting like a loose cannon and many if not most legislators on the rampage, the cool clear clarion of these three courts was a welcome voice heralding the knell of justice.
First, a magistrate's court had the fortitude to remand the country's highest ranking military officer in a testy case involving the alleged abduction and murder of youths in a time of war. This despite the potent official's ostensible protection by a president playing to the nationalist gallery. And not even the uniform of the chief of defence staff nor his security contingent outside court intimidated that doughty judge.
It was a palpable hit against the resurgent militarism of the previous regime at a time when it looked like the Rajapaksas might return.
And then in a historic and hugely anticipated verdict, the Supreme Court ruled that the president's dissolution of parliament was unconstitutional. The seven judge bench was unanimous in its ruling that the related gazette notification was null and void. This was not only welcome relief for a beleaguered parliament but proof positive that Sri Lanka's liberal democracy was alive and well.
There is much more hope for intra-governmental checks and balances now that the judiciary has shown its mettle. Maybe some kudos to good governance!
Of course, with much more at stake than democracy – in the shape and form of China's deep pockets allegedly bankrolling the coup – the courts' throw of their dies was poised to trigger off a spectrum of responses from costly referenda to permutations and combinations concerning the formulation of a new government or return to the status quo: a détente of old.
Then there was the Court of Appeal's interim order in a quo warranto case to determine that de facto Prime Minister Mahinda Rajapaksa had not shown sufficient cause to continue as premier together with his cabinet.
This was challenged by the gazette appointed premier on the grounds that it could only be heard by the Supreme Court. That latter superior court ruled in a second blow to the coup's solar plexus – only a day after it held the president's dissolution of parliament as lacking in law – that it would hear the petitioner.
However, the punch came in that it while it ordered the Appeal Court not to hear the petition against Rajapaksa and his cabinet, it unanimously refused to grant interim relief to the coup faction.
Which meant at one time in mid-December that until the court reconvened in mid-January, Sri Lanka looked like it would lack a legitimate government for more than a month.
Unless the president brought in a de facto cabinet of ministers into play again through an overnight gazette notification – his now notorious modus operandi!
Rather, in a move that smacked of grandstanding, Rajapaksa 'resigned' his 'premiership' in the face of the awesome majesty of the law not being moved. Of course, his 'gracious gesture' came after refusing to pay heed to a spate of no confidence motions!
There is only pity for such pathos but Sri Lankans might do better feeling sorry for themselves at the tough slog ahead to return us to our promised place in the sun. For what price Lonely Planet No. 1 now?