CSE
Corporates vie for honours at CSE masterminds 2019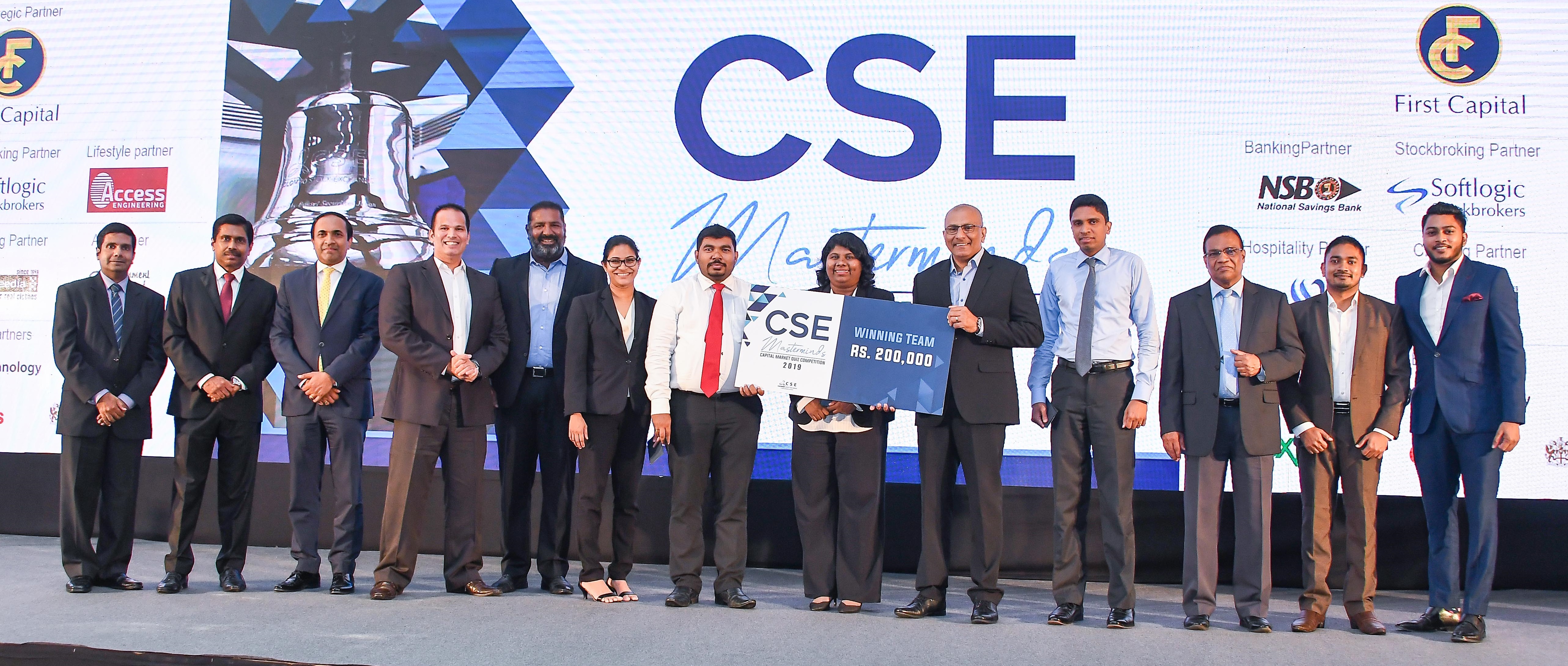 Third Edition attracts 58 teams
NDB Investment Banking Group wins overall competition
DFCC Bank and Commercial Bank of Ceylon secure second and third place respectively
The third edition of Sri Lanka's only capital market quiz – CSE masterminds organized by the Colombo Stock Exchange (CSE) was recently held at the Waters Edge Hotel with NDB Investment Banking group emerging as the winner of the overall competition. DFCC Bank was placed runner up while Commercial Bank of Ceylon secured third place at the competition.  A Cash prize of Rs. 200,000 was awarded to the winning team while second and third placed teams were awarded a cheque for Rs. 100,000 and Rs. 75,000 respectively.
The participating teams were segregated into six sectors based on their core area of business and were awarded for excelling in each category. NDB Investment Banking Group (Banking and Finance), Ceylinco life Insurance (Insurance), Capital Alliance Group Team 1 (Stockbroking), Dialog Axiata (Technology), Moody's Analytics Knowledge services (Professional & Knowledge Services) and Hemas Manufacturing (Diversified & other) won special awards for topping their respective category.
The competition which was organized by the CSE with the objective of enhancing knowledge on the capital market drew in 58 teams with a wide representation of corporates from around the country. Participants were put through a test on their knowledge in local and global capital markets, local and international business and other areas with relation to the management of financial securities.
CSE Masterminds 2019 was supported by First Capital Holdings as the Strategic Partner, Softlogic Stockbrokers as the Stockbroking Partner, National Savings Bank as the Banking Partner, Access Engineering as the Lifestyle partner, Waters Edge as the Hospitality Partner and Hameedia as the Clothing Partner. CIMA, 99X Technology, NDB Investment Bank, Expolanka Holdings, Cargills Ceylon and The London Stock Exchange Group also supported CSE Masterminds in the capacity of event partners while Entertainment Unlimited partnered with the CSE on this initiative as the AV partner for the second consecutive year.
Commenting on the initiative CSE CEO Mr. Rajeeva Bandaranaike said that the competition has steadily evolved since inception into one of the foremost quiz competitions in the cooperate sector and a flagship event in the CSE calendar. "The interest in the corporate sector to participate and view the quiz as a fun and engaging learning experience has been vital to the success of the event. We congratulate the winning teams and express our appreciation to all the organizations and brands that have supported the event this year in the capacity of a sponsor or partner" he added.
About CSE
The Colombo Stock Exchange (CSE) operates the only stock market in Sri Lanka and is responsible for providing a transparent and regulated environment where companies and investors can come together. The CSE is a company that is limited by guarantee established under the Laws of Sri Lanka. The CSE is licensed by the Securities and Exchange Commission of Sri Lanka (SEC) and is a mutual exchange consisting of 15 Members and 14 Trading Members. All Members and Trading Members are licensed by the SEC to operate as Stockbrokers. For more information, please visit: www.cse.lk.