BBW
The Big Bad Wolf Book Sale Donates Over 3500 Books Through Red Readerhood CSR Initiative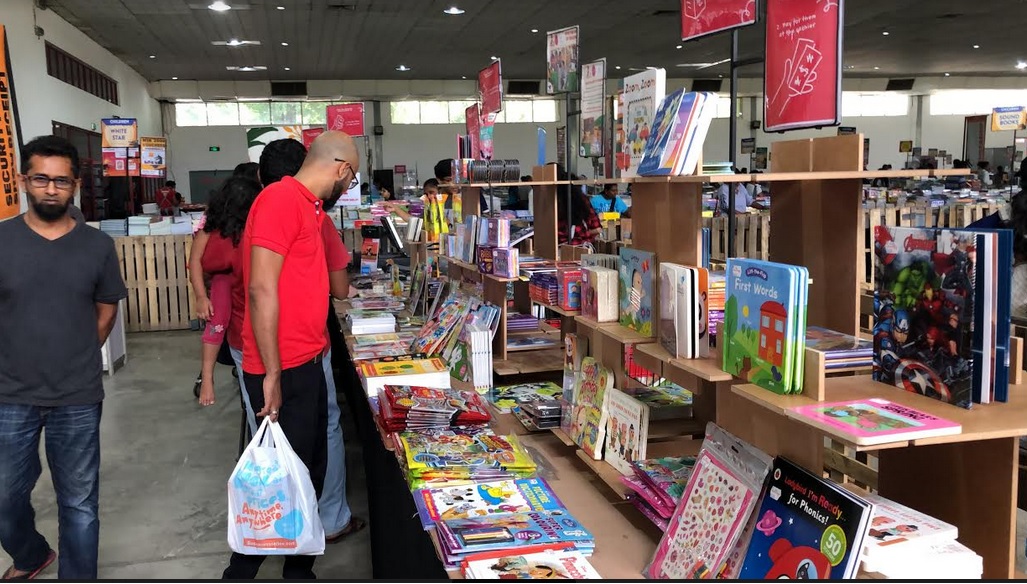 The Big Bad Wolf Book Sale moved forward in full swing and attracted hordes of book enthusiasts from every part of the country. The Sale, which opened its doors to the public on 18th October, was reported a success and wrapped up on 28th October 2019. Whilst having established itself as an influential, one-of-a-kind book sale in Sri Lanka as well as in a number of other regions worldwide, the Big Bad Wolf Book Sale ensured that not only would the Sri Lankan public get an opportunity to access quality English language books at affordable prices but also work to give back to deprived communities and to those who are unable to gain access to books of these kinds.
This is where the CSR arm of the Big Bad Wolf Book Sale, the Red Readerhood (RRH) came into play. The Red Readerhood is an initiative which encourages visitors to the Sale to purchase a book and place it at the RRH booth setup at a designated spot inside the venue. The collection of books is then donated to charity organizations which would ensure children from underprivileged communities gain access to these books.
This year, the Big Bad Wolf Book Sale collaborated with the Centre of Hope, a charity group that operates a care home and an educational centre at four main districts; Ampara, Batticaloa, Colombo and Mullaitivu. These centres provide assistance to children who hail from economically challenged upbringings. Thanks to the kindness of strangers who wanted to give back, over 2650 books were donated to the Red Readerhood booth which was located at the Book Sale.
Adding her insight about the initiative taking off in Sri Lanka this year, Founder of Big Bad Wolf Books, Ms. Jacqueline Ng stated, "Our aim is to make a difference by helping to uplift educational opportunities for children from underprivileged areas in Sri Lanka. The Big Bad Wolf Book Sale commenced the initiative by pledging 500 books and visitors were kind enough to pledge their support further by purchasing a book and donating it towards this worthy cause."
The Big Bad Wolf Book Sale Colombo 2019 operated from 10am to 10pm on weekdays and 24-hours nonstop over the weekends. Visitors were able to avail of discounts ranging from 50% to 90% off the recommended retail price and gain access to brand-new English books. The Big Bad Wolf Book Sale in Sri Lanka enticed widespread support and has been recognized by the Ministry of Education of Sri Lanka. Event partners for the Sale included Sampath Bank who came in as the official banking partner, Mobitel as the official mobile communication partner and Kangaroo Cabs as the official mobility partner.
About Big Bad Wolf Books
Driven by passion, Andrew Yap and Jaqueline Ng first launched the Big Bad Wolf Book Sale in 2009 as a warehouse sale in Kuala Lumpur, Malaysia, providing an exciting array of excess books from international distributors. The affordable prices and easy availability of the books proved to be a huge attraction and in no time, the Big Bad Wolf Book Sale turned into a landmark event nationwide. Offering brand new English books at discount as high as 50% to 90% off recommended retail price, Big Bad Wolf Book Sale features a wide range of books across all genres, including fiction and non-fiction bestsellers, young adult fiction, as well as an extensive collection of children's books. Apart from Malaysia and Sri Lanka, the Big Bad Wolf has also successfully extended its footprint across cities in Thailand, Indonesia, the Philippines, United Arab Emirates, Pakistan, Myanmar, Taiwan and Korea.