CORPORATE COMMUNICATIONS
RATHER NOT TALK TO A BOT
AI is transforming many features of life and the future of organisations – Sanjeewaka Kulathunga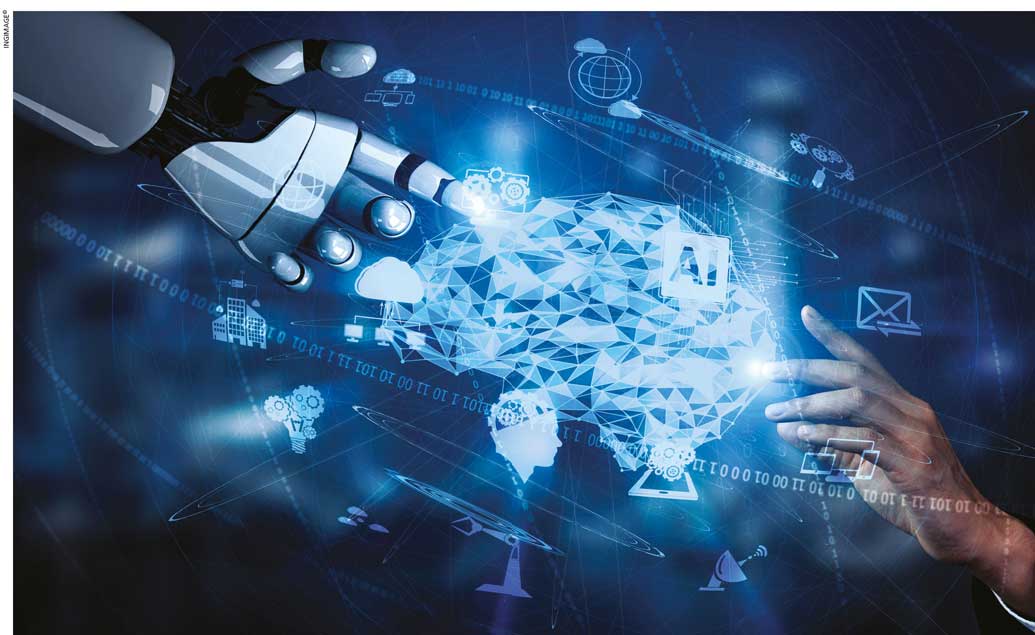 The amazing potential of AI in the revolution of business is currently being explored in various sectors including corporate communications. It allows businesses to free up employees, reduce costs and grow, by using chatbots for customer care services, automated marketing campaigns and bots that answer emails.
Despite the fact that its application in communications shows a promising future in most industries, we're still a long way off from a world where marketing departments are managed by a programme similar to Amazon's Alexa.
However, there are inherent flaws in the application of artificial intelligence in human communications. As technology continues to evolve and improve, AI depends on time and data, to comprehend and respond to the complicated realm of human interactions.
While AI assisted software may be considerably faster and more precise than humans at analysing data or forecasting weather patterns, it's unable to compete with millions of years of evolution that has led to the human brain's ability to communicate effectively.
According to research, people are superior at strategic and creative thinking; and most notably, they possess emotional intelligence – all of which are essential for effective communication.
Artificial intelligence simply can't keep up; and if you've ever dealt with an automated customer care bot, you'll understand why. In fact, over half of the surveyed consumers say they would prefer talking to a customer service professional rather than a chatbot.
Even with the takeover of many occupations by AI powered robots, businesses that require distinctive human characteristics such as customer service, marketing, education and management are on the rise. However, this doesn't rule out the possibility of artificial intelligence playing a role in future corporate communications.
According to corporate strategy firm CGS, AI solutions perform best in companies when they can supplement the efforts of workers rather than replace them, and then allow them to focus on what they do best. For example, AI powered smart email functions can filter spam emails, which amount to more than half of all e-traffic that clutters employees' inboxes and causes an estimated US$ 20.5 billion annual loss in productivity. Artificial intelligence can easily scan emails before they reach inboxes and sort them out, to make email browsing faster and easier.
AI has been upgraded to respond to emails and boost productivity, in terms of costs and time. For employees who spend at least two hours daily responding to emails, the Smart Compose feature in Gmail is good at suggesting responses to emails by identifying their tone of voice and adjusting replies accordingly.
Further, effective communication, conflict resolution, leadership and sociability are not mere business jargon, but authentic skills and competencies that need to be inculcated in employees – i.e. through proper organisational learning and development programmes.
Another important area where AI operates is in employee recruitment. Effective communication is required for every aspect of a business to flourish and it becomes an indispensable function when recruiting the best candidates at the right time for the job.
Many organisations have begun relying on software programmes run by artificial intelligence to ascertain the most suitable candidates with the right skills and competencies to fill vacancies.
Since both AI recruitment software and psychometric tests are able to detect and learn from databases, HR managers are better able to recognise and recommend the best prospective candidates to be hired for the role.
According to Arctic Shores – a business that specialises in behaviour-based assessments for recruitment – AI enabled recruiting  programmes could be effectively applied to eliminate ethnic or racial discrimination based on human biases with the promise of an impartial and transparent hiring process.
With the application of machine learning in internal business communications, it may also assist in improving staff morale and productivity. AI powered systems can proactively arrange meetings without being instructed, guide struggling workers to the proper trainers and compose meeting notes automatically.
For instance, Microsoft's Graph feature is an artificially intelligent brain that has access to all the data belonging to a business entity and utilises it to function as a personal virtual assistant to employees.
Artificial intelligence will continue to alter many aspects of our lives and the future of corporate communications in the next age. AI has the potential to dramatically change the way humans interact with technology and eventually transform businesses around the globe.