COMMERCIAL BANK
COMBANK offers 60% bonus on interest with 'Power Bonus' Account
The Commercial Bank of Ceylon has launched a new and improved version of its 'Power Savings' Account, as 'Power Bonus' Account which will now offer a mammoth 60% bonus on the regular interest of the savings account on a quarterly basis.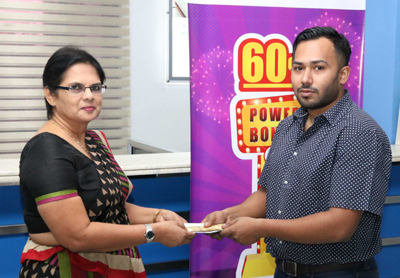 Designed to offer the flexibility of a Savings Account with the attractiveness of a Fixed Deposit, the 'Power Bonus Account' can be opened with a minimum balance of Rs 5000. This minimum balance is also necessary to earn bonus interest.
The fixed regular interest due to the account is calculated on daily balances and credited to the account at the end of each month, the Bank said.
The 60% bonus will be applicable to accounts with not more than one withdrawal each month. Accounts with more than one withdrawal during the month will still be eligible to accrue the regular interest rate paid on savings.
The bonus interest will be calculated on the actual interest earned each quarter and will be credited to the account at the beginning of the following quarter.
"The Power Bonus Account provides an attractive incentive for account holders to minimise withdrawals," Commercial Bank's Deputy General Manager – Personal Banking Mrs Sandra Walgama said. "This is one of the best deposit options for small and medium scale savers, especially first time wage earners and the self-employed. It could also help promote a good savings habit."
As additional benefits, Power Bonus Account holders are eligible for online and mobile banking facilities that enable them access their accounts from anywhere, anytime. They can enjoy the flexibility of obtaining a passbook or e-statement on a monthly or quarterly basis. Account holders are also presented a Debit Card which offers exciting year-round discounts from reputed merchants  islandwide.
All existing 'Power Savings' accounts will be renamed 'Power Bonus' accounts with effect from 8th August, the Bank said.
The only Sri Lankan Bank to be ranked among the world's top 1000 banks for eight years consecutively, Commercial Bank operates a network of 262 branches and 778 ATMs in Sri Lanka. The Bank has won more than 30 international and local awards in 2016 and 2017 and 16 international awards in the first six months of 2018.
Commercial Bank's overseas operations encompass Bangladesh, where the Bank operates 19 outlets; Myanmar, where it has a Representative Office in Yangon and a Microfinance company in Nay PyiTaw; the Maldives, where the Bank has a fully-fledged Tier I Bank with a majority stake; and Italy, where the Bank operates its own money transfer service.