COMBANK
ComBank enables Dynamic Currency Conversion at ATMs for foreign Visa Cards
The Commercial Bank of Ceylon has extended its 'Dynamic Currency Conversion' (DCC) feature to foreign Visa card holders using the Bank's ATMs in Sri Lanka, enhancing transparency in the cash withdrawal process for travellers.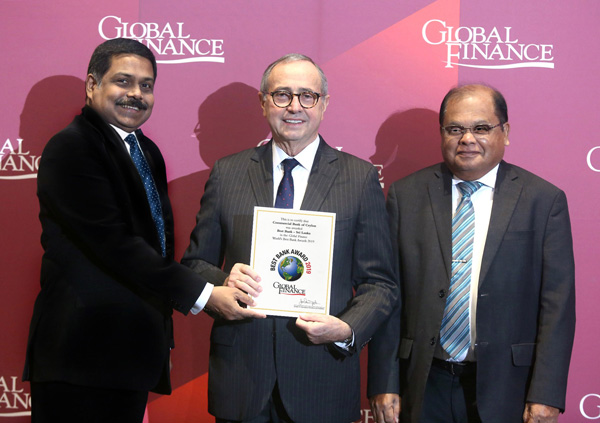 Commercial Bank is the only bank to offer this service in Sri Lanka to Visa card holders travelling to the country.
Dynamic Currency Conversion allows international travellers to withdraw Sri Lanka Rupees from Commercial Bank ATMs after viewing the exact amount that will get debited in their own currency. This enables cardholders to have a better understanding of the conversion of their home currency to the amount dispensed at the ATM. The exposure to exchange losses due to frequent exchange rate fluctuations could be eliminated by choosing the DCC option.
"We are delighted to extend our Dynamic Currency Conversion feature to a very important segment of travellers to Sri Lanka," said Mr Thusitha Suraweera, Head of Commercial Bank's Card Centre. "This is a consumer-friendly service that is widely used and prompts significant repeat cardholder usage in countries where Dynamic Currency Conversion is allowed."
The Dynamic Currency Conversion feature was already available to foreign Visa and Mastercard cardholders making payments at Commercial Bank Point-of-Sale (POS) terminals and to MasterCard users at the Bank's ATMs.
The only Sri Lankan Bank to be ranked among the world's top 1000 banks for nine years consecutively, Commercial Bank operates a network of 267 branches and 854 ATMs in Sri Lanka. The Bank won over 40 international and local awards in 2018, has received more than 25 awards to date this year, and been ranked among the 10 Most Admired Companies in Sri Lanka in 2019.
Commercial Bank's overseas operations encompass Bangladesh, where the Bank operates 19 outlets; Myanmar, where it has a Representative Office in Yangon and a Microfinance company in Nay PyiTaw; and the Maldives, where the Bank has a fully-fledged Tier I Bank with a majority stake.