LAUGFS
Clicknshop.lk Launches "Mobile Madness" for Customers
Launching a special promotion "Mobile Madness", Clicknshop an E-commerce site under LAUGFS Lfinity, recently organised the largest mobile phone sale for the month of July. LAUGFS Lfinity partnered with Hatton National Bank (HNB) as the official banking partner and Softlogic, the agent for Samsung, Nokia and Energizer phones, as the official mobile phone partner to extend multiple exciting offers to customers.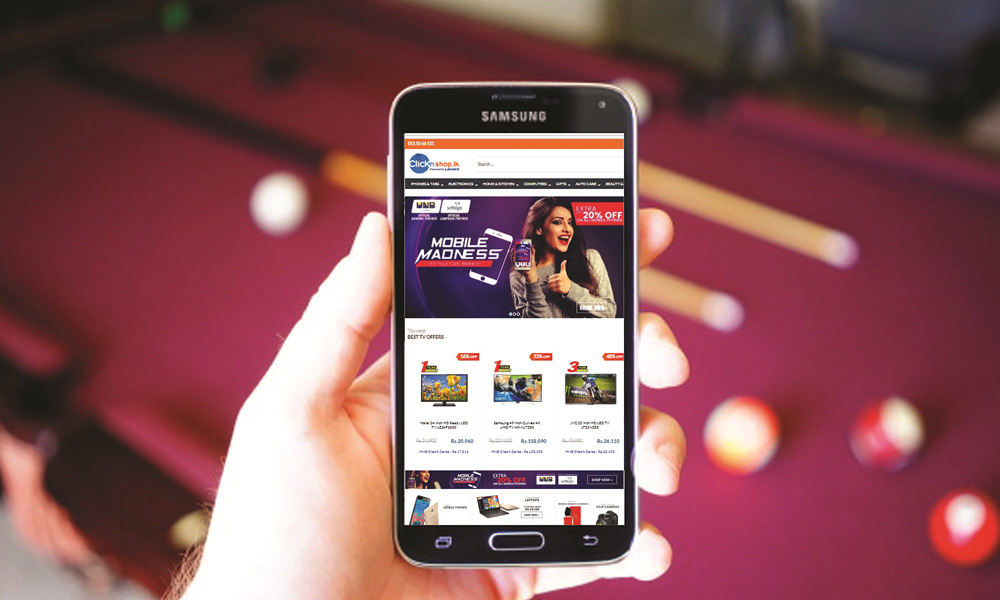 The sale commenced on the 25th of July, offering exclusive product deals and will conclude by the end of the month. HNB Credit Cardholders can obtain an extra 20% discount in addition to 0% interest 12 and 24 month instalment plans, on a wide range of mobile phones purchased through www.clicknshop.lk. The unmatchable range of high quality mobile phone brands will mainly include Apple, Samsung, OPPO, Vivo, HTC, OnePlus, Nokia, Xiaomi, Blackberry and Energizer phones. Adding to the offers available, Clicknshop will grant HNB Cardholders an extra 17% discount on Huawei phones.
Speaking about the promotion LAUGFS Lfinity Chief Operating Officer, Muditha Thebuwana commented, "From expanding a user's communication options to ensuring convenient access to the web, mobile phones not only enhance a user's reach but provide access to browse the latest online deals. With Clicknshop's Mobile Madness promotion, we hope to make high quality phones with exciting features more affordable for users."
"At Clicknshop we are committed to giving our customers high quality products and the best possible customer care, to ensure we build customer trust. E-commerce is still at an early growth stage in Sri Lanka, accounting for only about 1% of total retail in the country. In markets where E-commerce is more established, this share is around 10-15%. In order to grow the market, retain customers and ensure long term sustainability, E-commerce companies need to win consumers through the best customer care and high quality products. Especially when investing in high value items such as mobile phones and warranties, quality assurance is crucial and this is why clicknshop.lk partners mostly with authorised agents," she further elaborated.
Well-known for high quality electronic items and home appliances, Clicknshop also provides a broad range of offerings from fitness equipment, furniture, baby care products, gifts, beauty and grooming items, home and kitchen items to meet diverse shopping needs. Over 8000 products across more than 50 categories are listed on Clicknshop providing multiple customer centric benefits. From free of charge delivery services within Colombo 1-15, interest free instalment schemes through all major bank credit cards and up to 70% discounts on high value purchases, Clicknshop provides numerous benefits to customers. As one of the fastest growing E-commerce companies in Sri Lanka, Clicknshop caters to the dynamic market and customer demands, with a single minded focus to make every customer's shopping experience a delightful one.
Lfinity is a subsidiary of LAUGFS Holdings serving as LAUGFS' online retail arm. The company operates a range of diverse E-commerce sites www.clickNshop.lk, www.grocerypal.lk and www.jade.lk.
LAUGFS is one of the largest diversified business conglomerates and a trusted name in Sri Lanka. Founded in 1995, LAUGFS today has expanded across 20 industries in Sri Lanka and overseas, establishing a strong presence as a leader and pioneer in the power and energy, retail, industrial, services, leisure and logistic sectors. With over 4,000 employees and an annual turnover exceeding Rs. 28 billion, LAUGFS continues to expand and empower millions as a trusted Sri Lankan brand.