CITY GUIDE ON COLOMBO
Welcome to the commercial capital of Sri Lanka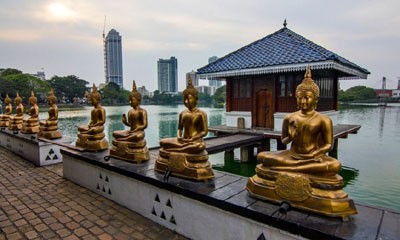 Located in the western province of Sri Lanka is the island's highly urbanized capital city, Colombo, which is identified globally as the commercial capital of Sri Lanka. Steeped in culture and tradition, this city is not only a lucrative commercial zone, but also an irresistible travel destination; a shopaholic's dream come true. The ancient colonial buildings, the tantalizing beach, and the large scale projects that are rapidly transforming the city will surely make you fall in love at very first sight.
Colombo's metropolitan area is home to approximately 5.6 million people who enjoy the finest urban facilities here. Even though the biggest challenge is the city's uncontrollable traffic and rush hours, the city is a complete package, offering every bit of what your heart desires.
History
Due it its unique geographical location and strategic features, it is no surprise that the country has always been a magnet for foreign invasions. The country was subjected to major invasions by three main foreign nations – the Portuguese, the Dutch, and the British, and the influence of these nations is still visible in the country's ruins and monuments.
Living in Colombo
Food
Food stands out as one of the most important topics discussed here, especially since the city offers its visitors the most delicious delicacies around. There is so much choice! Whether it's Chinese, Japanese, Thai, or a simple traditional plate of rice, Colombo's well-known restaurants and hotels are always ready to satisfy you with high quality food. Here are some of the most well-known places that serve the best food in town. They are also quite budget friendly.
Chutneys Cinnamon Grand – Great Indian food
Poppy Hana – wide variety of Japanese food
Curry Leaf Hilton Colombo – for authentic Sri Lankan cuisine
Noodles at Cinnamon Grand- delicious food and amazing views
Bubblement, Bambalapitiya – offers the most delicious bubble tea in town and tasty sandwiches too
TGIF – an international chain serving cocktails and excellent American food
Nightlife
Colombo's nightlife is undoubtedly the best part about the city. When it comes to great live music, delicious food and the finest drinks, Colombo has it all. Colombo is a nightlife hotspot in Sri Lanka. The exclusive clubs and lounges offer great music and drinks to chill and unwind after a great week of work. The number of Casinos will make you an overnight millionaire, depending on your luck, of course!
The city's main attractions
In addition to being the country's main commercial centre, Colombo also offers so much to see and do, making it stand out as an excellent travel destination. With cultural monuments and temples to visit and parks to relax and exercise in, Colombo is a must for all Sri Lanka's tourists.
Some of the most unforgettable attractions in Colombo include:
The Gangaramaya Temple
The Colombo Coin Museum
Independence Square
Enjoy delicious local street food and then fly a kite on Galle Face Green
Shop for bargains in the Pettah area
Visit the Colombo Lighthouse
Real estate in the city
Real estate in Colombo is booming, with brand new developments all over the city. The demand for high end luxury properties is rising noticeably. The city is currently experiencing a rapid internal migration of the country's wealthy citizens as well as local expats interested in settling down here. From 2- bedroom houses for small families to luxurious condominiums, Colombo offers a wide range of properties aimed at providing its residents with exactly what they are looking for. Furthermore, with the continuous improvements that Colombo is expecting to witness, its real estate sector will further experience massive growth. Purchasing or renting properties here will not just be a good deal but also a fascinating investment.