CHINA OUTLOOK

STRATEGIC
POLICY

MAKEOVER
Samantha Amerasinghe unpacks some of President Xi Jinping's strategic goals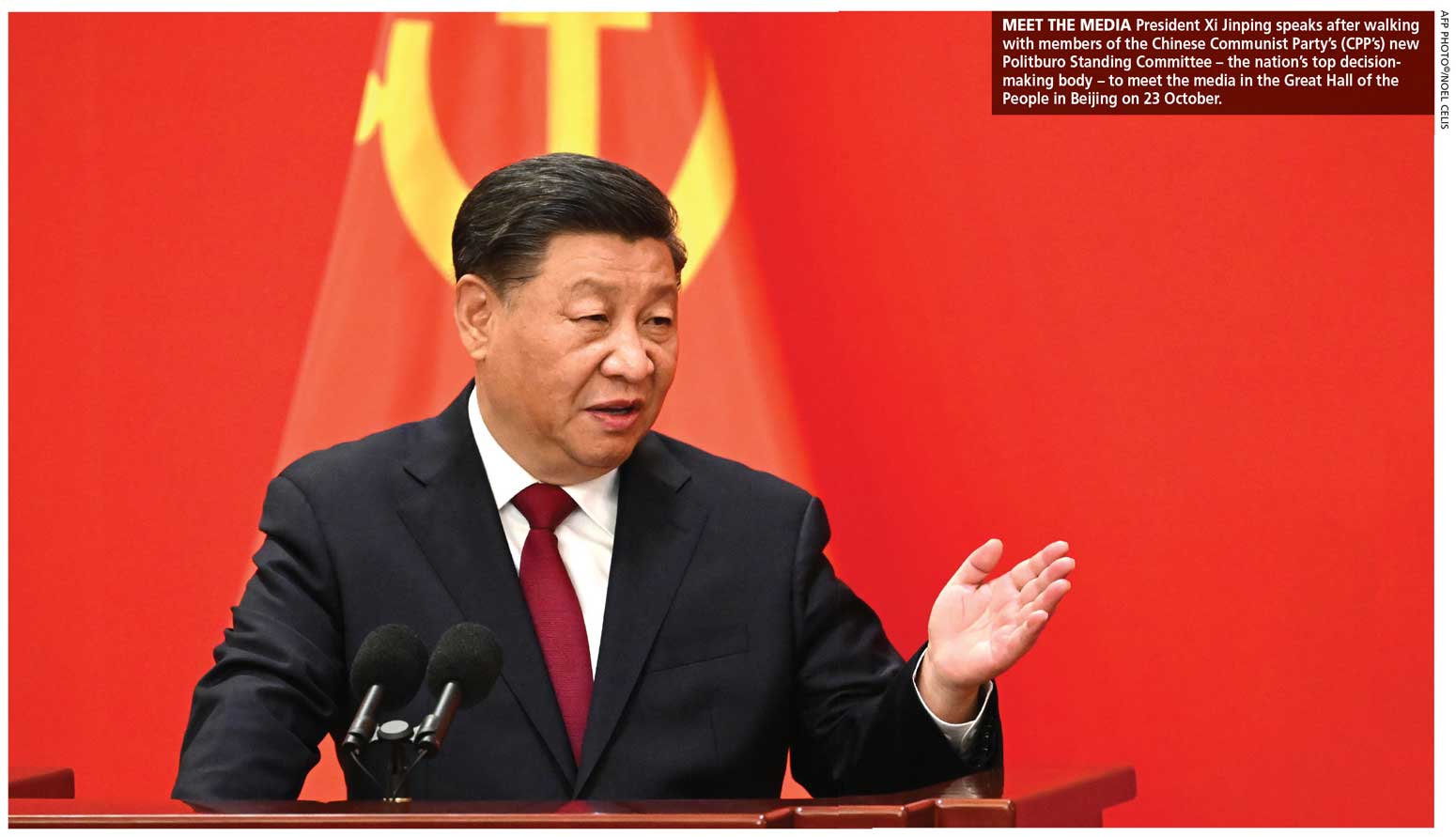 At the recent 20th National Congress of China's Communist Party (CCP), the People's Republic's largest political event of the year, President Xi Jinping secured an unprecedented third term while concentrating more power in his hands.
At this forum, People's Republic of China (ORC) leader Xi set policy tones and priorities for the next five years, and trumpeted the party's achievements since he came into power over a decade ago.
So what has changed on the policy front?
Not a whole lot, it seems.
Xi struck a defiant tone, stating that China won't change its course "even as it faces dangerous storms in a more hostile world." The CCP's 20th Party Congress was arguably the most consequential gathering in the world this year.

So what does this mean for China and the world?
There are four key takeaways from that party congress and its implications for the global order.
Xi made it clear that there would be no backing down on China's 'zero COVID-19' policy. An unwavering commitment to reforms and 'staying open' while pushing for economic improvement, further pressure on Taiwan, and a renewed focus on China's global ambitions to raise its influence and standing in the world were also highlighted as important strategic goals.
He offered no sign that China's tough COVID-19 rules would end anytime soon. The country's control policies have meant tight borders, mandatory mass testing, invasive digital surveil­lance, forced quarantine and snap lockdowns, which have been detrimental to the economy.
China began the year by aiming for an ambitious economic growth target of 5.5 percent. That seems a far cry from what most economists expect, which is around three percent. Aside from the dip in 2020 when the pandemic first hit, this will be China's worst economic performance since 1976.
Though some observers saw a glimmer of hope after Chinese regulators vowed to ensure the healthy development of finan­cial markets, investors remain concerned about the direction in which the country is heading because Xi has signalled a shift of priorities from economic development to strengthening national security. He believes that national security is the foundation of the country's rejuvenation.
Xi called for a strengthening of national security on all fronts – particularly those involving food and energy security, and supply chains – as geopolitical tensions and risks remain heightened.
Making China more self-sufficient in areas such as food production has become an urgent priority – particularly as geopolitical conflicts, climate change and COVID-related challenges have surfaced in recent years.
Moreover, technology supply chain stability was raised as a matter of national security as ongoing tensions between China and the US pose the risk of tech decoupling. Beijing remains committed to attracting foreign investment – especially at a time when businesses face pressure to relocate or diversify their supply chains out of China.
Xi emphasised that "high quality development is the top priority" for the construction of a modern socialist country. To achieve high quality growth, long-term themes highlighted in the 14th Five Year Plan (FYP) were reiterated – e.g. technology, innovation, new urbanisation and green development.
An emphasis was also placed on ambitions of becoming a leading power in several areas including manufacturing and technology.
He acknowledged that economic globalisation is under attack and protectionism on the rise. China's leader pledged a dual circulation strategy to address this issue: dual circulation is a two-pronged developmental approach that seeks to boost the country's domestic demand as well as cater to export markets.
A desire for more control of the economy was evident with Xi's strong support for state-owned enterprises (SOEs). Less reliance on foreign countries in the face of Western export bans and investment curbs suggest that China will look inward for mastery of vital high value technologies from cloud computing to internet enabled medical devices, and manufacturing inputs.
Taiwan has historically loomed large for China's leaders ever since its Communist Party swept into power in 1949. But Xi brought a greater sense of urgency to the table at the 20th Party Congress.
Beijing considers Taiwan to be a part of China; and more importantly, its fate is integral to the Asian security order.
As a result, Taiwan continues to be a contentious issue in US-China relations, which have deteriorated sharply in recent years. Xi wants to be the leader who fulfils the party's mission to unite Taiwan with mainland China.
Finally, the president repeated his mantra that this is the opportune moment for China to raise its standing and influence in the world. Its global ambitions have been central to Xi's agenda over the past decade. And the accelerated pace of the scientific and technological revolution, and industrial transformation coupled with a significant shift in the international balance of power, have presented China with new strategic opportunities.
It remains to be seen whether China's ambition to become the planet's leading power will be realised; or whether the world's rules-based international order will remain intact and the US will continue to be the dominant force.