CAREER TWISTS
REVEL IN BEING
AVERAGE
BY Priyan Rajapaksa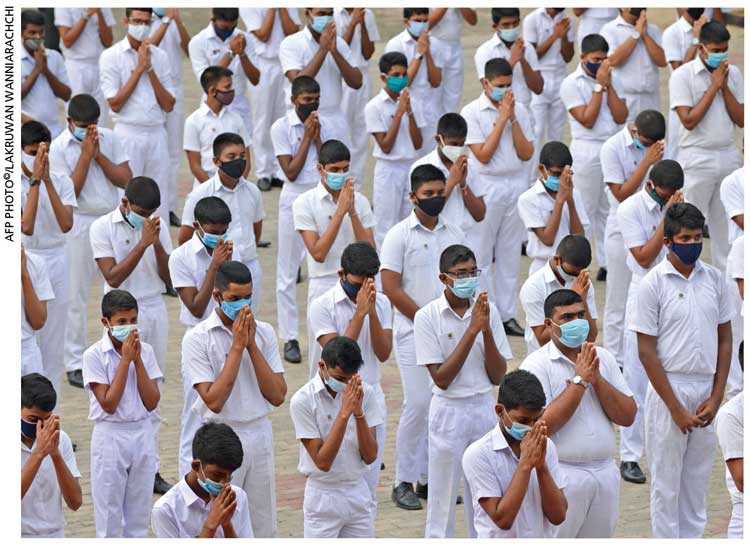 The demand by students and adults for counselling in the post-pandemic period has soared to new heights. I think this is the result of trying to exceed one's natural abilities.
My GCE O-Level results confirmed in writing what I already knew. I was mediocre, average, ordinary, middle-of-the-road – there are many synonyms in the thesaurus.
The one I like the most is 'indifferent.' It fits like a glove.
As the youngest of four boys, there was no parental pressure for excellence – only a vague expectation that I would do 'something' as there was no family money and my father was not a politician.
When I was in Grade 6, my parents moved me from S. Thomas' College (where I was just above average) to Royal College – where they (and I) came face to face with reality. It was a jump from a gently simmering frying pan into the burning embers of the dara kussiya (wood stove).
We lived in Panadura and had a dara kussiya even then. Dara kussiyas are a part of our glorious culture with a recorded history of 2,200 years, which we do not want to change.
So what's the fuss about cooking with firewood?
My reports, which were passable at S. Thomas', turned to custard at Royal. After a brief dalliance with being in the first 20s in Grade 6, I dropped to 36 in a class of 36 students in Grade 7.
'Houston, we have a problem!' We have a son who competed with about 1,000 students and scraped into Royal because he had brothers in that school. We thought he would be okay but the school records show he's only average.
Explanations were asked for and my answer was that travelling by train from Panadura was tiring. The remedial action taken was to board me at my aunt's home in Nugegoda.
But by that time, the battle was lost. Either I had lost interest or did not have the intellect to understand maths. In my defence, I must say the methods used to teach seemed ridiculous.
Hidden in the subject making up maths, there was a section called arithmetic (I think). A question asked in this context went like this: 'How long would it take to fill a swimming pool of (a given volume) with a hosepipe?' The radius of the hosepipe and a letter from the Greek alphabet called π were part of the mystery.
My mind froze. Who would do such a stupid thing as filling a swimming pool with a hosepipe? How could anyone who has seen a swimming pool and handled a hosepipe ask such ridiculous questions? Was I travelling 25 kilometres a day by train and bus to answer questions like that?
To this day, when ridiculous questions are asked, I walk away.
Three years passed and the O-Level results were handed out. I was bowled, middle and leg. In my year, there was a boy who gained eight distinctions; and another had eight 'reverse distinctions.'
So I was mediocre. I had no distinctions – and let's not count the few Fs including a debilitating one such in maths.
To become an accountant, I used the native cunning inherited from south of the Bentota River. Because I couldn't get a credit for maths in Sri Lanka, I travelled to Madras (now Chennai) and sat for my London O-Levels… and managed a credit pass.
The trip to India revealed why those who are not clever enough to enter university in Sri Lanka venture overseas to study. Exams overseas are easier to pass, and poor Sri Lankan and Commonwealth students loved to offer reverse aid by pumping funds into the UK to keep its universities going.
As I head towards the end of my accountancy career, I can spin the ball either way. Bowling a doosra, I could say I worked for a few large companies, and ended up with a title and kaerakena putuwa (revolving chair).
I run an accounting practice. If I bowl a normal ball and replay the cameo camera at slow speed, the reality is different. The businesses were large in Sri Lanka; but they were not Fortune 500 companies. And I'm one of many accountants in New Zealand.
Learning about the bell curve for my accountancy exams gave me a realistic perspective of life. The median line indicates that 68 percent of us are ordinary, 13 percent are slightly better, two percent do well and one percent extremely well.
Looking extremely left at the negative side, you will find that the two percent are the drug dealers and those who support politicians. The one percent are those whom we elect and the extremely wealthy.
What is the point of this drivel?
Most of us are ordinary. Unless you're Nobel Prize material, you may retain your mental stability by playing within your capabilities. As the saying 'ārōgya paramā lābhā' goes, health is the greatest wealth.