BRITAIN TODAY
JOHNSON RESIGNS

 BUT REMAINS AS CARETAKER
Saro Thiruppathy reports on the resignation of British Prime Minister Boris Johnson after key ministers resigned in the face of multiple crises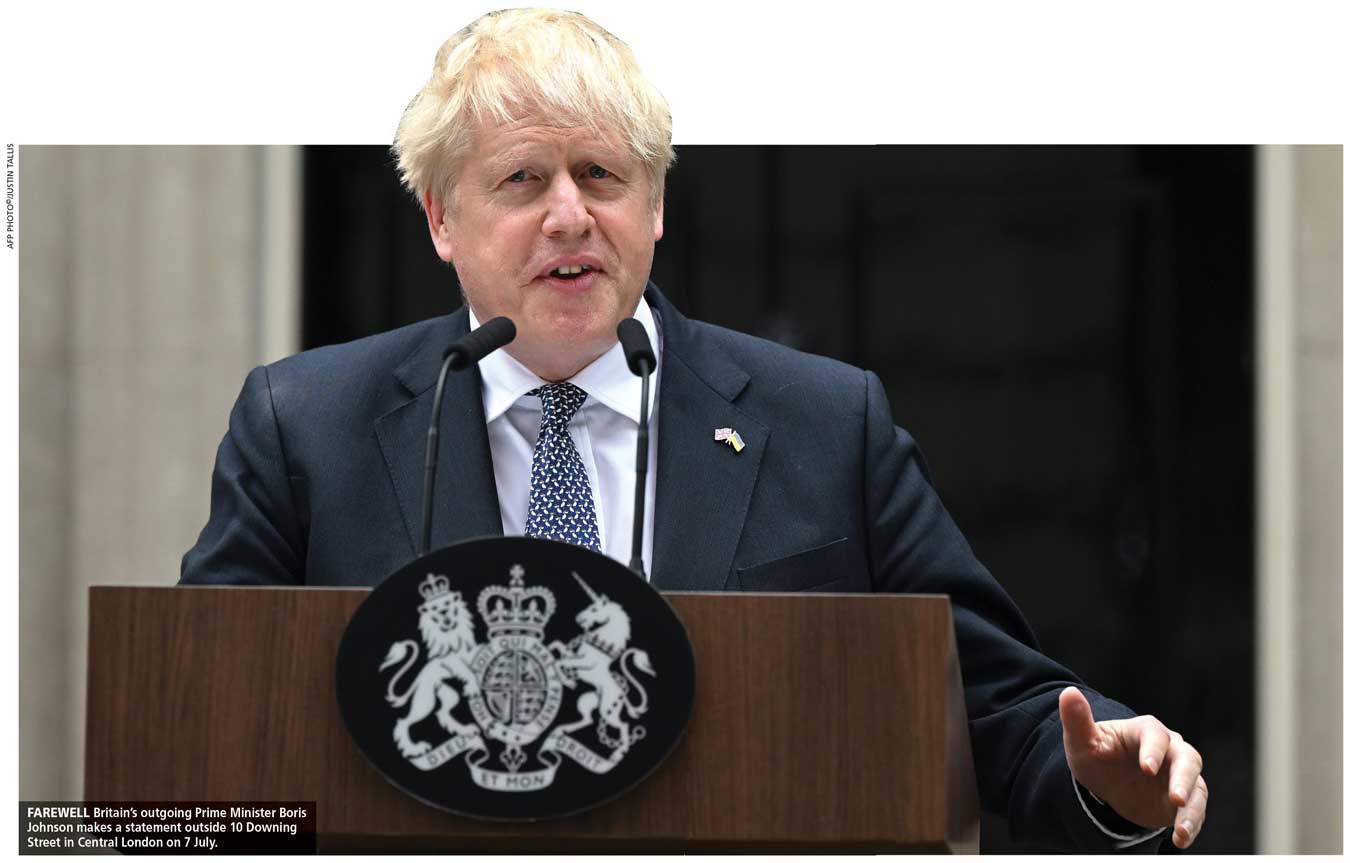 Prime Minister Boris Johnson seemed to have a tight group of friends who were holding key portfolios in his cabinet. Blind loyalty was the order of the day and he stood by them when they faced accusations of wrongdoing – and they turned a deaf ear to his lies and seemingly faulty memory.
But the pressure was rising and friends such as the Chancellor of the Exchequer Rishi Sunak, Health Secretary Sajid Javid and Home Secretary Priti Patel finally turned on him as they came under con­tinuous fire for tolerating his unethical behaviour.
However, even though the media made mincemeat out of Deputy Prime Minister Dominic Raab, he remained loyal to Johnson to the bitter end.
The tsunami of resignations began on 5 July with Sunak and Javid throwing in the towel first. They were quickly followed by a flurry of letters and by the time those were tallied, the resignations from government officials stood at nearly 60.
Some cabinet officials such as Patel and Transport Secretary Grant Shapps decided to stay on in government, but urged Johnson to resign while others stayed faithful to him and didn't jump on the bandwagon.
Eventually, on 8 July as a result of enormous pressure and a mutiny within his party, Alexander Boris de Pfeffel Johnson resigned from the post of prime minister much against his will.
MASS EXODUS So what led to this mass resignation by Tory Party members and Johnson's defeat?
Five incidents contributed to Johnson's downfall. MP Chris Pincher was accused of sexual misconduct on 29 June and this led to the emergence of several other allegations. Initially, Downing Street claimed that Johnson was unaware of any specific allegations about Pincher when he appointed him as Deputy Chief Whip early this year.
But it turned out that Johnson had lied about not knowing this; he then apologised for appointing Pincher as Deputy Chief Whip and thought the matter was put to rest.
But in reality, it was this incident that triggered the Tory exodus.
Boris Johnson has been prone to lying and then casually apologising for his lies, claiming ignorance or a faulty memory. He kept getting away with it because his cabinet echoed his lies, and continuously proclaimed their supreme confidence in his integrity and ability 'to get the job done.'
'Partygate' was the topic on British minds until the Pincher affair dislodged it briefly. In April, Johnson was fined for breaking lockdown rules when he attended his birthday party in the garden of No. 10. He had even hosted a 'bring your own booze' party during the first lockdown.
The Brits are furious because they were made to follow strict lockdown rules and not even allowed to attend the funerals of loved ones while the man who made the rules broke them without a care in the world.
Johnson lied robustly to parliament and said that he was unaware of any party at his official residence. Then when it turned out that he was the chief guest at one, the PM maintained that "all guidance was followed completely" at No 10.
He then apologised to parliament for getting it all wrong and not realising that he was indeed breaking his own rules. Johnson is being investigated by the Commons Privileges Committee on whether he "knowingly misled parliament."
The cost of living has risen sharply due to inflation going up to 9.1 percent in July and many Britons are finding it hard to make ends meet.
Tory MP Owen Paterson was to be suspended for 30 days by a House of Commons committee because he was accused of breaking lobbying rules and attempting to help companies that were paying him.
But Johnson and his cronies in parliament voted to hold the suspension and set up a new committee to oversee how the investigations were being carried out. Eventually, due to pressure, Paterson resigned – and once again, Johnson apologised to parliament for his error of judgement.
Even though his theme song was that he got Brexit done, it turns out that Downing Street has not been able to focus on Brexit and generate ideas on how to proceed. His former adviser Dominic Cummings has accused him of not being steady while others say he lacks integrity, competence and vision.
And more recently, the Tory Party has faced by-election defeats that speak louder than words.
WHAT'S NEXT Johnson will stay on as caretaker prime minister until a new PM is chosen from within the Tory Party. It's expected that the new prime minister will be named in early September.
So even though Boris Johnson has resigned, he still occupies No. 10.
Interestingly, Rishi Sunak is vying for the post of prime minister while Sajid Javid threw his hat into the race but subsequently withdrew.
The two remaining candidates Sunak and Liz Truss have one round to win the race, and the winner will be announced on 5 September.