BRITAIN TODAY

INHERITING A CROWN OF
ECONOMIC THORNS
Saro Thiruppathy considers and comments on what the new Prime Minister of Great Britain Rishi Sunak has inherited from his predecessor Liz Truss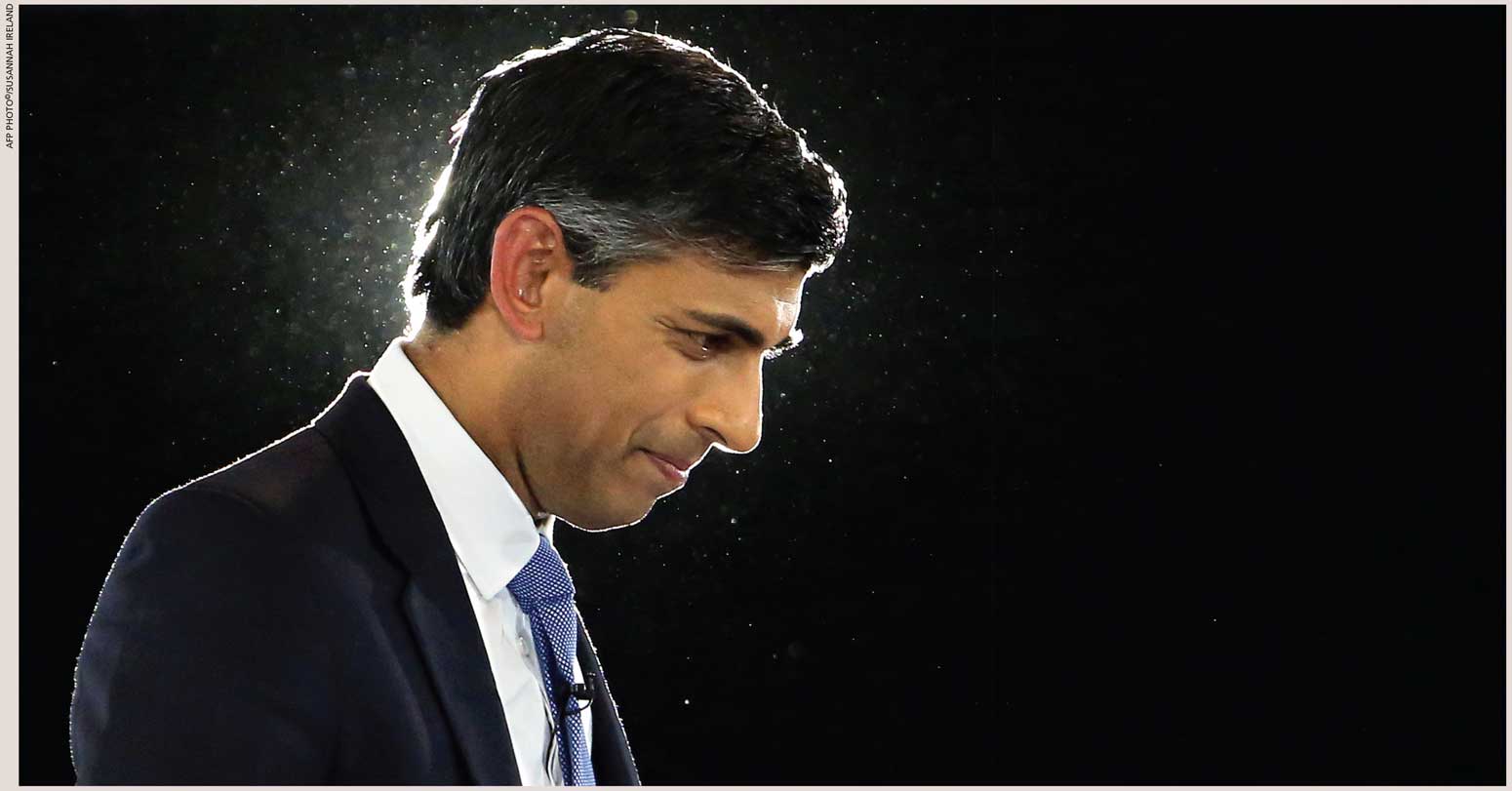 Rishi Sunak made headlines when he won the Tory leadership contest and became the first prime minister of colour in Britain. He had previously lost to Liz Truss by 20,000 votes polled by Tory Party members.
After Truss' 45 day stay at No. 10 Downing Street and her ignominious resignation on 20 October, Sunak secured 100 nominations by fellow Conservative Party members for the post of PM. Truss was selected by 0.12 percent of the British population and Sunak made it to the top job with only 100 votes (0.000148%) from a population of 67.3 million.
NEW CABINET When the muted excitement in the UK over his appointment fizzled out, Sunak announced the composition of his cabinet. Of the appointments, two stand out: one is the retention of Jeremy Hunt as Chancellor of the Exchequer and the other is the reinstatement of Suella Braverman as Home Secretary.
After Truss suddenly sacked her Chancellor Kwasi Kwarteng when their mini-budget was trashed by the people, she appointed Hunt to the post and he promptly set about reversing the entire plan. However, even before the ink had dried on his proposals, Truss resigned and was soon replaced by Sunak.
The second appointee is Suella Braverman as Home Secretary. She was sacked by Truss days before her own resignation because Braverman had breached the ministerial code and used her personal email address to share sensitive information with a colleague.
In spite of widespread condemnation of Braverman's reinstatement, Sunak has stood by his decision claiming that she had admitted her mistake and apologised. However, the opposition is furious not only about her reappointment but also because Braverman has an extremely right-wing ideology, which doesn't sit well with most Brits.
DODGING COP27 Truss and Sunak share a common trend where they both proclaim grand plans and policies, and then promptly set about changing their minds and doing U-turns.
Sunak's most recent decision on 27 October to not attend COP27 was changed within a week and on 2 November, his office announced that he would be attending the climate summit in Egypt.
However, the ban imposed by Truss on King Charles against attending COP27 holds and neither the monarch nor his son attended the summit.
So why did Sunak originally refuse to attend COP27 even though he did reinstate the 2019 ban on fracking, which Truss had overturned only weeks before?
The media contends that it was because he didn't have a strong commitment to achieving a net zero agenda, and had even dropped the president of COP26 Alok Sharma from his cabinet.
Sunak had followed the policy of the Tory Party and voted against measures to lower carbon emissions. He even ruled out a windfall tax on oil and gas companies in his spring statement in March while serving as chancellor in Boris Johnson's government.
Ironically, the UK, which hosted COP26, hasn't honoured its commitment to make its share of climate finance payments that amount to US$ 300 million.
Maybe Sunak changed his mind about not attending COP27 because Johnson had said in a TV interview that he was "very happy" to accept an invitation to the climate summit. Sunak wouldn't have wanted to be outdone by Johnson in Egypt.
So it's possible that the UK's presence at the summit had nothing to do with a commitment to reducing greenhouses gases and maintaining the Earth's temperature at 1.5° Celsius above preindustrial levels… and had everything to do with not being upstaged by the former host of COP26.
CHANGING PLANS Meanwhile, Sunak is busy tearing up his election manifesto, which was presented during the leadership race against Truss. He is now trying to identify areas that are deliverable rather than pie in the sky pledges.
One of Sunak's main rever­sals lies with his 10-point plan to tackle immigration since he has realised that rhetoric doesn't translate into action.
The economy is in dire straits, and the government is planning tax increases and spending cuts that will bring UK£ 50 billion to the kitty. Though the gap in public finances stands at 35 billion pounds, Sunak and Hunt are hoping to raise an additional UK£ 15 billion to provide them with a buffer against turbulence.
Meanwhile, the Bank of England raised interest rates to three percent in November and warned that the UK would face its longest recession in 33 years, and that unemployment could almost double by 2025.
In the meantime, the Tories are becoming jittery over Sunak's plans to stabilise the economy because it may undermine their plans for reelection in 2025.
So rather than a cushy stay at No. 10, the extremely wealthy prime minister has inherited a crown of thorns that's embedded with a distressed economy, extreme public pressure and Tory Party discontent.