BOOKRACK
bookrack By Vijitha Yapa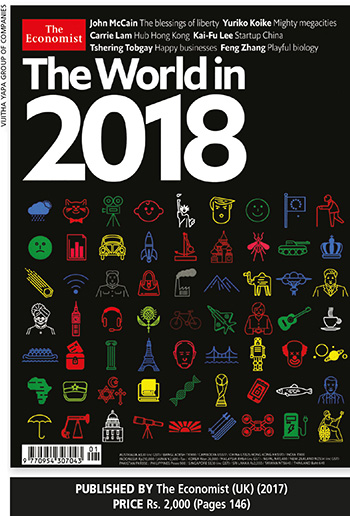 Why is North Korea so aggressive with its policies especially against the US? The media has highlighted the reactions of the United States, Japan and South Korea on threats to their countries from North Korean leader Kim Jong-un. And The Economist thinks that President Donald Trump will have to make crucial decisions this year.
Will Trump opt for diplomacy or war? And will he honour his allies or sideline them?
Dominic Ziegler, who writes the Banyan column, offers interesting views on Kim's mindset. He feels that the North Korean leader seeks nuclear capability not to bring destruction on himself but as a deterrent against American aggression.
"He saw what happened to Saddam Hussein and Muammar Gaddafi when they gave up their respective quests for nukes, and will not be reassured if Trump tears up the nuclear deal with Iran," Ziegler writes.
Ziegler adds that Kim surely knows that using his missiles will invite destruction and that they're at their most potent when left sheathed. He envisages a diplomatic agreement between Pyongyang and China, South Korea and the US that aims to defuse tensions by offering cast-iron guarantees for North Korea's security in return for Kim giving up his interconti­nental nukes.
What one likes about the publication is that it's not an astrological treasure trove but provides an analysis of what could and should happen. The publication only just missed the events in Zimbabwe in mid-November.
In a comment on whether leaders should retire gracefully – like Japan's Emperor Akihito who plans to abdicate in April – Robert Guest says that few grow wiser in their second decade in office.
He is dismayed by rulers like Paul Kagame of Rwanda and Uganda's Yoweri Museveni who were once hailed as revo­lutionary reformers but are now trying to glue their trousers to the throne. Kagame amended the constitution allowing him to remain president till 2034 while Museveni is trying to change the age limit to enable him to hold office for life.
It's a pity that Guest does not write about Sri Lanka where former President Mahinda Rajapaksa initiated a constitu­tional amendment to remove the two term limit. It was later changed to a maximum of two five year terms by President Maithripala Sirisena. Apparently, there are moves in the offing to bring a constitutional amendment to prevent former presidents from holding office as prime minister.
Guest says that knowing when to bow out is a rare virtue and cites King Jigme Singye Wangchuck of Bhutan who retired at the age of 51 as an example. Here in Sri Lanka, politicians rarely retire. Ranil Wickremesinghe is now in his third term in office as prime minister while Rajapaksa is seemingly trying to run the country by proxy.
Simon Cox recounts that until 1890, when the US became the largest economy in the world, population and production were important factors to determine a country's international ranking although China had both till then. Today, China is set to take that lead once again. The IMF says China's GDP overtook the US in 2014 and that by 2018, it will be almost a quarter more.
Yi Fuxian of the University of Wisconsin believes that China has overestimated its population by 90 million. Therefore, the intriguing question is whether China will grab the economic crown while India claims the title of the most populous country in the world.
On Sri Lanka, The Economist's outlook for 2018 predicts that "while political uncertainty reigns, liberalising economic reforms mandated under an IMF funded program­me will keep the economy expanding."
It also predicts that India will be the fastest growing large economy this year. But in a grey coloured box, there is special mention of the project to build a temple to Ram on the ruins of the 16th century mosque in Ayodhya in Uttar Pradesh. The Chief Minister of Uttar Pradesh, which is home to a population of 200 million, is Yogi Adityanath – a firebrand Hindu priest. The Economist says his decision to rebuild the temple could decide whether India will pursue a path of stability or retreat towards sectarian division.
An event to watch will be Bhutan's plan to create a Gross National Happiness (GNH) tool for business, drawn from the GNH Index that has shaped Bhutanese public policy. In a special article, the Prime Minister of Bhutan Tshering Tobgay says that most CSR efforts are about risk manage­ment or PR strategies limited to time and money while GNH is a fundamental rethink of the corporate model of doing business.
The World in 2018 is not full of astrological predictions; but it helps readers understand what the world is doing and where it's heading.