BOOKRACK
By Vijitha Yapa
Blood and Oil: Mohammed bin Salman's Ruthless Quest for Global Power is a bestseller about the Crown Prince of Saudi Arabia. It reads very much like a novel with no immediate end in sight though a sequel will soon emerge.
This book by Bradley Hope (author of the New York Times' bestseller – Billion Dollar Whale) is co-authored by Justin Scheck who works with the Wall Street Journal in New York City (NYC). It's described as a revelatory look at Mohammed bin Salman, the charismatic yet ruthless leader of the Saudi ruling clan.
The prince's name was at the centre of controversy when Saudi Arabian journalist Jamal Khashoggi was murdered and disme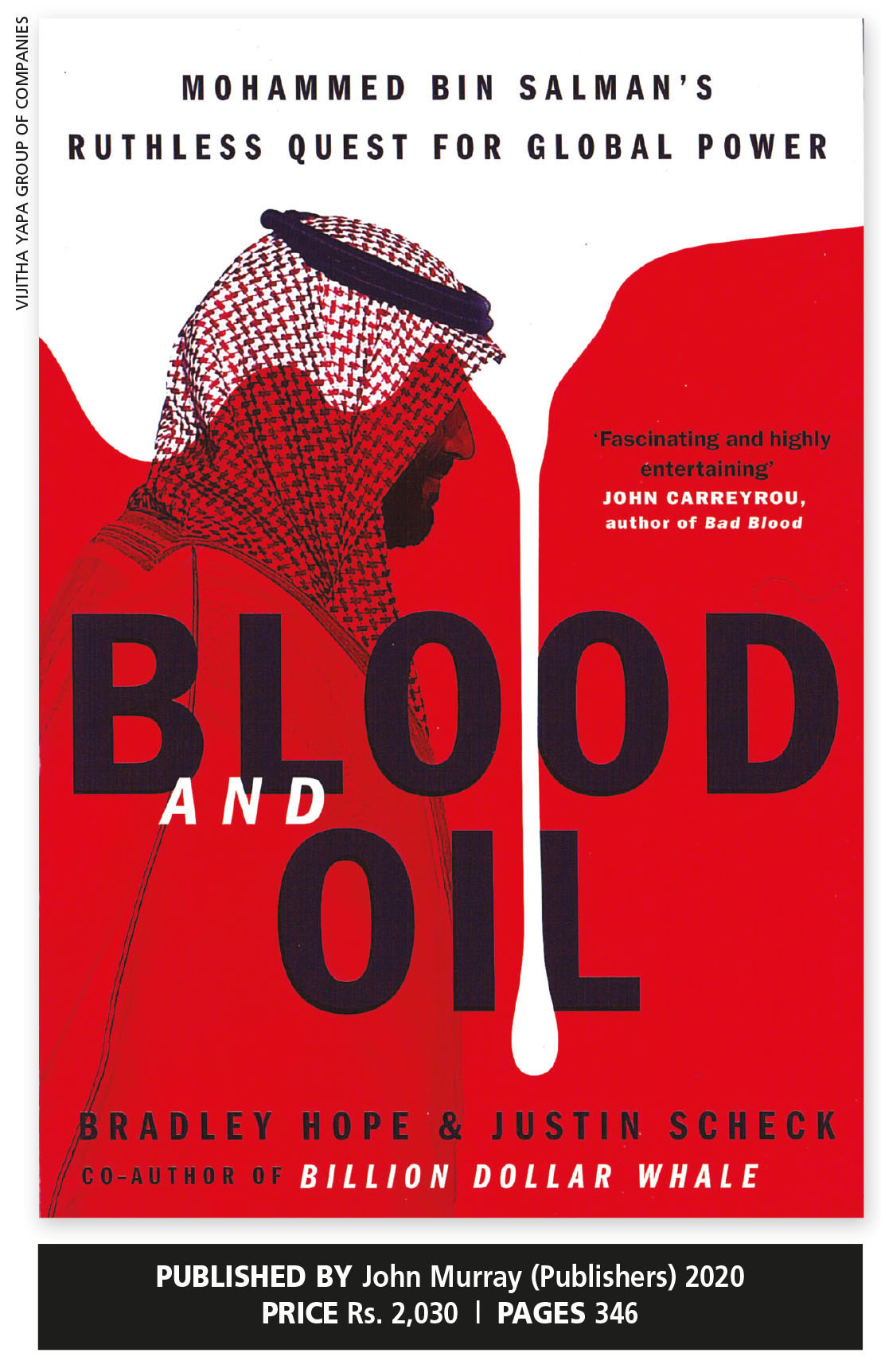 mbered at the Saudi embassy in Ankara. Bin Salman also forcibly held over 300 members of the royal family at the Ritz-Carlton in Riyadh for months.
Well-known US bankers, Hollywood figures and politicians are caught in his net, claim the authors. The crown prince is charming – with extraordinary powers, a hunger for lucre, a close relationship with outgoing US President Donald Trump's son-in-law Jared Kushner and
an apparent willingness to remove any obstacle in his way.
They emphasise that Saudi Arabia has the potential to become an unstable failed state and magnet for Islamic extremists while bin Salman's bid to transform his country will have consequences across the globe.
The events narrated in this book are incredible but that's what real life is about when ambitious leaders take power into their own hands. Very often, those who enter politics and grab power have glorious visions of themselves, believing that turning them into reality is their destiny.
Though Mohammed was one of the Saudi royal clan, he wasn't considered worthy of mention in his younger days. But circumstances prompted him to take over the leadership and now, nothing seemingly stands in his way. His aim is to attract investments that will rake in mega profits so that Saudi Arabia will no longer be dependent on oil.
The plan is to diversify oil giant Saudi Aramco by inviting shareholders from around the world to be a part of the company. Bin Salman wants to build futuristic cities and open Saudi Arabia to tourism.
He mixes with the rich and asks them to work with him to transform his country. The royal appears to be interested only in realising his vision; he spends lavishly to attract business to his kingdom but also makes enemies in the process.
A part of this book is devoted to journalist Jamal Khashoggi. Initially, the story circulated about Khashoggi was that he was an independent journalist – one who was willing to speak out about the lack of rights and freedoms in the Middle East. But there is a different take outlined in this book.
Khashoggi was working in Saudi Arabia and did so within the framework of that society, writing sunshine stories about where the country was heading. But he fell out with bin Salman, and fled before he could be arrested and interrogated.
Though Khashoggi moved to NYC, he was still interested in promoting Saudi Arabia; but that didn't work out the way he wished.
So what angered the young royal most? When it was discovered that Khashoggi had been willing to help unravel the mystery of Saudi involvement in the infamous 9/11 World Trade Center attacks. He had met secretly with a lawyer who was to file cases against Saudi Arabia.
A practical problem arose when Khashoggi wanted to marry for the third time but needed official divorce papers from the kingdom. He flew to Turkey to lodge those documents at the Saudi embassy in Ankara.
A special Saudi team was sent in a private jet to Ankara to await his arrival at the embassy. Though Khashoggi entered the embassy, he never came out and an attempt was made to show that he'd left through the back door.
But the gruesome details that emerged from Turkish authorities on the recording they had made inside the embassy revealed that a specialist who could saw bones had been flown in with the Saudi party. Khashoggi had been drugged and dismembered using a saw.
The Saudis initially denied that such an incident had taken place but later said they punished those they claimed were involved. But no one knows who was punished. It was an incident that created a publicity backlash for bin Salman, which saw many potential investors suddenly shelving plans to invest in the kingdom.
And the story continues to unfold with no end in sight.
This book is informative and helps readers understand the lengths to which Mohammed bin Salman will go to achieve his ambitious projects. It's an extraordinary revelation about a man who will do anything to get his way.