BOAT SHOW 2018
BOAT SHOW & BOATING FESTIVAL SRI LANKA 2018
FROM 26TH TO 28TH OCTOBER 2018
AT GALLE YACHT MARINA, PORT OF GALLE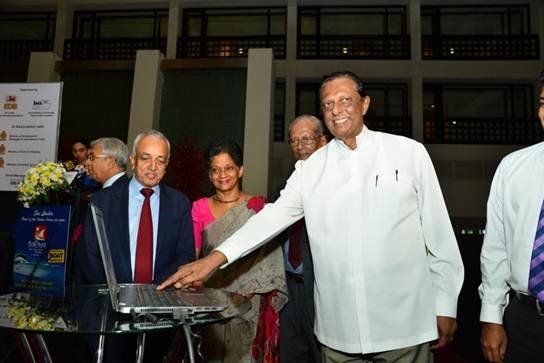 Boat Show & Boating Festival Sri Lanka 2018 is organized by Boat Building Technology Improvement Institute (BTI) and Sri Lanka Export Development Board (EDB), in association with Ministry of Development Strategies and International Trade, Ministry of Industry & Commerce, Ministry of Ports and Shipping at Galle Yacht Marina, Port of Galle.
OBJECTIVE
 To provide a single platform for all related business sectors involved directly and indirectly in the boat and ship building industry and nautical tourism sector to display and promote their respective sectors for potential international and local clients and giving initiation for the leisure boating culture to the Sri Lanka.
BOAT SHOW & BOATING FESTIVAL SRI LANKA
South Asia's most focused and largest international Boat Show and Boating Festival Sri Lanka 2018 will be held from 26th to 28th October 2018 at the Galle Yacht Marina of the Port of Galle. This event will be the first ever marine festival in Sri Lanka organized to show case the country's capabilities in recreational boating and yachting, nautical tourism, boat building and related services for export and local markets.
To attract the younger age groups towards boating, in addition to the boat and ship building sector, water sports events geared to the younger generation including wake boarding, water skiing, jet ski racing, wind surfing, catamaran and dinghy racing, try a boat event run by sailing clubs, fashion show linked to a nautical theme, fishing events and demonstrations, music (various bands), F and B court, classic car rally and display, Sri Lanka cultural display especially those linked to the sea, events for school children, nautical tourism, ocean academy, Sun & Sand Festival etc. will be added.
Following the success of Boat Show Sri Lanka 2008, 2010, 2012, 2014, & 2016 the upcoming boating festival will attract large number of buyers and visitors, boating enthusiasts, and industry professionals from countries such as India, Singapore, Seychelles, Maldives, South Korea, Belgium, Middle East, Germany, Holland, UK etc.
The Boat Show and Boating Festival Sri Lanka 2018 will be organized by Boat
Building Technology Improvement Institute Lanka (gte) Limited (BTI) and the Sri Lanka Export Development Board in association with Ministry of Development Strategies & International Trade, Ministry of Industry and Commerce and Ministry of Ports and Shipping (Sri Lanka Ports Authority).
BOAT SHOW & BOATING FESTIVAL SRI LANKA 2018
The Boat Show & Boating Festival Sri Lanka 2018 will be organized at Galle Yacht Marina, Port of Galle from 26th to 28th October 2018, with the objective of providing a single platform for all related business sectors involved directly and indirectly in the boat and ship building industry and fisheries sector to display and promote their respective sectors for potential clients. The total number of stalls in this year is around 80. This figure includes 60 indoor stalls, 20 outdoor display slots and on water display of yachts and boats as well.
Venue
The Galle yacht marina, Port of Galle will be used to berth the vessels to be displayed and for water sports activities. The land area surrounding the marina will be used for exhibition of boating related other products including engines, electrical and electronic equipment, small boats, materials, fishing gear, propellers, academic services, training, repair and maintenance of boats and many more activities..
Special Features
Ocean Academy
Ocean Academy will be an ideal platform for Maritime Studies. This is an interdisciplinary academic field that embraces the liberal arts as the foundation for exploring humankind's critical and continually evolving connections with the world's waterways and watersheds. We are inviting the educational institute to demonstrate their possible activities at the site and take this opportunity to promote their course and training program in the maritime field.
Sun and Sand Festival
Sun and Sand Festival will give the visitors of all ages to enjoy the week end by engaged in following activities in addition to the visit to the exhibition. The following action stations will create a unique atmosphere of a carnival.
Floating Restaurants and Marine thematic Cafeterias
Sea Cam – Photo sessions
Water Sports- Kayaking, Jet skiing, Rowing, Boat rides, Boat races, Rowing races, Diving, snorkeling among others
Kids' thematic play areas and amusement park
Mobile Marine Museum
The National Maritime Museum in Galle, Sri Lanka is situated within Galle Fort.
With the support of the Galle National Marine Museum, we will organize a specific area where the officials can exhibit, or arrange special tours to the Marine Museum. This will attract more visitors and benefit the museum and the boat show and the boating festival.
THE INDUSTRY AT A GLANCE
Boat and Ship Building is a lucrative and a thriving industry which was capitalized by the western world during the previous decade. The center for manufacturing boats is now moving towards developing countries from the developed countries mainly due to the competitive labour costs and the skilled and highly trainable workforce offered by these countries. The increase demand for boats worldwide for fishing, industrial, commercial and recreation purposes open up huge opportunities and new markets for the Boat Building in
Sri Lanka, due to its strategic location, highly trainable workforce and labour cost advantage.
The EDB has identified the Boat building industry as a key product sector which contributes remarkably to achieve the national export targets of the country. With the participation of the industry, EDB has formulated an Export strategy for the boating industry and is being implemented
Since the beginning of the BOAT SHOW SRI LANKA, the country has been able to record an average export turnover of USD MN 80. 2011 recorded the highest so far with a figure of USD MN 149.  The aim of the National Export Strategy is to increase the export revenue to the value of USD 500 MN.
The wide range of products and services offered from this sector includes yachts, pleasure & leisure boats, fishing boats, fast attack crafts, passenger, sports, rescue, coast guard and petrol boats and boat building accessories. There are around 25 active boat yards around the country out of which 10 boat yards have medium to large scale manufacturing facilities and others are small scale manufactures.
Sri Lanka's main export markets for ships and boats are Singapore, India, The Netherlands, Norway, Seychelles, Maldives, African region and Mauritius.
With the economic recession prevailing in the western markets, Sri Lanka's regional markets have become more lucrative at present for this industry and therefore an extra effort would be made to promote the industry among selected regional markets such as Maldives, India, Bangladesh, Pakistan, Seychelles, etc. for possible long term investments and for new export opportunities.
Nautical Tourism
Sri Lanka has a coastal shore-line of 1340 Kilometers and a large inland water mass consisting of lagoons, lakes, reservoirs etc. There are 13 major fishery harbours, 15 anchorages and 1053 landing sites on the coastal belt. However, the full potential of the ocean is yet to be utilized and ideal water front lands for development of marinas and boat yards are available around the island.
Much of the country's tourism is beach-based. The emerging Tourism industry in Sri Lanka will require pleasure sail boats and boats for sea excursions for whale/dolphin watching, leisure fishing, snorkeling, scuba diving etc.
Past Boat shows revealed that there are a large number of boating enthusiasts looking to own a boat and go leisure fishing, snorkeling, scuba diving and pleasure boating. The main hindering factor in the growth of leisure and pleasure boating is the total lack of boat parks and marinas. It is revealed that if the marinas and boat parks are developed and managed in the country, the demand for pleasure and leisure boats will record a very healthy growth for the industry.
Boat show and Boating Festival 2018 will also would like to focus its attention towards the government and private investment in marina development and management and establishment of boat parks with all the recreational amenities.
Ship building and repair sector
We do focus on the ship building and repair industry sector in this Boat Show. We are hopeful that the COLOMBO DOCKYARD and the newly established subsidiary, WALKERS COLOMBO SHIPYARD would participate at the boat show bringing in the ship building and repair capacity in to focus.
The latter being confirmed its participation is concentrating on marine engineering, ship building and repairs on fishing, commercial crafts and yachts locally owned and visiting.
The potential in this sector is very encouraging and we hope the sector companies will take maximum use of the opportunity available to promote their business through the Boat Show and Boating Festival 2018.
This year through the Boat show and Boating Festival, we expect to generate at least over 50 million USD worth of business from this sector.
National Export Strategy of the Boating Industry
The strategy's goal is to turn Sri Lanka in to a renowned manufacturer of boats and boat industry products, a popular recreational boating hub and a yacht and marine industry service centre. Achieving this ambitious objective requires fostering an adequate regulatory environment and creating an enabling framework for successful implementation. The NES will there for focus on following opportunities.
Sri Lanka intends to expand its little-known boat industry-now focused almost solely on commercial vessels-and make the country a renowned recreational boating hub and yacht service centre for the Indian Ocean
Sri Lanka's strategic geographical location at the crossroads of the main maritime routs in South Asia, combined with the Sri Lankan boat industry's long experience, can make the country an attractive maritime hub that provides a full range of services for boat's entire life cycle, including assembly, refueling refit and repair for numerous types of boats and seagoing and inland water craft.
Currently, Sri Lankan boat manufacturers produce diversified products of differing quality levels to meet the requirements of various markets
Development of new boat industry products, complementary to the existing manufacturing base, could result in niche manufactured products and activities linked with the expansion of the local and regional boating business
Prioritizing the creation of a new waterfront export processing zone (EPZ) and industry clusters for boatbuilding, repairs and related services will support expanded production and will facilitate boat building, testing and launching. This will attract both new investment in boat facilities and international boat operators requiring services such as boat parking and maintenance.
Key opportunities for the boat industry lie both in boat manufacturing and in creating links with other sectors so that the requirements of the entire boating value chain can be met. Hiring one direct employee in boatbuilding generates seven additional indirect employment opportunities. For the Sri Lankan boatbuilding industry, there are obvious connections to sectors such as electronics, information technology (IT) and logistics. Possibilities also exist for production of boating materials and equipment such as marine electronics and marine related software, interior equipment, furnishing, materials and electrical fittings, machinery, propulsion unit, mechanical systems, resins, paints and rubber accessories, which can be produced locally or even exported.
Boating tourism represents a major untapped opportunity for the national economy. Sri Lanka's coasts and sea/weather conditions make the island an excellent charter destination, with the possible expansion of boating and sailing tourism and marina services provision. Investment through public- private partnerships to install basic marina facilities will enable marine operators and charter companies to provide services around the island for visiting yacht and recreational craft. Boating tourism development will spur a variety of subsectors. namely water sport rental, inland boat hire, sailing schools and training and whale and dolphin watching
However, the industry faces constraints that need to be addressed in the short-to-medium term in order to facilitate rapid industry growth. Updating regulatory frameworks, providing marketing and promotion support expanding existing capacity of boatyards and improving overall industry coordination will create an enabling environment for boat industry development.
The following key interventions are priorities for implementation
Regulatory frameworks for the boat industry be adopted and implemented to ensure effective operations in the sector.
Allocate land for boatbuilding and repair clusters in existing and new waterfront Board of investment of Sri Lanka (BOI) zones.
Strengthening industry marketing, promotion and branding to bring national and international and international recognition of the Sri Lankan boat industry
For more details about the Boat Show 2018 and the industry related investment opportunities please contact:
Gamini B Herath Managing Director Boat Building Technology Improvement Institute 410/106 Bauddhaloka Mawatha Colombo 7 Tel: 0112685792 Fax: 0112681376
Email. gbherath@gmail.com or gamini_gtzbbp@sltnet.lk 
Web: www.btilanka.com