BHARTI AIRTEL LANKA
Value driven innovation: Airtel is setting the stage to play a leadership role in the Sri Lankan market
For over a decade, Sri Lanka's telco industry has been among the most vibrant and fast-paced markets in the SAARC region. The industry's advancements were fuelled by substantial investments from all telco providers, and facilitated by a supportive regulatory framework that prioritised the expansion of service coverage and affordability for mobile users.
With the onset of the COVID-19 pandemic, the underlying gaps in the local telco infrastructure were exposed for the first time as data consumption reached all-time highs in rural and urban areas alike.
Given that telecommunications is becoming an increasingly central part of daily life, LMD spoke to Bharti Airtel Lanka Chief Executive Officer and Managing Director Ashish Chandra about the telco's progress in keeping Sri Lankans connected throughout the pandemic and his ambitious plan to take it to the forefront of the local industry.
Q: How would you define Airtel's mission in Sri Lanka? And could you outline how the telco is looking to achieve this?
A: Airtel is positioned as the world's third largest telecom in terms of the number of customers (amounting to more than 484 million) whom we serve in 18 countries. We entered the Sri Lankan market looking at the immense potential that the country offers.
To put it simply, our purpose is to help create a truly digital Sri Lanka. For Airtel, this has been distilled into a simple two-pronged strategy that is focussed on building a world-class network and offering maximum value to customers with affordable access to the network.
We believe these are the two key factors that will create the foundation for Sri Lanka's transformation into a digitally empowered nation. Naturally, this is a long-term vision.
Additionally, one of our top priorities has always been serving the needs of the country's youth, and our entire product and service offering has been designed to reflect these overarching goals.
Q: What measures have you taken to achieve these objectives – especially in the light of the challenges faced in recent years?
A: Looking at the past two years in particular, our investments in Sri Lanka increased substantially to establish a truly world-class network and expand coverage to every corner of the island.
The addition of more than 2,000 4G towers and our present expansion drive have enabled almost complete islandwide coverage. While this is an ongoing process, we are pleased to report that Airtel's network is already able to deliver speeds that are four times faster, 50 percent better indoor coverage and 20 percent greater coverage nationally.
With the appropriate infrastructure in place, our next focus was the launch of the Airtel 4G Freedom Packs – single packs that provide for customers' every need. We have a robust set of options for data that delivers four to five times more data than competitors at much lower price points. We offer a subsidised rate for voice calls including unlimited Airtel to Airtel calls as well as free minutes on calls to other networks.
This means that if you are using one of Airtel's Freedom Packs, your monthly reload expenses can be reduced by as much as 80 percent.
Given the difficult economic conditions that we're all facing, we wanted to ease the burden on users even further. To this end, in addition to our monthly packs, we are also offering weekly Freedom Packs.
Airtel's ability to leverage innovation to deliver maximum value to customers was also the driving force behind the introduction of our new data rollover options for post-paid customers. Through this new addition, the telco is able to provide users with the option of carrying forward any unused data to the next month.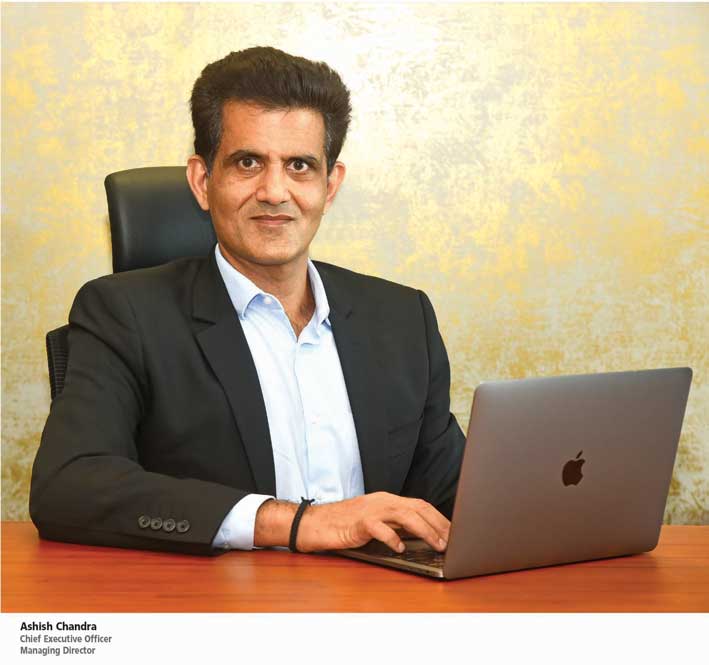 Q: Could you share insights into what Airtel will be working on in 2022?
A: At present, only 50-60 percent of our network has been utilised by customers so we still have a great deal of spare capacity. Over the coming year, our primary focus will be on expanding the utilisation of the network to help bridge Sri Lanka's digital divide.
Given that Airtel is the most recent entrant in the 4G space, we benefit from being able to build our network from the ground up with the latest tech and infrastructure. This enables us to deliver an optimised 4G experience through a network that is also 5G ready.
Our next goal is to demonstrate how powerful Airtel's network capabilities can be. We aren't able to elaborate on this at the moment but customers can expect some updates on this front very soon.
Q: What are the telco's plans for Sri Lanka over the medium to long term?
A: Our goal for the Sri Lankan market is to be No. 1 in terms of revenue and the user base. To achieve this objective, we are always looking to adapt to meet customers' unique needs in each region we serve.
At this time, Sri Lanka's telco journey is quite remarkable but we must understand that we have a long road ahead to match the kind of sophisticated offerings we're able to provide in other regions, and to be on a par with regional and global leaders.
– Compiled by Yamini Sequeira
INTERVIEWEE DETAILS
Ashish Chandra
Chief Executive Officer
Managing Director
COMPANY DETAILS
Telephone:0755 555555
Email:555@airtel.lk
Website:www.airtel.lk